Zeigler Announces Raul Rodriguez and Ethan Buck as its 2022 Rising Tech Award Winners
Zeigler Automotive Group has chosen Raul Rodriguez of Mercedes-Bernz of Hoffman Estates and Ethan Buck of Zeigler CDJR Grandville to take home its 2022 Rising Tech Award. The award is part of an initiative established in 2019 to recognize rising service talent within the dealership group.
Kalamazoo, Mich. (March 21, 2022) - Zeigler Auto Group today announced two new honorees for its 2022 Rising Tech Award: Raul Rodriguez of Mercedes-Benz of Hoffman Estates and Ethan Buck of Zeigler CDJR Grandville. 

The award program, which was established in 2019, recognizes rising service talent within the entire dealer group, with winners also invited to the 2022 Presidents Club, where the top 20 service technicians and top 10 service advisors celebrate together with Zeigler president Aaron Zeigler at the Autobahn Country Club in Joliet, Ill.  During the event, honorees will gather, race cars and receive customized crystal trophies at a special luncheon recognizing this high achievement.  
"We are proud of the dedication these young men have to their craft and even more proud that they have chosen to be a part of the Zeigler team, where we can watch and help them grow, '' said Bob Kuehl, Zeigler's VP of Fixed Operations.
In order to qualify for the Zeigler Rising Tech Award, service technicians must be nominated by their managers and be new to the industry with at least nine months, but no more than two years of non-lube experience. Besides this, managers look at work ethic, skill set, potential, attendance, attitude, desire to go above and beyond; as well as other intangibles.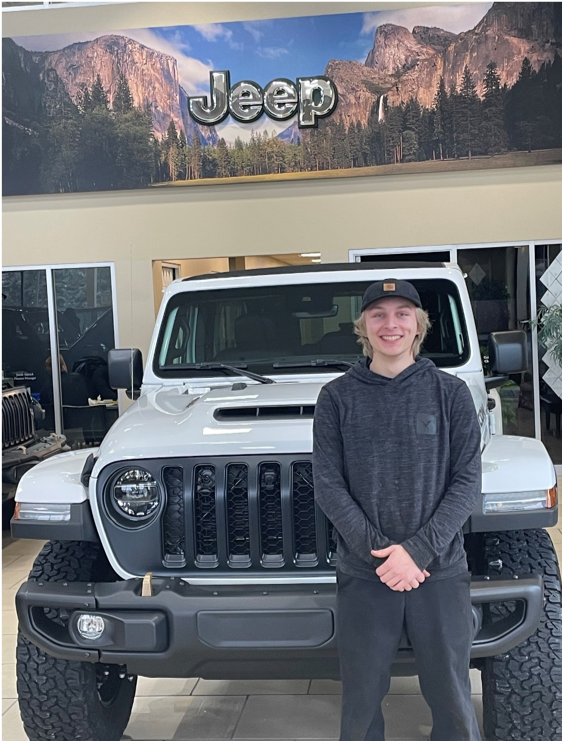 "I'm really proud to have been recognized and named "Rising Tech" on the domestic side. That being said, I'm going to make sure I make the actual Presidents Club at Zeigler in the future," said Buck after learning he was among only two to receive the award this year. 
Buck was nominated by Keith Cox after working at Zeigler CDJR Grandville for 1 year and 10 months. During his recommendation for the award, Cox made special note of Ethan's positive impact as a quick lube tech during COVID 19, when he worked for about a month after being employed for 4 months because of the pandemic. Soon after returning full-time he was invited to work in the main shop as a technician trainee.
"I have been here 5 months and I have been very impressed with Ethans work ethic and organization skills, he has been very helpful in the shop. I know he will be a great asset to myself and the company for a long time and I'm excited to one day see him teach younger techs. He has a bright future at Zeigler as a technician and he is an all around great person," said Cox.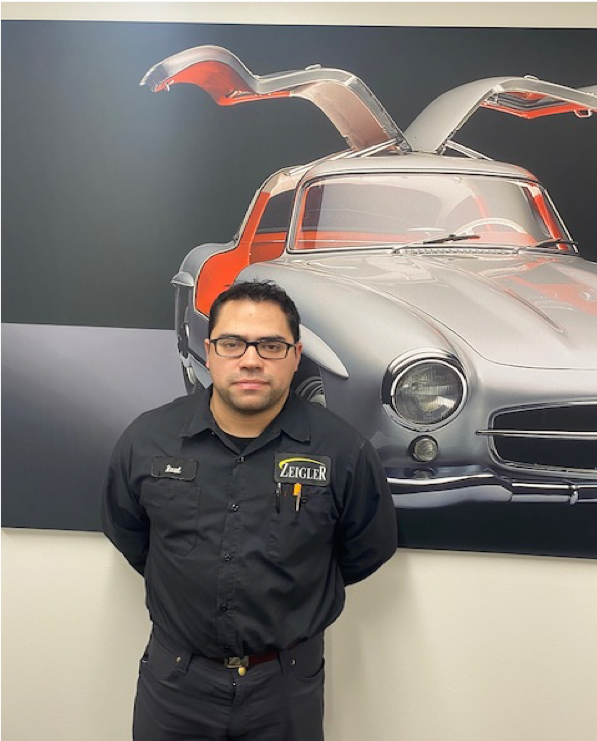 "I'm both humbled and proud to have earned the Rising Tech Award. I appreciate the opportunity." said Raul Rodriguez, who was nominated by Abel Grijalva, the service manager at Mercedes-Benz of Hoffman Estates. 
Rodriguez, who started as a porter, quickly moved up to porter supervisor before joining the express lube team. Soon after,he set his sights on joining the Sprinter commercial van service team, an exclusive group at the dealership. "Our commercial van team is a very exclusive group so when they chose Raul to join them, I knew he was someone that is the future of our business. They have found him to be proactive, a quick study, and always willing to go the extra mile," said Grijalva. 
"It has truly been a pleasure to watch the trajectory and growth of Raul's career, and I am deeply excited to see how he continues to advance and develop. His strong willingness to learn, leadership potential, and proactive spirit make him an asset to this organization, and a tremendous member of our team," he added.
About Zeigler Automotive Group
Zeigler Automotive Group is one of the largest privately-owned dealer groups in the U.S. with 78 franchises across 35 locations in Wisconsin, Illinois, Indiana, and Michigan. Vehicle brands represented include all of the domestic and the majority of the imported manufacturers.
Besides its extensive automotive portfolio, the organization owns and operates Zeigler Motorsports, an 85,000-square-foot motorsports dealership and action park, offering 19 different powersports brands, plus its own onsite restaurant: Trak Houz Bar & Grill. Additionally, Zeigler Motorsports houses the Elevate Leadership & Team Building Academy, an executive training company.
The Kalamazoo-based dealer group also owns and operates Zeigler Pre-Owned of Chicago, a Carquest Auto Parts store, three Byrider franchises, three finance companies, several insurance firms, and a leasing firm.
Founded in 1975, the organization employs over 2,300 people, ranking among the top 1% of automotive dealers in the nation with estimated annual sales of $2.2 billion for 2022. The family-owned and operated company is well known for its commitment to both customer service and employee satisfaction. Zeigler is regularly recognized as one of the Best and Brightest Companies to Work for in the Nation, also earning similar accolades in Chicago and Michigan.