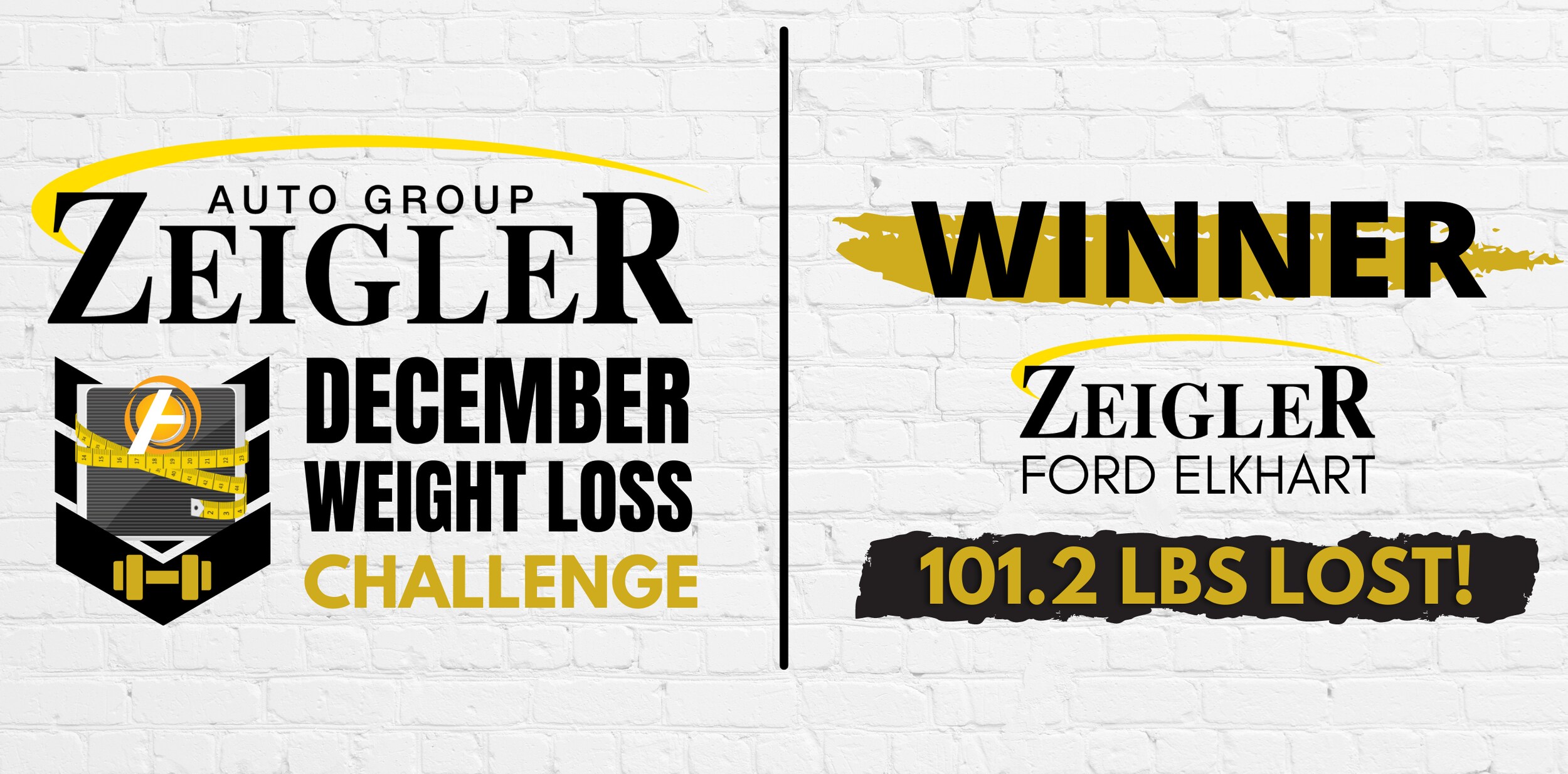 Zeigler Auto Group's Athletic Mentors December Weight Loss Challenge 
Store Winner is Zeigler Ford Elkhart with 101.2 lbs. Lost
Zeigler Auto Group's today announced its Athletic Mentors December Weight Loss Challenge Winners, with Zeigler Ford Elkhart taking home the number one store position, and Jack Alexander taking home the individual winning position. Elkhart lost 101.2 pounds, Alexander 48, and  the group 344.2 pounds overall. 
Kalamazoo, Michigan (December 31, 2021) - Zeigler's December Weight Loss Challenge was a success with 344.2 pounds lost overall as a group. Zeigler Ford Elkhart won this month's challenge with 101.2 pounds lost, Jack Alexander also took home the top individual spot with 48 pounds lost. Zeigler's monthly weight loss challenges are part of the auto group's health and wellness initiative in partnership with Athletic Mentors.
Athletic Mentors is a wellness coaching company well-known in Michigan for training endurance and power athletes. The organization also partners with a select number of top organizations to develop fitness programs for their employees. In Zeigler's case, Athletic Mentors customized a fully digital platform with access to an on demand educational library, wellness programs, monthly challenges with prizes, and much more -- all at no cost to team members. The digital platform is built out to be accessed on desktop and through the company's app, making easy and convenient for Zeigler team members to take advantage of everything it has to offer.
Other weight loss challenge winners included Honda Racine in 4th place with 34.8 lbs lost, Corporate in 5th with 27.6, Subaru of Merrillville in 6th with 27, Lincolnwood in 7th with 15.9, Orland Park in 8th with 12.1, Kalamazoo in 9th with 11, Plainwell Chrysler in 10th with 7, and Subaru of Kenosha in 11th place with 3.2.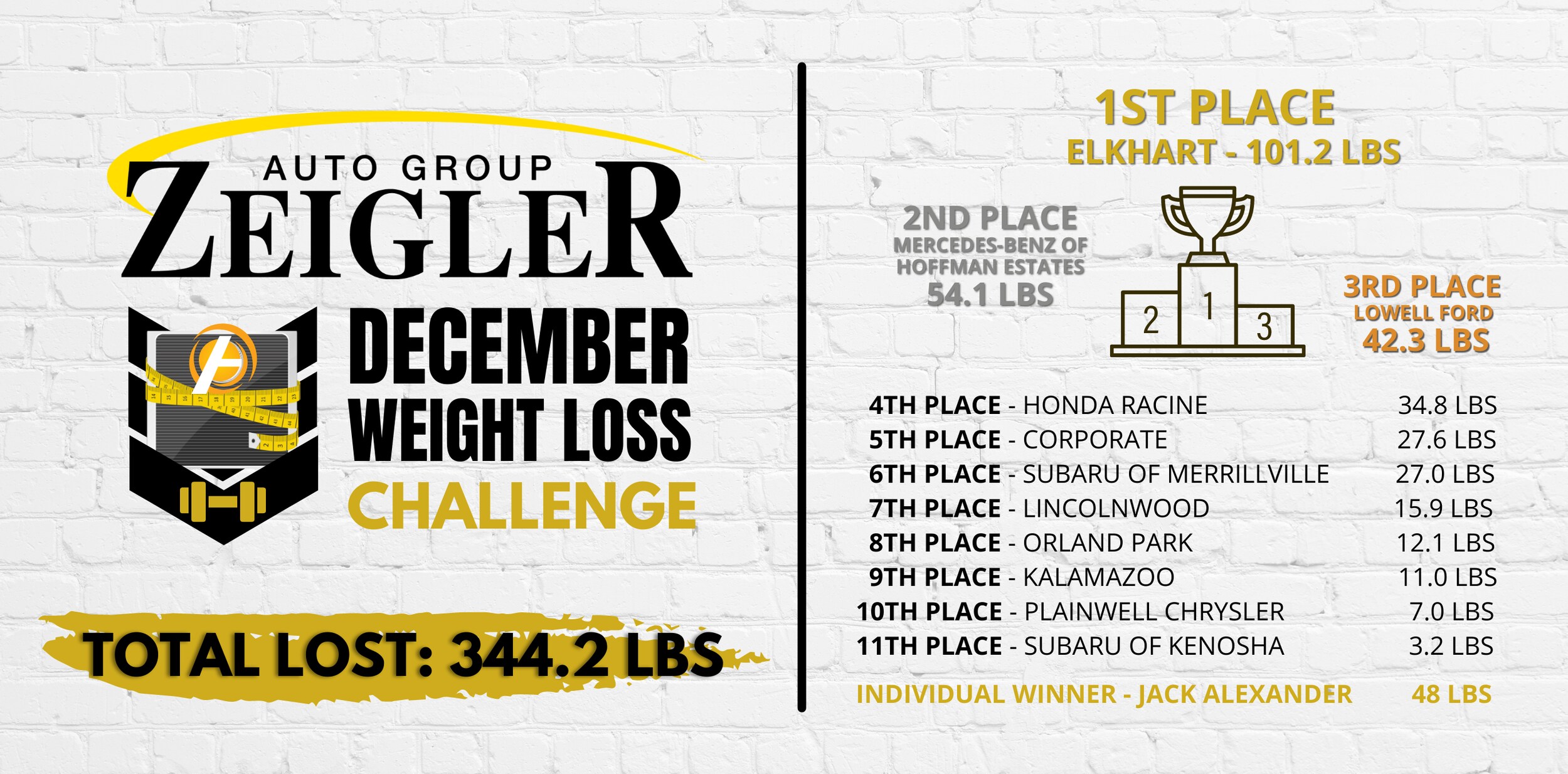 With the holiday season in full swing, we know that this month's challenge was more difficult than usual. We are very proud of everyone that participated and wanted to start or maintain healthy habits during this time of year. We look forward to seeing what you can do in 2022!
Happy New Year!
​
Athletic Mentors offers Michigan's widest selection of coaching, camps and clinics for endurance athletes, power sports athletes, and people looking to increase their adult functional fitness through weight loss and training. In addition to managing and directing Michigan's premier Multisport Team, Team Athletic Mentors / GREENWAREUSA - Athletic Mentors also offers Corporate Wellness programs and general fitness coaching in Kalamazoo, Grand Rapids and surrounding West Michigan communities. Many of its specialty programs attract elite athletes from across North America.
ABOUT ZEIGLER AUTOMOTIVE GROUP

Zeigler Automotive Group is one of the largest privately-owned dealer groups in the U.S. with 78 franchises across 35 locations in Wisconsin, Illinois, Indiana, and Michigan. Vehicle brands represented include all of the domestic and the majority of the imported manufacturers.
Besides its extensive automotive portfolio, the organization owns and operates Zeigler Motorsports, an 85,000-square-foot motorsports dealership and action park, offering 19 different powersports brands, plus its own onsite restaurant: Trak Houz Bar & Grill. Additionally, Zeigler Motorsports houses the Elevate Leadership & Team Building Academy, an executive training company.
The Kalamazoo-based dealer group also owns and operates Zeigler Pre-Owned of Chicago, a Carquest Auto Parts store, three Byrider franchises, three finance companies, several insurance firms, and a leasing firm.
Founded in 1975, the organization employs over 2,300 people, ranking among the top 1% of automotive dealers in the nation with estimated annual sales of $2.2 billion for 2022. The family-owned and operated company is well known for its commitment to both customer service and employee satisfaction. Zeigler is regularly recognized as one of the Best and Brightest Companies to Work for in the Nation, also earning similar accolades in Chicago and Michigan.
Back To Newsroom