Zeigler Racing | Stay Up-to-Date On #TEAMZEIGLER RACING

Zeigler Racing and Josh Bilicki Giveaway 2 Sets of Hot Passes for Martinsville
This week Zeigler Auto Group celebrated the launch of its new social media channels for Zeigler Racing with a very special giveaway! Two lucky winners received 2 Hot Passes for this week's race in Martinsville, Virginia at the Martinsville Speedway! Two lucky winners were given a set of 2 VIP passes each to enjoy the special nighttime, Saturday race taking place on April 9, 2022. 
Keep reading now to see who won!
Bilicki, Zeigler Auto Group Race to Top-20 Finish at Atlanta Motor Speedway
Josh Bilicki drove the Zeigler Auto Group No. 77 Chevrolet Camaro to a top twenty finish on Sunday, March 20th at Atlanta Motor Speedway, finishing in the 16th position.  Gerber Collision was also proudly displayed on the hood of Bilicki's No. 77 Chevrolet Camaro. READ MORE
Zeigler Auto Group Gears Up for First Primary Sponsored NASCAR Cup Race of 2022 with Spire Motorsports
The No. 77 Zeigler Auto Group Camaro will be driven by ZAG sponsored driver, Josh Bilicki, who is fresh off a career best finish at Daytona where he came in 9th during the NASCAR season opener for the Xfinity Series race.  The Las Vegas race weekend will mark Bilicki's second NASCAR Cup Series race of the season. READ MORE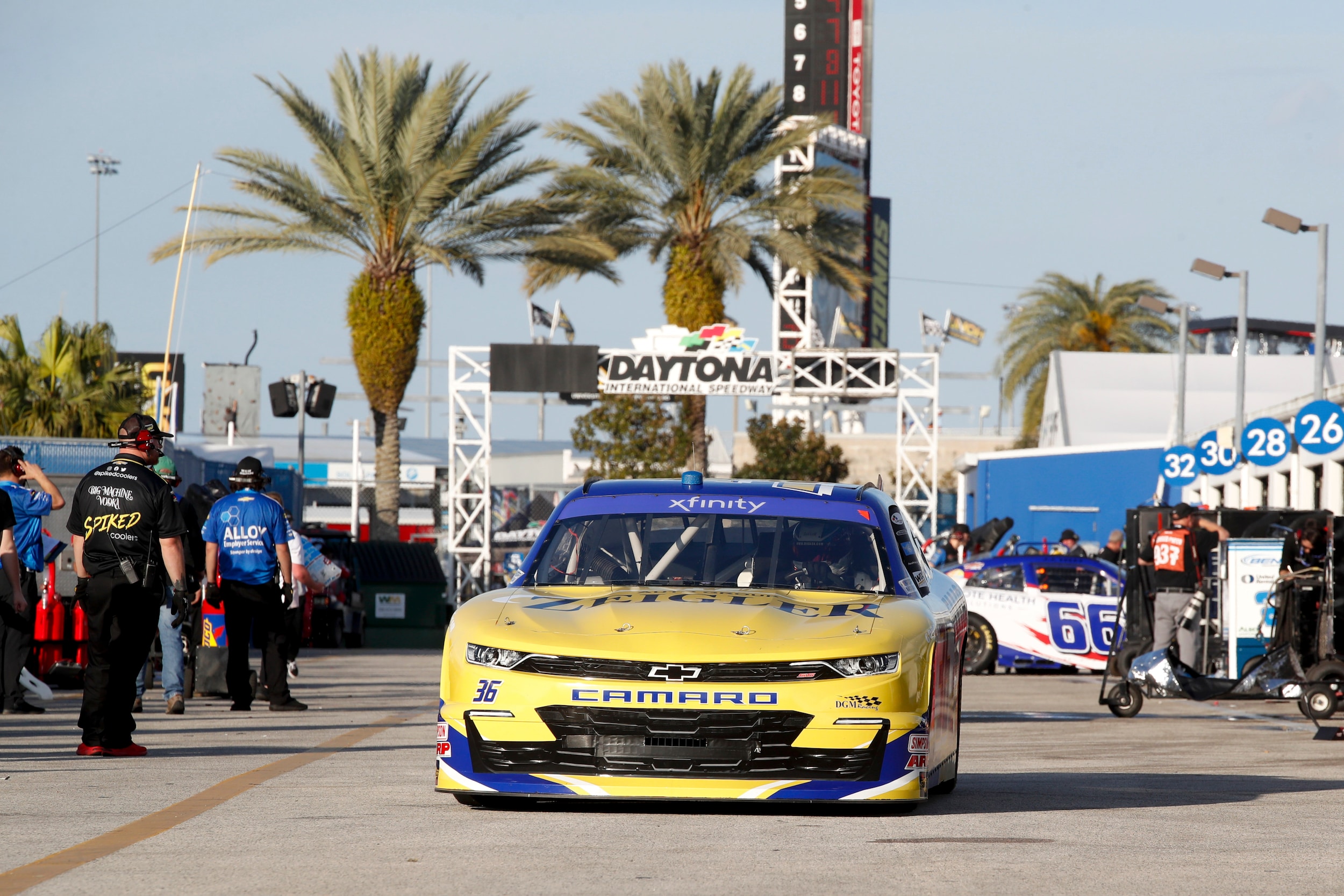 Josh Bilicki and Team Zeigler Race to Top-10 Finish at Daytona
Josh Bilicki, No. 36, broke the top 10 at Daytona this past weekend behind the wheel of the Zeigler Auto Group sponsored Chevrolet Camaro for DGM Racing. Finishing at an impressive ninth place, a career best, Bilicki delivered a top performance during the 2022 NASCAR season opener at the historic Daytona International Speedway, capturing plenty of attention for TEAM ZEIGLER and DGM Racing.
READ MORE
Zeigler Serves As Primary Sponsor for Season Opener at Daytona for DGM Racing
DGM Racing announced today that NASCAR Cup Series driver, Josh Bilicki, will join the team at the NASCAR Xfinity Series season opener at Daytona International Speedway on Saturday, February 19th.  Bilicki will drive the team's No. 36 Chevrolet Camaro, with Zeigler Automotive Group and Elliott's Custom Trailers & Carts serving as the primary sponsors. READ MORE
Josh Bilicki Launches New Apparel Line Featuring Zeigler Branded Pieces
Did someone ask for fresh merch?
Click here now
to start shopping Josh Bilicki's 2022 collection featuring exclusive Zeigler branded hats, apparel and more!
Zeigler Auto Group Reveals Josh Bilicki's 77 Scheme for Spire Motorsports
Zeigler Auto Group today revealed the official paint scheme for Josh Bilicki's No. 77 Chevrolet Camaro ZL1 for Spire Motorsports. Zeigler, who will support Bilicki as the primary title sponsor for the 2022 season, will have its group's logo and website: Zeigler.com, displayed prominently on the car. The car will also feature the #TEAMZEIGLER hashtag on the rear. The black and yellow scheme will make its official in-person debut early this year. 
READ MORE
#TEAMZEIGLER to Support Josh Bilicki as Primary Sponsor for 2022 Season
Zeigler Auto Group will be backing NASCAR driver Josh Bilicki as primary sponsor during his new 2022 season. Bilicki, who up until recently raced as 52 under Rickware Racing, will now take the wheel of Spire Motorsports' No. 77  Chevrolet Camaro ZL1. The new Zeigler-sponsored Camaro will make its official in-person debut at next month's WISE Power 400 at Auto Club Speedway in Fontana, California, but renderings will be revealed via press release within the next two weeks. READ MORE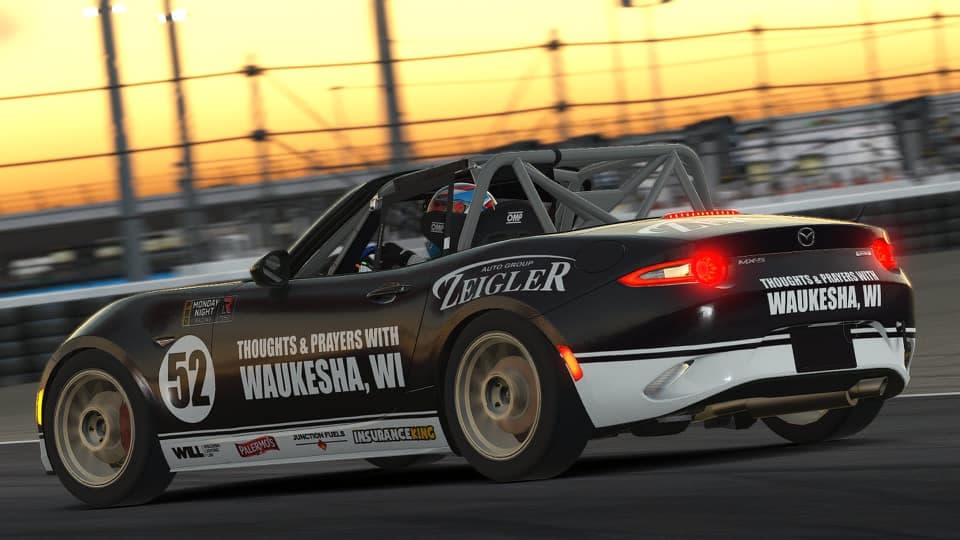 Josh Bilicki Wins Monday Night Racing Event With Tribute Car In Honor of Waukesha Christmas Parade Tragedy Victims
Last night Josh Bilicki took home the number one spot behind the wheel of a Mazda MX5 cup car at Daytona during a Monday Night Racing online event. The digital event, which was streamed via Twitch, is a popular off-season competitive online series for many professional drivers. Number 52's paint scheme included Zeigler logo in support of Bilicki and Rick Ware Racing's special tribute to the Waukesha Christmas Parade victims. READ MORE
Zeigler Auto Group sponsors Josh Bilicki for NASCAR Cup Series at Michigan International Speedway, Meet & Greet scheduled for Saturday
Zeigler Auto Group today announced that it will be sponsoring Josh Bilicki for the FireKeepers Casino 400 of the NASCAR Cup Series at Michigan International Speedway on Sunday, August 22, 2021 at 3:00 p.m. EST. Zeigler will also be hosting a free, Meet & Greet event for Bilicki at Zeigler Motorsports, 5001 Park Circle Drive, on Saturday, August 21, 2021 from noon to 4:00 p.m. EST with opportunities for autographs, photos, and a chance to win tickets to the race the following day. READ MORE

Josh Bilicki Attends the 39th Annual Drive for Life Gala, Event Raises Over $800,000 for Charity
The Drive for Life Foundation Charity Gala raised over $800,000 in benefit of American Cancer Society of Kalamazoo, MRC Industries of Kalamazoo, the Make-A-Wish Foundation of Kalamazoo, Big Brothers Big Sisters of Southwest Michigan, and many other deserving charities. Read our recap on the event to learn more about our charities, sponsors, and this year's special guest speaker: NBA Hall of Famer, Ben Wallace. READ MORE