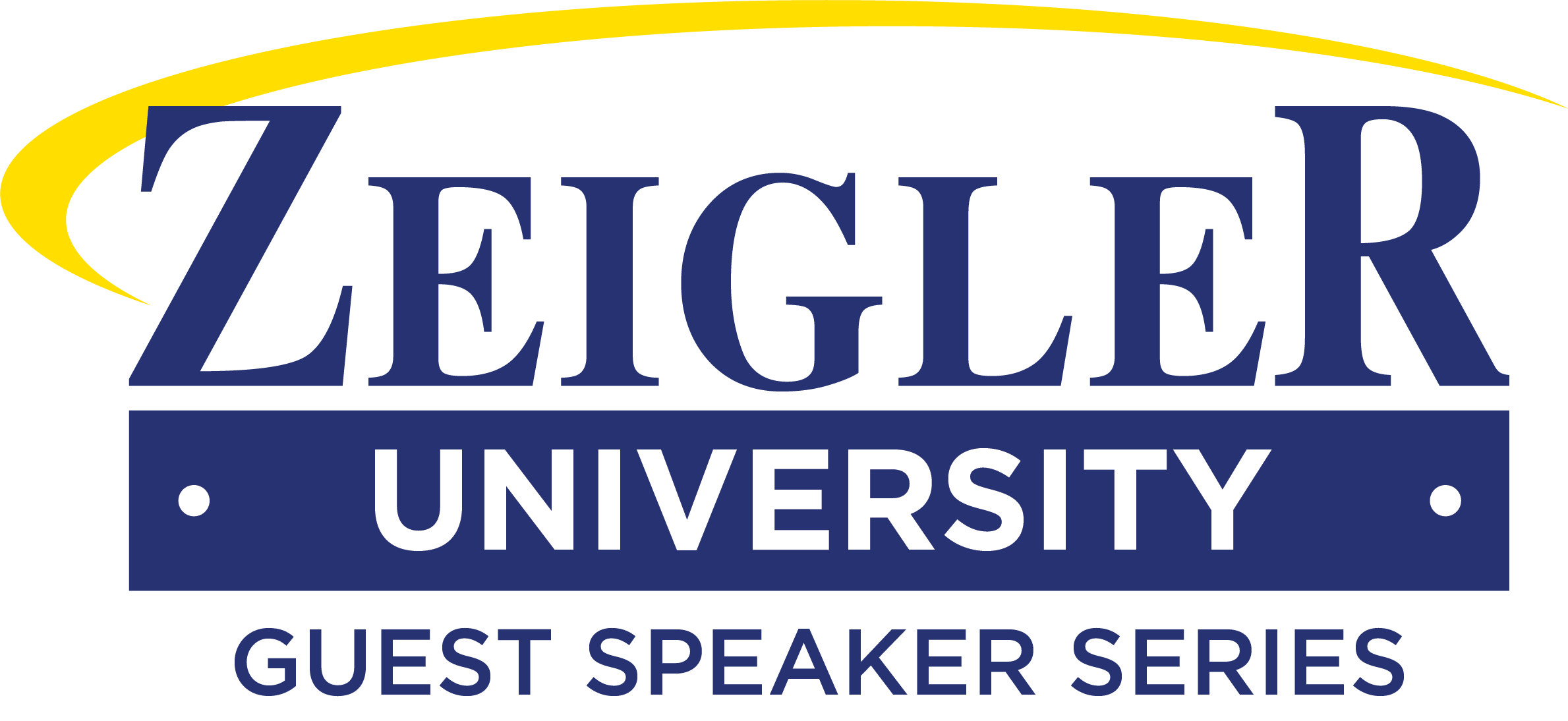 29-Time Emmy Award-Winning Executive Producer and
Hall of Fame Speaker Bill Stainton Joins Zeigler University Guest Speaker Series
Zeigler Auto Group welcomed 29-Time Emmy Award-Winning Executive Producer and Hall of Fame Speaker Bill Stainton as its latest Zeigler University Speaker Series' celebrity guest. The two presentations, which are part of the dealer group's ongoing internal leadership and development program, were held last Thursday, February 24, 2022. The first one titled: Connect the Dots: Innovative Thinking for Zeigler Points, was presented in keynote style at 9:30 a.m. EST; while the second, ZAG Elite Innovation Lab, was given workshop style at 1:30 p.m. EST. 
KALAMAZOO MICHIGAN (February 28, 2022) - Zeigler's highly successful, Zeigler University Guest Speaker series welcomed 29-Time Emmy Award-Winning Executive Producer and Hall of Fame Speaker Bill Stainton last Thursday, February 22 for two presentations. Stainton's first presentation, Connect the Dots: Innovative Thinking for Zeigler Pros, was given keynote style at 9:30 a.m. EST/8:30 a.m. CST. The second, ZAG Elite Innovation Lab, was presented in workshop format at 1:30 p.m. EST/12:30 p.m. CST.
A known expert in innovation, creativity, and breakthrough thinking, Stainton is best known for producing the longest running, highest rated, and most award-winning Comedy TV show in the US, Almost Live!  During his 15 year tenure, he led his team in winning over 100 Emmy awards on their own- working with Jerry Seinfeld, Ellen DeGeneres, Bill Nye and many more. He has also written for The Tonight Show, HBO, and Comedy Central. Plus, was Joel McHale's mentor.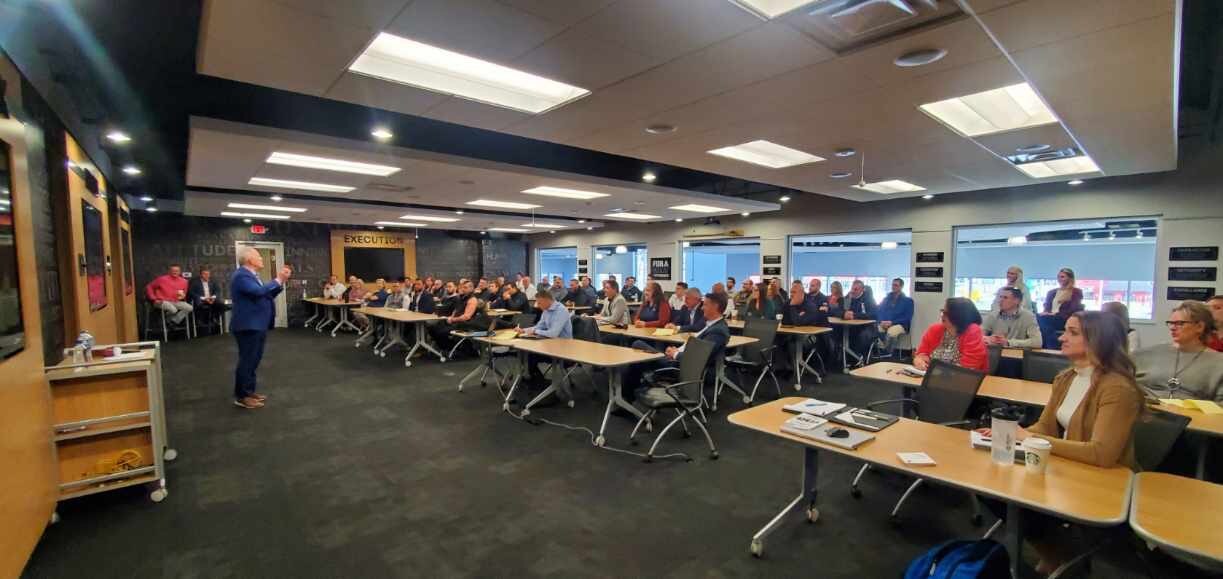 "In my opinion, this was the best speaker. I was able to stay focused on him the whole time. There is a common theme with connection and when he pointed that out, he was right. This talk wasn't so much sales/work driven to me, it was life driven. I like that approach. 15/10 score for me." 
Rory Short, Service Manager, Zeigler Motorsports.
During two sessions, the 29-time Emmy Award-winning producer and Hall of Fame speaker elaborated on two different topics at Zeigler. The first was Connect the Dots: Innovative Thinking for Zeigler Pros, where he talked about the importance of innovation, even when those in the industry may not know how to efficiently do so. He went on to break down ways you can come up with innovative, breakthrough ideas using some of the techniques he used to win his 29 Emmys. 
Stainton emphasized that anyone could become an innovative thinker by following the steps that worked for him. These steps included, first of all, debunking the notion that some people simply aren't innovative. Then, learning what innovation is, and what it isn't; discovering key questions that underlie all innovation; and finally exploring what everyday items can teach us about innovation. 
"One thing that I pulled from today's afternoon workshop was "training your mind to think differently." Making a list of 7 or more completely unrelated things and thinking of all the similarities they actually have even though they are never actually associated with each other in a normal thought process. "Look for all the yellow dots, not the navy-blue ones everyone else already has, and then figure out how to use them". Continuously thinking outside the box is important for personal and team growth, and I think today, Bill really emphasized that, and sent us all home with the idea that sometimes the farther outside you venture, the better the result could be." 
Jon Walton, Sales, Zeigler Ford Lowell.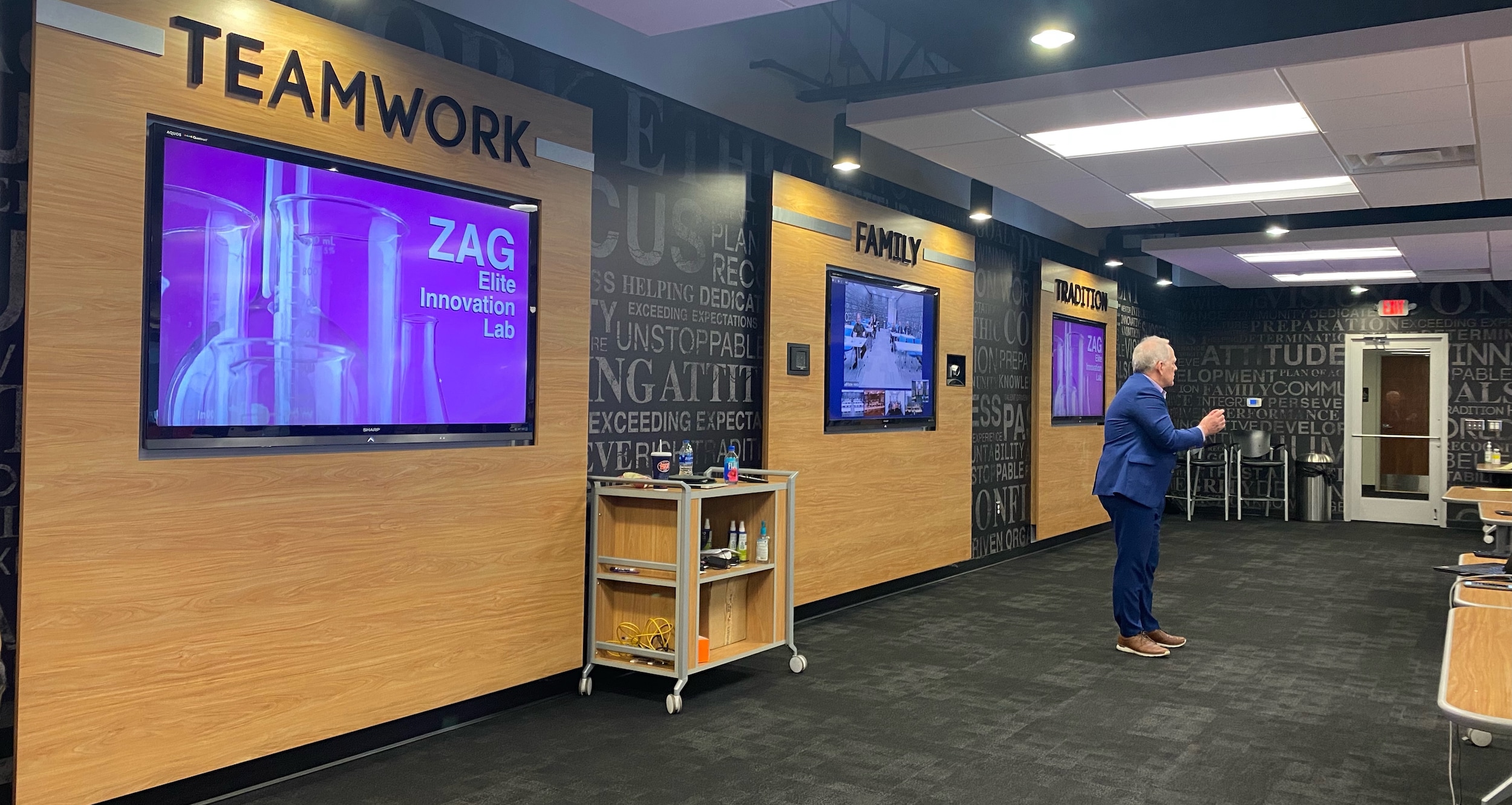 "It was inspiring to listen and learn from our guest speaker Bill Stainton. He was energetic, creative and fun! One of the biggest takeaways from his motivational message for me, personally, was to continue to think differenty, be creative; which will continue to lead us to innovation!" 
Derrick Jones-General Sales Manager, Zeigler Maserati-Alfa Romeo-Fiat of Grandville 
In Stainton's second session, ZAG Elite Innovation Lab, which was held workshop style, he took the principles learned in his first keynote presentation, and walked through ways to apply them to really drive home the idea of innovation and how it can be achieved on demand and by everyone in the room. 
Those in attendance felt engaged in the process because they were able to take any situation and essentially "think outside the box" to generate new ideas. This step-by-step guide into the creative process gave participants hands-on tools that they could use to elevate their innovative thinking skills.  Essentially, it was learning how you can get "the idea that leads to the idea" and so forth, until innovation almost becomes automatic in any scenario.
Our team thoroughly enjoyed both sessions, with many sending over thoughts on Bill Stainton's presentation. The common theme throughout was how he was able to keep the audience engaged while teaching a valuable skill that isn't talked about often but that is essential to moving Zeigler forward into bigger and better things.
"Look outside the blue dots and talk to the weird people." 
Renee Johnson, Human Resource, Zeigler Auto Group
"Take risks with the yellow dots and don't be afraid of putting out version 1.0. 
Don't be afraid to fail, look at it as version 1.0." 
Mitch Miller, GSM, Zeigler Ford Lincoln Elkhart
"Listening to Bill Stainton speak was so inspiring!  He was so energetic, and challenged us to be innovative and creative. 
I will strive daily for "The Yellow Dot."  What a great experience." 
CJ Lindquist, Sales, Zeigler Grandville 

  "Getting to take part in Bill Stainton's ZAG Elite Innovation Workshop was truly an incredible opportunity. He provided us with creative ways to connect dots and generate innovative ideas. Applying the skills learned today will open up a whole world of new and exciting possibilities both personally and professionally." 
Zach Morford, Internet Director, Zeigler Ford Lowell.
About Zeigler University
Zeigler University is an internal leadership and development program within the Zeigler Automotive Group organization dedicated to attracting, training, and retaining the best talent in the industry. 
The program includes one-on-one mentoring, strategic recruiting; and programs such as the Zeigler University Speaker Series with past celebrity guest speaker appearances that include Grant Cardone, Bill Rancic, PJ Fleck, and more.
About Zeigler Auto Group
Zeigler Automotive Group is one of the largest privately-owned dealer groups in the U.S. with 78 franchises across 35 locations in Wisconsin, Illinois, Indiana, and Michigan. Vehicle brands represented include all of the domestic and the majority of the imported manufacturers.
Besides its extensive automotive portfolio, the organization owns and operates Zeigler Motorsports, an 85,000-square-foot motorsports dealership and action park, offering 19 different powersports brands, plus its own onsite restaurant: Trak Houz Bar & Grill. Additionally, Zeigler Motorsports houses the Elevate Leadership & Team Building Academy, an executive training company.
The Kalamazoo-based dealer group also owns and operates Zeigler Pre-Owned of Chicago, a Carquest Auto Parts store, three Byrider franchises, three finance companies, several insurance firms, and a leasing firm.
Founded in 1975, the organization employs over 2,300 people, ranking among the top 1% of automotive dealers in the nation with estimated annual sales of $2.2 billion for 2022. The family-owned and operated company is well known for its commitment to both customer service and employee satisfaction. Zeigler is regularly recognized as one of the Best and Brightest Companies to Work for in the Nation, also earning similar accolades in Chicago and Michigan.