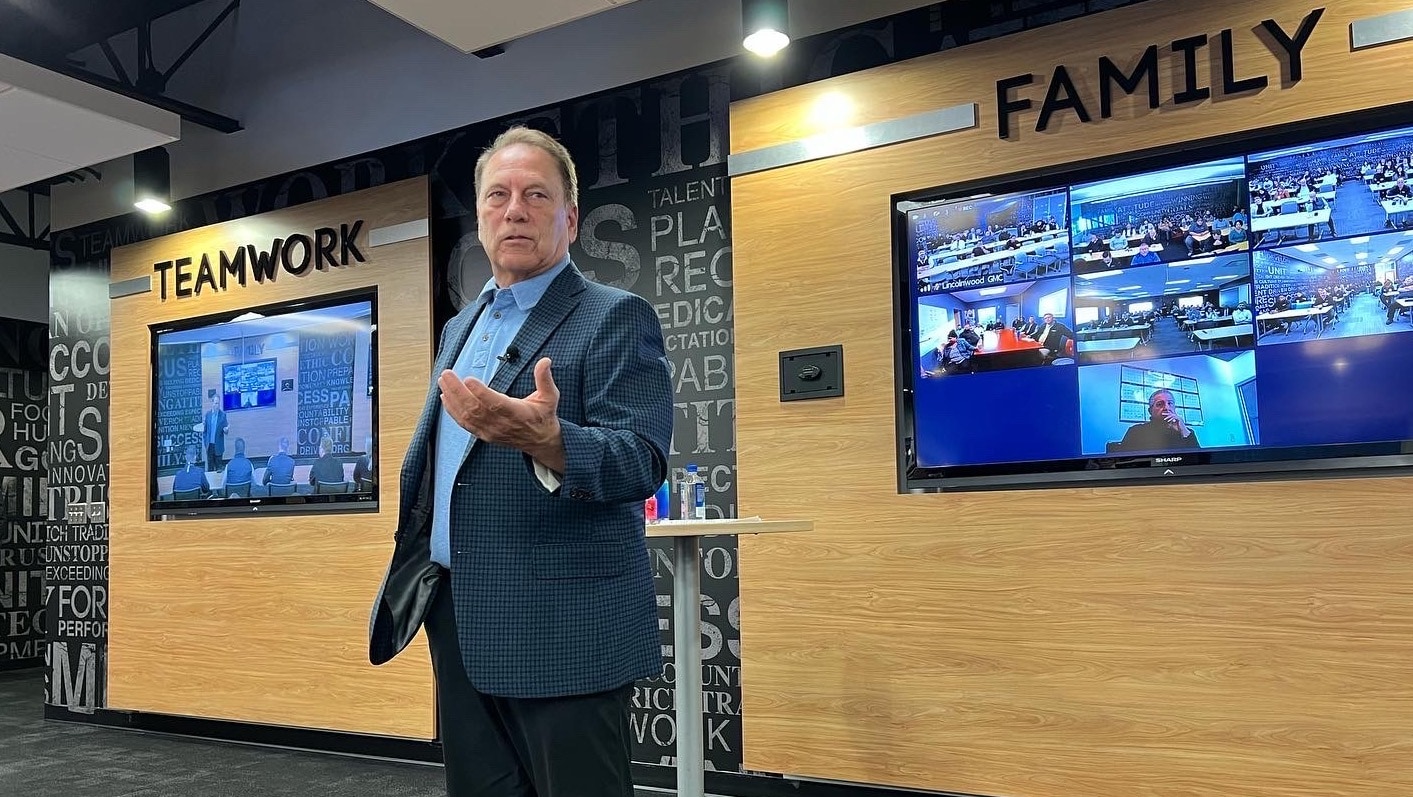 Basketball Hall of Famer and Michigan State University Head 
Coach Tom Izzo Returns to the Zeigler University Guest Speaker Series
The Zeigler University Guest Speaker Series welcomed back Tom Izzo, head coach of the MSU basketball team, Wednesday, October 19, 2022. The Naismith Basketball Hall of Fame coach spoke to Zeigler team members on the importance of self evaluation and motivation and the impact this has on success in all areas of life.
Kalamazoo, Mich. (October 24, 2022) - This past Wednesday, October 19, 2022 Zeigler Auto Group welcomed Michigan State University head basketball coach Tom Izzo as its latest celebrity presenter for its Zeigler University Guest Speaker Series. 
Zeigler's highly successful and long-running Zeigler University Guest Speaker Series invites entrepreneurs, athletes, innovators and leaders across different industries to share their stories and points of view with the Zeigler team.
During his presentation, the Naismith Basketball Hall of Famer discussed a number of characteristics needed to lead a successful life. He also spoke about the importance of leaving a good first impression and continuing to follow through with this positive image.
He went on to describe the characteristics needed to have the best impact on your personal and professional life --with the first principle being: "Confront and Demand." By identifying or confronting what it would take to be the best, you can set clear expectations on what you can demand from yourself and others. This is a major key because it allows you and everyone on the team to have a common vision where each individual does their best and in turn causes a ripple effect where everyone is also doing their best.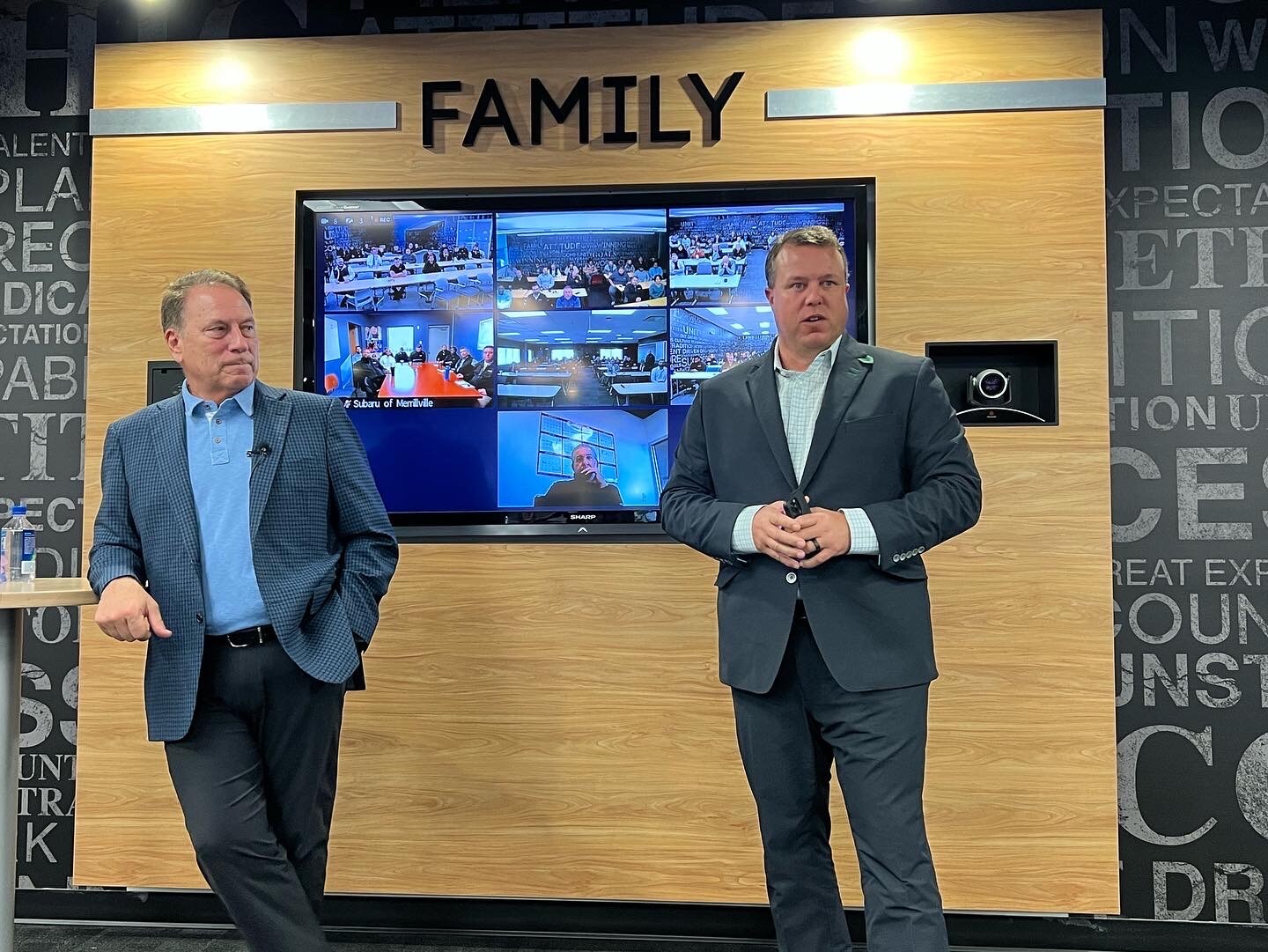 "Like what you do. Love what you do. Live what you do."
Coach Tom Izzo
The second characteristic was asking "Can you self evaluate?" in an objective manner. This is one of the most difficult but important things you can do in order to be successful and work within a team that is successful. This is because before you can evaluate others effectively, you must first think about what you are doing in order to make the team as successful as possible. Do others need your help? How can you help others achieve your common goals?
After this, asking "Can you self motivate?" would be the next most important characteristic to success. With this principle it's important to evaluate things you can do on your own, what innovations you can execute and being able to do all of this with accountability.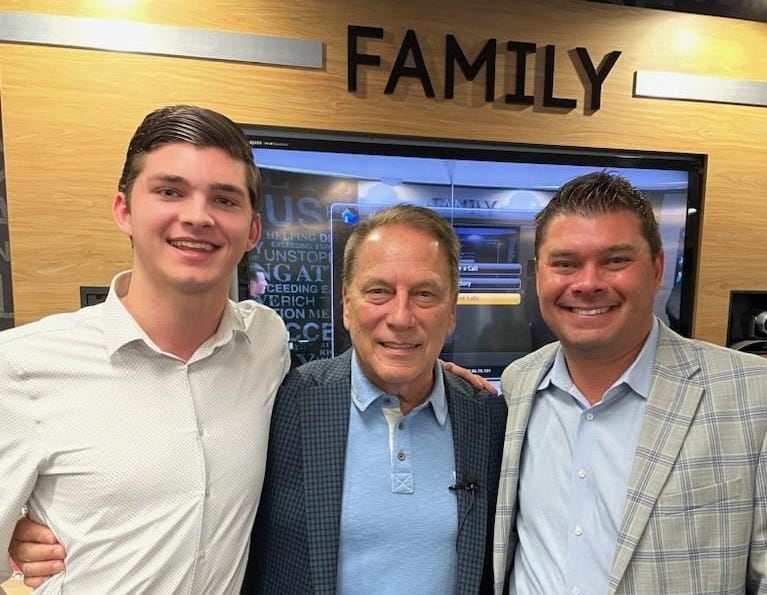 At the end of the day, everything in life can be summed up by your character and what you are willing to do to get what you want in order to be successful. It's always important to remember that loyalty, commitment and consistency will take you far, however, it's also important to know where you currently stand and where you want to go.
During these evaluations, Izzo said one should be able to answer a number of questions that can show you how close you are to being the best you can be. And if you are not at the stage where you want to be, considering these three principles can point you in the right direction.
Coach Tom Izzo was a guest on Zeigler's Driving Vision Podcast with Aaron Zeigler, Avery Zeigler and host Sam D'Arc. He shared more leadership principles, you can listen to the episode here.
About Zeigler University 
Zeigler University is an internal leadership and development program within the Zeigler Automotive Group organization dedicated to attracting, training, and retaining the best talent in the industry.
The program includes one-on-one mentoring, strategic recruiting; and programs such as the Zeigler University Speaker Series which focuses on bringing in entrepreneurs, athletes, innovators, and leaders across different industries, to share their stories and points of view with the Zeigler team. Past celebrity guest speaker appearances include Grant Cardone, Bill Rancic, PJ Fleck, and more.
About Zeigler Auto Group
Zeigler Automotive Group is one of the largest privately-owned dealer groups in the U.S. with 78 franchises across 35 locations in Wisconsin, Illinois, Indiana, and Michigan. Vehicle brands represented include all of the domestic and the majority of the imported manufacturers.
Besides its extensive automotive portfolio, the organization owns and operates Zeigler Motorsports, an 85,000-square-foot motorsports dealership and action park, offering 19 different powersports brands, plus its own onsite restaurant: Trak Houz Bar & Grill. Additionally, Zeigler Motorsports houses the Elevate Leadership & Team Building Academy, an executive training company.
The Kalamazoo-based dealer group also owns and operates Zeigler Pre-Owned of Chicago, a Carquest Auto Parts store, three Byrider franchises, three finance companies, several insurance firms, and a leasing firm.
Founded in 1975, the organization employs over 2,300 people, ranking among the top 1% of automotive dealers in the nation with estimated annual sales of $2.2 billion for 2022. The family-owned and operated company is well known for its commitment to both customer service and employee satisfaction. Zeigler is regularly recognized as one of the Best and Brightest Companies to Work for in the Nation, also earning similar accolades in Wisconsin, Chicago, and Michigan.