Zeigler Presents Jim Craig with Special Legacy Tribute Award for His Profound Impact on Leadership Development
Zeigler Auto Group recently recognized famed Olympian, speaker and author, Jim Craig with its coveted Zeigler's Legacy Tribute Award for his unparalleled contributions to Zeigler's leadership development. This is the first time the prestigious accolade has been awarded outside of the organization.
---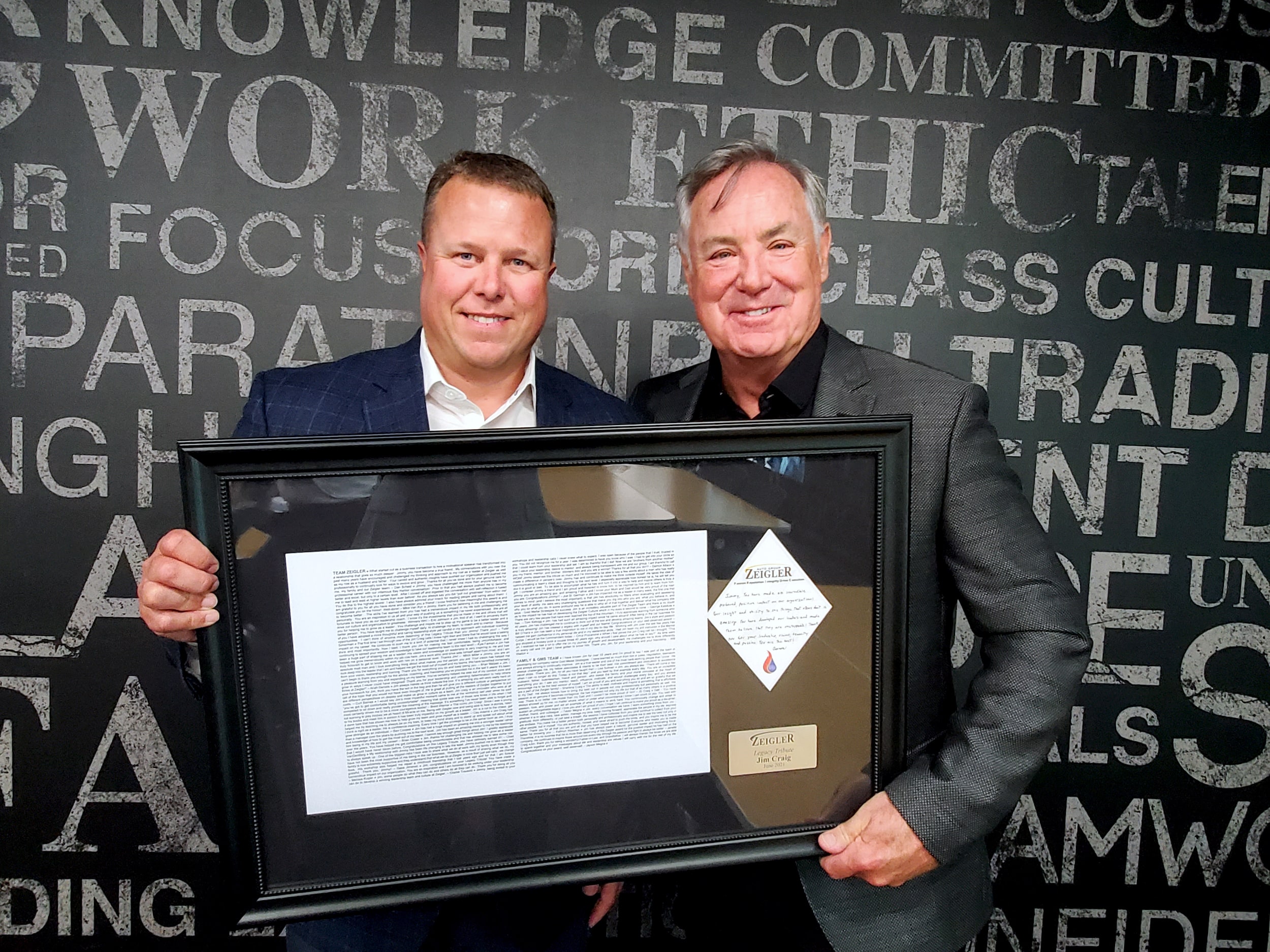 (Aaron Zeigler presents Jim Craig with special edition of the Zeigler Legacy Tribute Award)

Kalamazoo, Mich. (August 9, 2021) - Zeigler Auto Group is proud to announce Jim Craig as its newest Legacy Tribute Award honoree. The coveted award, usually reserved for Zeigler's most tenured employees was, for the first time, awarded outside of the organization to the renowned Olympian, speaker and author.
"Jim has made a profound positive impact on developing leaders in our organization. And he is also the first non-Zeigler employee to ever win the Legacy Award," said Aaron Zeigler, president and owner of Zeigler Auto Group. 
Having worked with Zeigler Auto Group since 2013, Jim Craig has provided the organization with continuous support in leadership development, conducting monthly sessions with Zeigler's top leaders.
During these hour-long training sessions, he focuses on challenging the way leaders see themselves and others, often pulling from his experience as an Olympian and the defining moments in his life. 
"I firmly believe that winners get up the quickest, and this is a concept I reflect on frequently when things get hard. A defining moment for me was when I incurred a career-ending injury playing for the Minnesota North Stars in the NHL, meaning a career in which I was one of the best in the world at, was over. I had no idea what I was going to do next, but I picked myself up, reinvented myself, and navigated to the next chapter. All of the hard moments in my life have made me who I am."
True to his competitive nature, Jim Craig always emphasizes the importance of not giving up when things get hard or when you feel stuck, "My biggest advice is that failure isn't fatal, but being afraid to fail is. I encourage those people to stop being afraid of failing and take a risk or they will forever sit on their dreams. I encourage them to find mentors, always have a curious mind, and ask for help."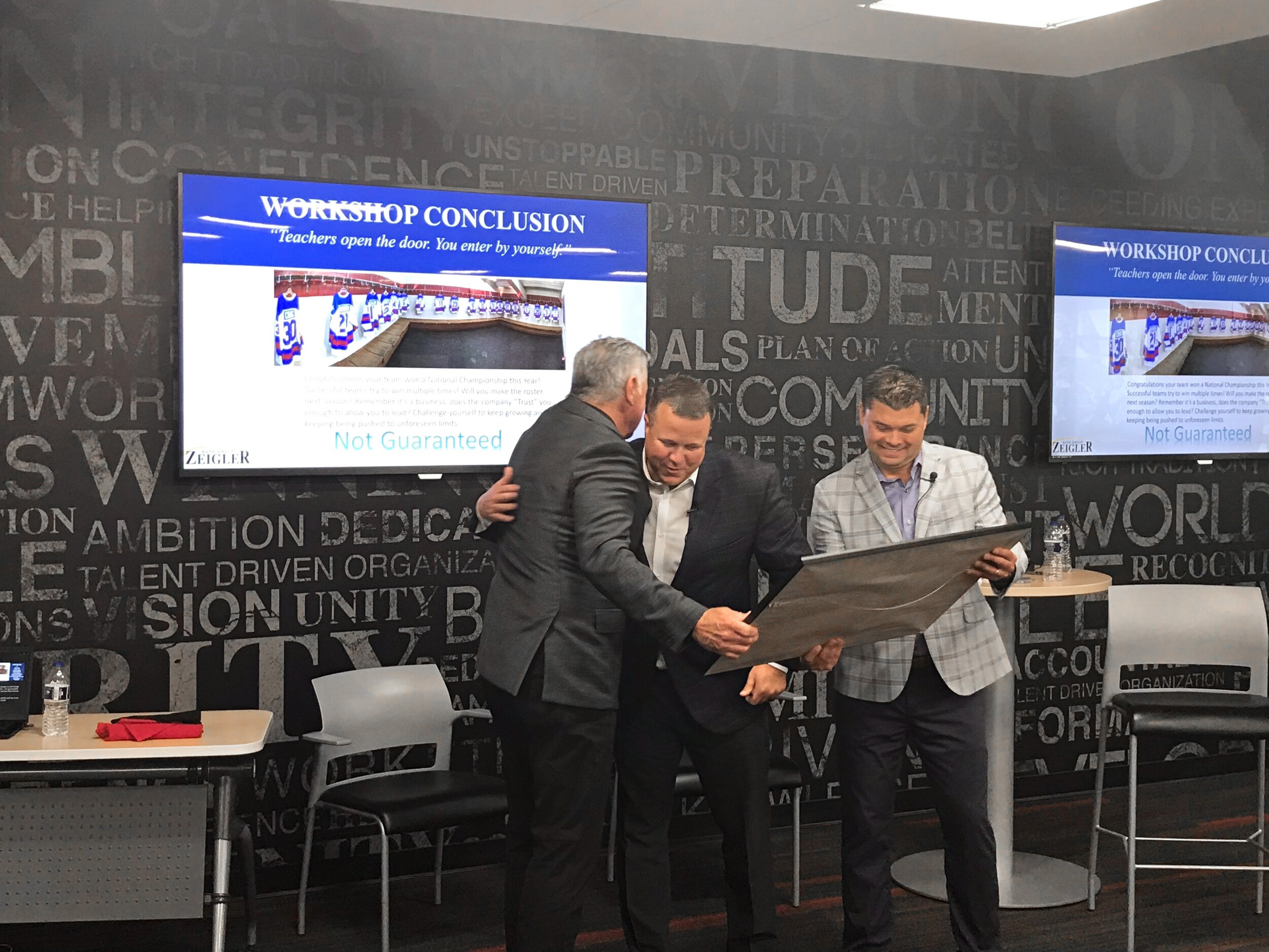 (Jim Craig receives Zeigler's Legacy Award from Aaron Zeigler and Mike Van Ryn)
Thanks to his ongoing involvement with Zeigler, many have come to see him as a mentor, and a vital part of their development at the organization. Zach Terrell, general sales manager, says he's been personally helped and challenged by Jim. "He is a no-nonsense kind of guy and I really appreciate that about him. He'll tell you what you need to hear and won't sugar coat it. I feel like he challenges me personally and professionally to be my best."
He also says he's seen the impact Jim Craig has had on the organization first hand. "One of the biggest things I've noticed that we started doing was calling everyone "team mate", this leaves the titles at the door and levels the playing field. I think that it helps a lot because when you call someone "new" or a "rookie" you're bounding them to those thoughts and experiences, when you change that around to "team mate" you are opening them up to bring everything they can to the table without labels."
Even from the very beginning of his partnership with Zeigler, Jim found a way to leave his mark. The very first day he visited the auto group, he saw a sign on the wall with Zeigler's famed P.R.I.D.E acronym with P.R.I.D.E. representing Passion, Reputation, Integrity, Drive, and Excellence.
Although he liked the concept and agreed with most of the meanings behind P.R.I.D.E., he felt the "E" for "Execution" was a better fit for what the organization was trying to achieve. Aaron Zeigler agreed, and changed it shortly after.
"I love the fact that Aaron has never gotten comfortable. I enjoy the fact that the company never settles for average and is creating the Gold standard in their industry," he continued.
Besides Aaron Zeigler, Jim Craig also pointed to other standouts within the organization including Mike Van Ryn, Joe St. Germain, Damon Allison, Ariah Daniels. "I love the way Joe St. Germain continues to reinvent himself. I love the fact that Mike Van Ryn has gotten out of his comfort zone. I love the fact that Damon breathes a new life into the organization. I love that Ariah has decided to be a leader."
"Jim Craig has been instrumental in Zeigler's leadership development over the last few years. He challenges people to get out of their comfort zone, by discussing topics that make you think in different perspectives. He is an inspiration to me and our entire Zeigler team!"
Mike Van Ryn, Director of Talent Development
"Jim Craig has been a HUGE positive influence on me and our team. He takes a different approach to training by making us THINK differently about important aspects of our business. He challenges us to think about different ways to approach the way we do business daily, the way we train, the way we approach our culture. I have learned a lot from Jimmy and I consider him an important part of our success!"
Joe St Germain, VP, Zeigler Auto Group
"Jimmy has been very inspirational in my current development! He is my mentor and helps me to ignite my personal career goals.  He consistently challenges my weaknesses and pushes me with guidance and conversation. The thing that I value most about Jimmy is his passions and encouragement towards the personal growth of others!"
Damon Allison, Corporate Recruiter & Talent Development, Zeigler Auto Group
"Jim has played an instrumental part in taking our leadership team to the next level! He's done an exceptional job at challenging our mindset and helping us step out of our comfort zones to grow. His passion and determination for helping others thrive is incredible and I'm happy to call him a mentor, coach, and friend!"
Ariah Daniels, Corporate Recruiter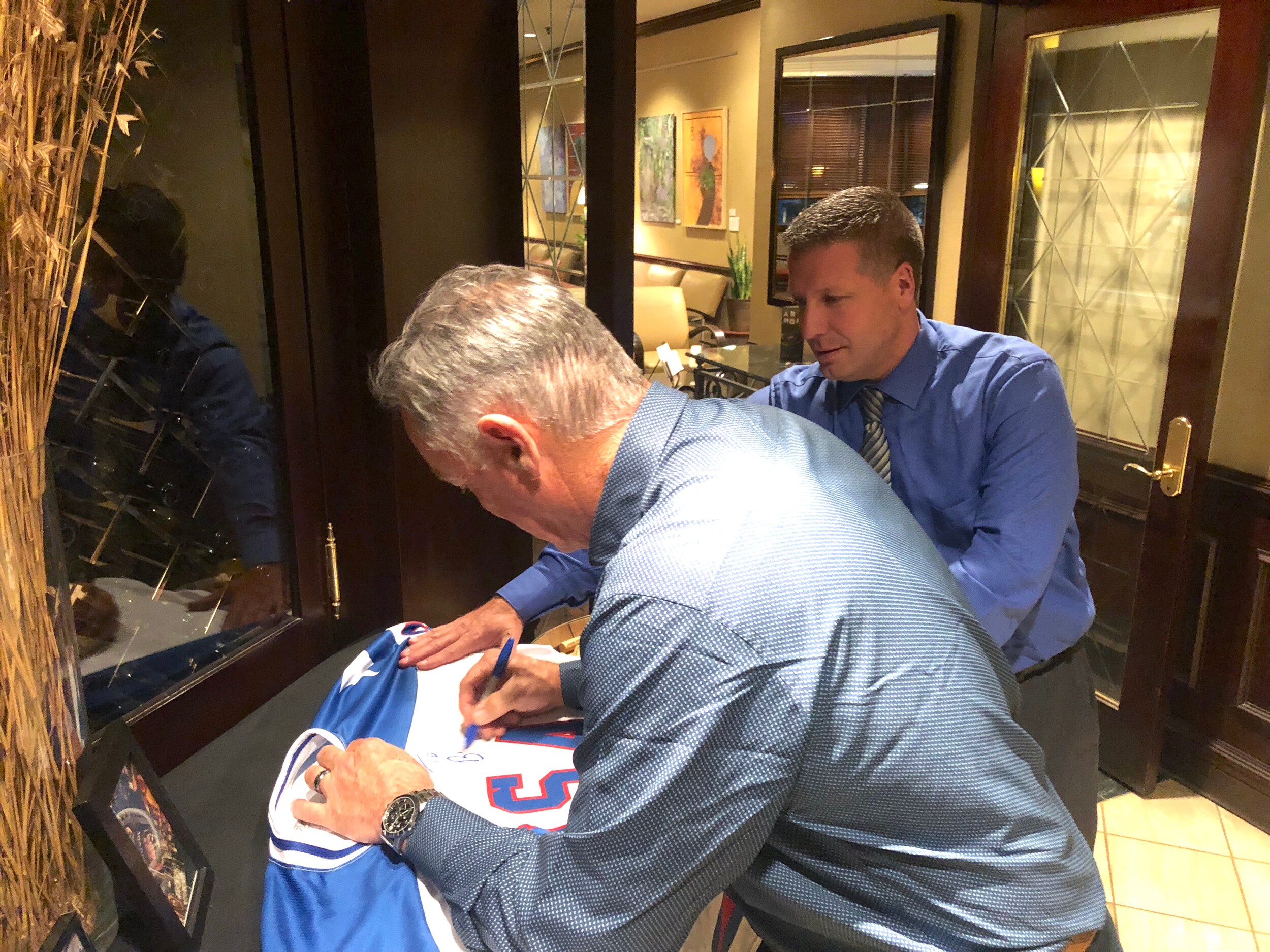 (Jim Craig signs his Team USA Jersey at Zeigler event)
"Jim has been tremendous in expanding the level of leadership with our team. Every time you are in training, on a conference call or having an individual discussion with Jim, he opens your mind to think at a higher level or with a new perspective. He challenges, inspires and drives innovation by working through key questions as a team, to discover opportunities within our organization. As Jim Craig says, "Leaders don't put greatness in people, they figure out a way to pull greatness out." Jim has pulled greatness out of our leaders, and we are truly grateful for his dedication to the Zeigler Auto Group."
Matt Thomas, chief of staff, Zeigler Auto Group
"Jimmy has been instrumental in developing me and our entire team here in Schaumburg.  A quote that I got from Jimmy that has become our mantra here is "Winners Win"...  What this means to us, is we will never accept failure.  We will never become complacent.  We will always find a way to win."
Eric Johnson, GM, Zeigler Auto Group
As for what Jim thinks of working with the Zeigler team, he says, "Zeigler has a winning culture developed by their thirst to want to be the best. They have figured out how to compete internally with each other in a positive manner, something we aim to develop with every company we work with, but Zeigler embodies that concept."
The Olympian first started playing hockey in the ponds in the back of his home in Easton, MA. Getting involved officially at 12 years old after a postman saw him skating and suggested it to his mother. 
The rest is history! From the very first time he skated, he knew it was his passion. "I felt free as a bird, like I was meant to be on that ice. When you have a passion like that, it fits perfectly. I don't believe you can ever duplicate that feeling - but I believe there are chapters of passion." Among these chapters he counts being a father, playing in the NHL, being an Olympian and the establishment of his company Gold Medal Strategies. 
"I started Gold Medal Strategies when I decided I wanted to be in charge of my own destiny, and the name is based on the concept that a Gold Medal is the hardest thing to achieve. My diverse background afforded me the opportunity to bring perspective and challenge our clients to get comfortable being uncomfortable, no matter what industry they were part of."
Today, he continues this commitment to self-improvement and helping others reach their greatest potential through Gold Medal Strategies. With everything we've learned about Jim, it's perhaps no surprise that for him competition is just a way of life, "I like to compete - I love competition, whether it's on the golf course, fishing, it doesn't matter - as long as there is competition, I am having fun." He says he also loves spending time with his family, especially his two, soon to be three, grandchildren. 
Gold Medal Strategies (GMS) is a boutique motivational speaking and relationship-based consulting company focused on a tailored approach to organizational and team development. Its team of innovators, strategists and collaborators are dedicated to leading with integrity and valuing a "family-first" approach to all that they do. With backgrounds from a variety of industries, GMS leverages its strengths as its team works together to bring your customized program to life.
Through its keynote addresses and leadership programs, GMS uses the analogy "Inside the Winning Locker Room" to demonstrate what it means to believe in a shared dream and be part of a winning team, across all demographics and despite any barriers that may present themselves.
Zeigler Automotive Group is one of the largest privately-owned dealer groups in the U.S. with 78 automotive franchises across 35 locations in Wisconsin, Illinois, Indiana, and Michigan. Vehicle brands represented include all of the domestic and the majority of the imported manufacturers.
Besides its extensive automotive portfolio, the organization owns and operates Zeigler Motorsports, an 85,000-square-foot motorsports dealership and action park, offering 15 different powersports brands, plus its own onsite restaurant: Trak Houz Bar & Grill. Additionally, Zeigler Motorsports houses the Elevate Leadership & Team Building Academy, an executive training company.
The Kalamazoo-based dealer group also owns and operates Zeigler Pre-Owned of Chicago, a Carquest Auto Parts store, three Byrider franchises, three finance companies, several insurance firms, and a leasing firm.
Founded in 1975, the organization employs over 1,800 people with annual sales of $1.7 billion, ranking among the top 1% of automotive dealers in the nation. The family-owned and operated company is well known for its commitment to both customer service and employee satisfaction. Zeigler is regularly recognized as one of the Best and Brightest Companies to Work for in the Nation, also earning similar accolades in Chicago and Michigan.