New York Times Best Selling Author Mitch Albom Kicks off the 2023 University Guest Speaker Series for 2023
The Zeigler University Guest Speaker Series welcomed New York Times Best Selling author Mitch Albom on Thursday, January 26, 2023.  Albom was the first speaker of 2023 and spoke to Zeigler team members on "Giving is Living" & how the more you give the more alive you feel. He also spoke about the importance and impact people can have on your life, when you listen.
KALAMAZOO, MICH. (January 27, 2023) - 
Zeigler Auto Group welcomed NYT Best-selling author Mich Albom as its latest celebrity presenter for its Zeigler University Guest Speaker Series. The NYT Best Selling author kicked off the 2023 Speaker Series sharing "Giving is Living" & how the more you give the more alive you feel. He also spoke about the importance and impact people can have on your life, when you listen.
Zeigler's highly successful and long-running Zeigler University Guest Speaker Series invites entrepreneurs, athletes, innovators and leaders across different industries to share their stories and points of view with the Zeigler team. 
During his session, Albom discussed the idea behind "Giving is Living" and how this principle has impacted his life thanks to three people: his late professor Morrie Schwartz, an unhoused stranger at a soup line; and ChIka, a young girl he met when he took over the Have Faith Haiti Orphanage.
Albom started Tuesday meetups with Schwartz after seeing him on a Nightline interview where he was speaking on living and dying with his terminal disease ALS. After spending time with him, Albom decided to write a book about their meetups to help pay for his medical bills. This book was aptly called Tuesdays with Morrie, Albom's breakthrough book which reached number one on the New York Times bestseller list for 205 weeks and became one of the top-selling memoirs of all time. Tuesdays with Morrie has sold over 20 million copies and has been translated into 45 languages. 
Albom said one of the key takeaways from his time with Schwartz was how investing in others leaves a legacy beyond your lifetime. To make this point, he drew on the impact his late professor had on him even after his death. This is something Albom wanted to pay forward.
"When you spend time with others, investing in them, you will live inside them."
Mitch Albom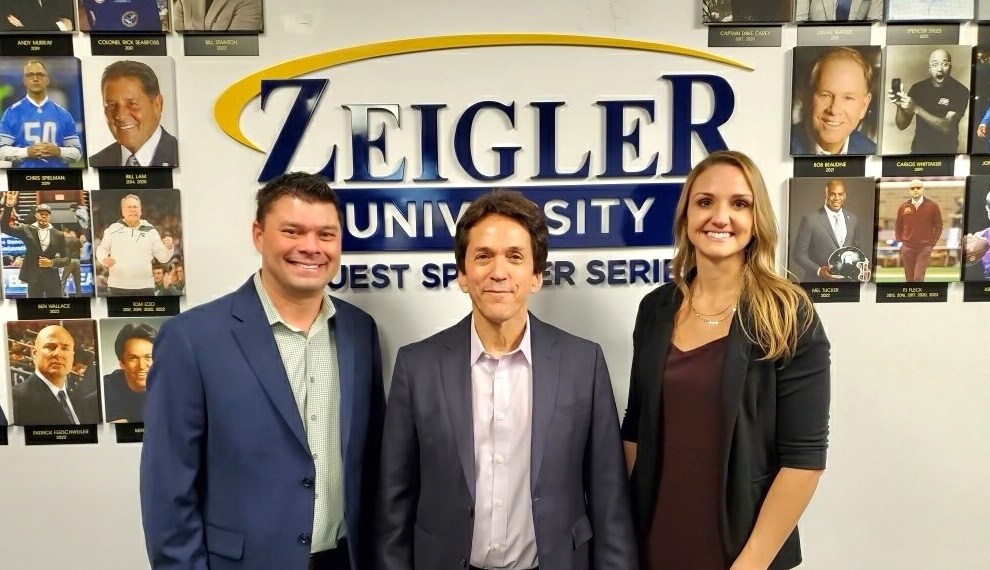 "Our Zeigler University Guest Speaker series is a very impactful part of our culture!  We couldn't think of a better way to kick off 2023 than with Mitch Albom and his message of Giving is Living!  We heard The Why behind giving back to others and the impact it has. We model this philosophy within Zeigler Auto Group giving back to our communities in big ways and with our Drive For Life charity event annually.
 I have found that when you give back it always comes back to you.  Mitch was tremendous!"  
Mike Van Ryn, Director of Talent Development
This truly came into play after learning about the "Homeless SuperBowl" event in town where unhoused people were put up for a few days during the Super Bowl so they wouldn't interfere with the game, and then returned just a couple of days later. Albom decided to experience this for himself and stood in the soup line where he met a stranger who was surprised to see him there and after confirming that he was indeed Mitch Albom, asked him what had happened to him.
For Albom, the question: "what happened to you?" played a pivotal role in his life, prompting him to write a column that raised $65,000 to give the area's unhoused population additional relief for months instead of days. This eventually turned into the 501(c)3 nonprofit S.A.Y (Super All Year) Detroit. Besides this charity, Albom has created nine total. 
One of these charities was an orphanage he came across during a trip to Haiti after it was left devastated by an earthquake-which killed 3% of the population. After seeing how much more he could do to help, he took over the orphanage and renamed it the Have Faith Haiti Orphanage. With 60 children under his care, Albom took 120 trips back and forth to help oversee the organization. During that time nine graduated, with all of them being "A" students. 
However, it was one particular little girl's story that ended up changing Albom's life forever. Chika, who was born just days after the devastating 2010 earthquake, was surrendered by her family at age 3 when her mother died two days after giving birth to her brother. At 5, Chika it was discovered that she had diffuse intrinsic pontine glioma (DIPG), an inoperable, stage four brain tumor. After learning this, Albom and his wife Janine decided to bring her to the U.S. to receive treatment. Once in the US, a doctor gave her just days to live. Unable to accept this, Albom and his wife set out to find the cure. They traveled around the world on this mission for two years until she passed away at age seven. Through this experience, Albom says he "found a family," breaking through his resistance to parenthood. He also developed a sense of responsibility for all the children of the world and what it means to be there for them and carry them forward.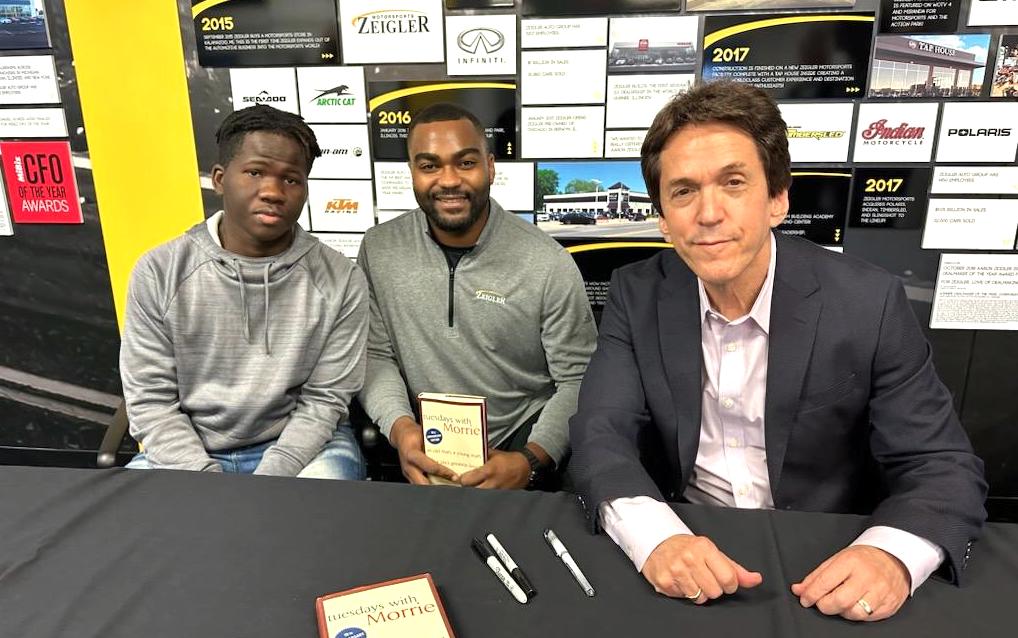 "I'm so thankful to have been present today; sharing my thoughts is the least I can do. Special thanks to you and those responsible for the event. Mr. Albom spoke straight truth and love. I needed to hear every word. "You just have to start" "Everyone who had the chance to call home during 9/11, all had the same words to share with their loved ones" "know what's truly important in life"  What a man! Thank you Mr. Album. I learned that the impossible is worth fighting for. Seek guidance and support from those who came before you. Like Mitch and Morrie. "Giving is Living"
Marc Destine, Salesperson Zeigler Ford of Lowell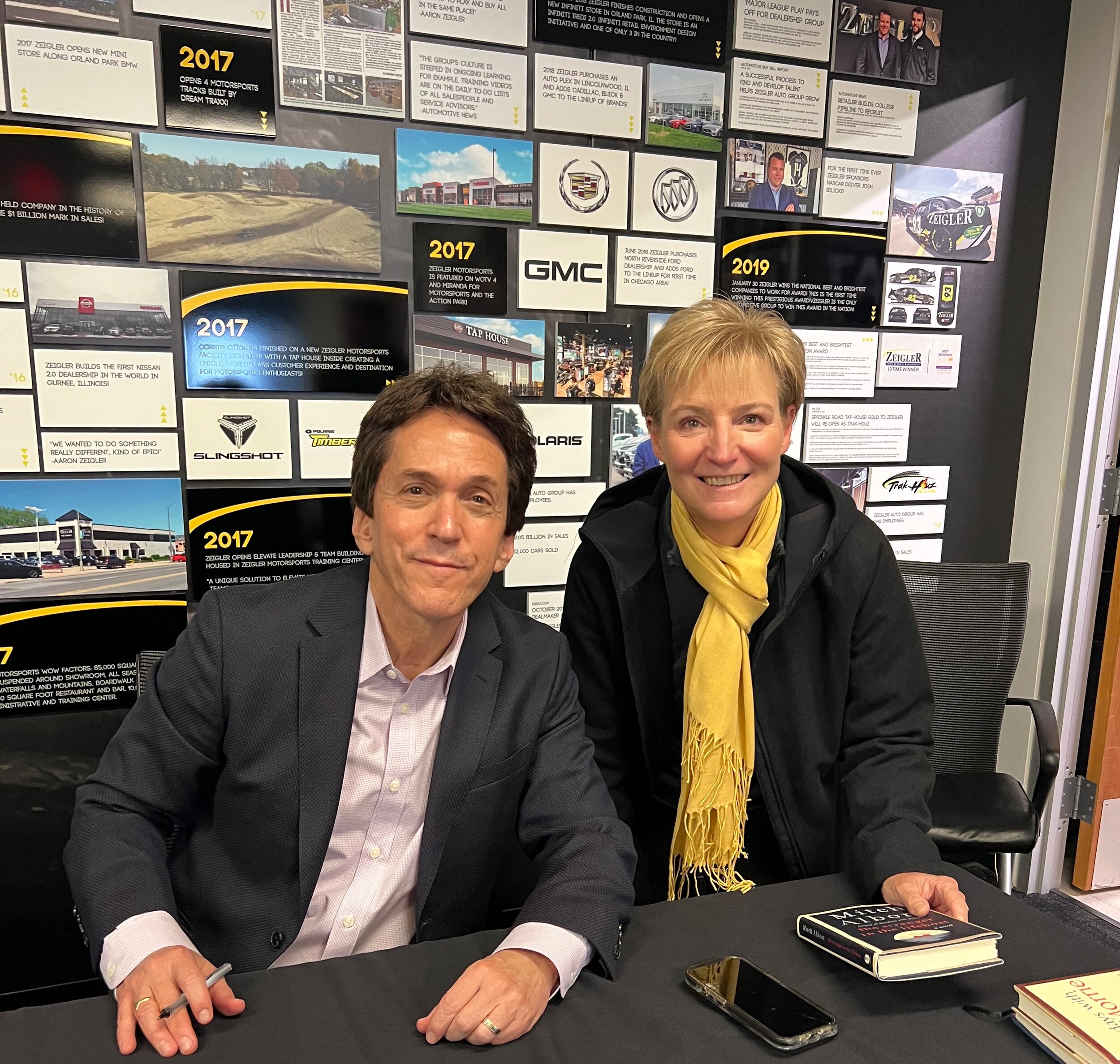 "Sometimes it's too easy to get bogged down in our lives. Stress, tough dynamics, long hours and a lack of sunshine had me feeling less than myself, and the event you facilitated today was some much-needed gas in my tank and a great reminder of one of the reasons I feel in love with Zeigler Auto Group in the first place!  We care here.  We care about each other, we care about our clients, and if given the chance most people in this organization will do the absolute most to improve someone else's situation.  I am really proud to work for a company that values that."
Lisa Downie, Salesperson, Zeigler Grandville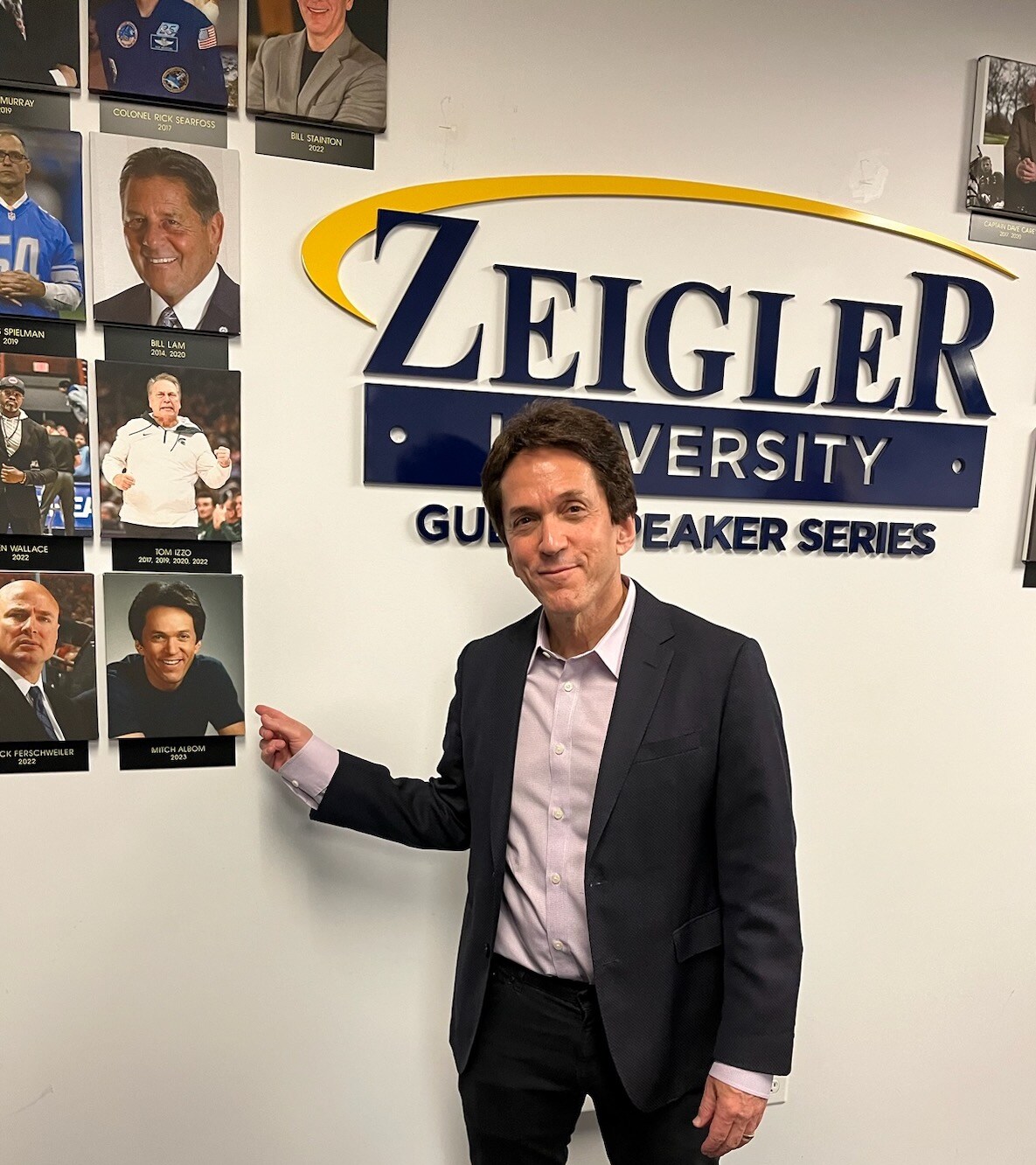 "When Mitch was sharing his story of the nameless man at the shelter that recognized him and asked "what happened to you?", really resonated with me. I mean, I laughed super hard at first but then it clicked. The rise and fall of anyone can happen at any point in time, which was an extremely humbling thought. I am going forward with the mindset of investing in relationships because I passionately want to be the pebble in the pond, creating the ripple. Today was a day filled will all types of emotions. Being able to laugh and cry during the same speech is a remarkable experience that I would highly recommend to anyone!"
Wes Giancola, General Manager, Zeigler Auto Group
Mitch Albom was a guest on Zeigler's Driving Vision Podcast hosted by COO Sam D'Arc, you can listen to this episode on Monday, January 30th.
ABOUT ZEIGLER AUTO GROUP
Zeigler Automotive Group is one of the largest privately-owned dealer groups in the U.S. with 78 franchises across 35 locations in Wisconsin, Illinois, Indiana, and Michigan. Vehicle brands represented include all of the domestic and the majority of the imported manufacturers.
Besides its extensive automotive portfolio, the organization owns and operates Zeigler Motorsports, an 85,000-square-foot motorsports dealership and action park, offering 19 different powersports brands, plus its own onsite restaurant: Trak Houz Bar & Grill. Additionally, Zeigler Motorsports houses the Elevate Leadership & Team Building Academy, an executive training company.
The Kalamazoo-based dealer group also owns and operates Zeigler Pre-Owned of Chicago, three Byrider franchises, three finance companies, several insurance firms, and a leasing firm.
Founded in 1975, the organization employs over 2,300 people, ranking among the top 1% of automotive dealers in the nation with estimated annual sales of $2.2 billion for 2022. The family-owned and operated company is well known for its commitment to both customer service and employee satisfaction. Zeigler is regularly recognized as one of the Best and Brightest Companies to Work for in the Nation, also earning similar accolades in Wisconsin, Chicago, and Michigan.