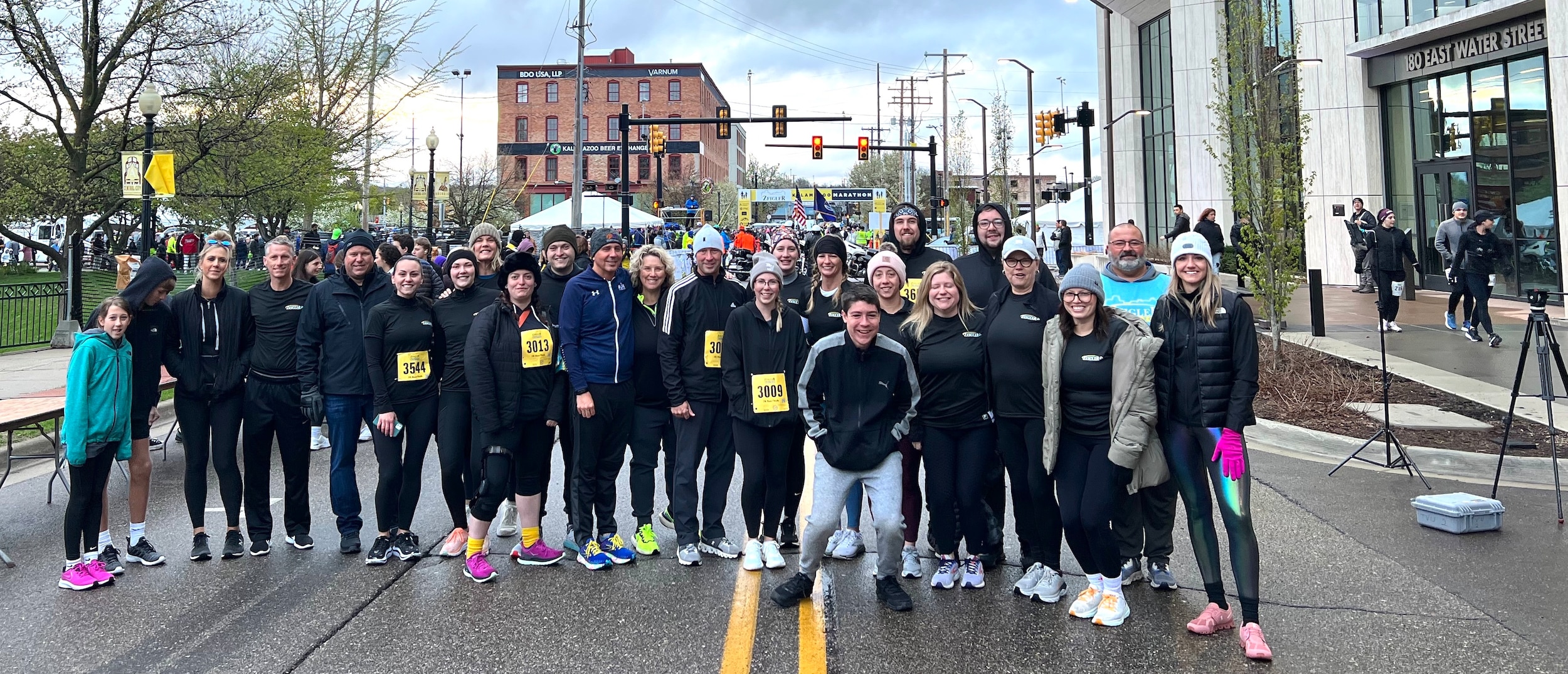 (TEAMZEIGLER before the start of the 2023 Zeigler Kalamazoo Marathon)
The Zeigler Kalamazoo Marathon A Huge Success At Driving a Healthy Community Forward
The Zeigler Kalamazoo Marathon took place this past weekend, Saturday, April 22 through Sunday, April 23, 2023, with a record-breaking turnout of over 2,300 participants. Last year's number was around 1,300. The event weekend, which coincided with the partnering Spring Stride Outdoor Fest, included the highly-anticipated return of the full marathon, which included a route running through Western Michigan University's Waldo Stadium. The festivities included the Ascension Borgess Health Expo, the Electric Avenue Car Show, and more community-friendly activities.
KALAMAZOO, MICH (Apr 24, 2023) The 2023 Zeigler Kalamazoo Marathon weekend returned to Greater Kalamazoo with a multitude of fun activities for the entire community. Among the main attractions was the highly-anticipated return of the full marathon on Sunday, April 23, 2023 - which included a route through WMU Waldo Stadium along with the half marathon and the 10K. 
The weekend's festivities kicked off with the free PNC Kids' 1K and the Ascension Borgess Health Expo, both of which were also included in the inaugural Spring Stride Outdoor Fest, sponsored by the City of Kalamazoo.


(WMU's Sunseeker kicks off the PNC Kids' 1K on Saturday, April 21, 2023)
 "We're up over a thousand runners from last year and looking forward to just building it every year," said Aaron Zeigler, president and owner of Zeigler Auto Group, the Marathon's main sponsor. "It's great to build this wonderful community event. We're bringing in people from out of town, people from in Kalamazoo." 

Community members of all ages enjoyed the weekend with activities that included music spinning live by DJ Chuck, the Electric Avenue Car Show, face painting, balloon animals, four food trucks, and adult beverages by Short's Beer for those 21 and over.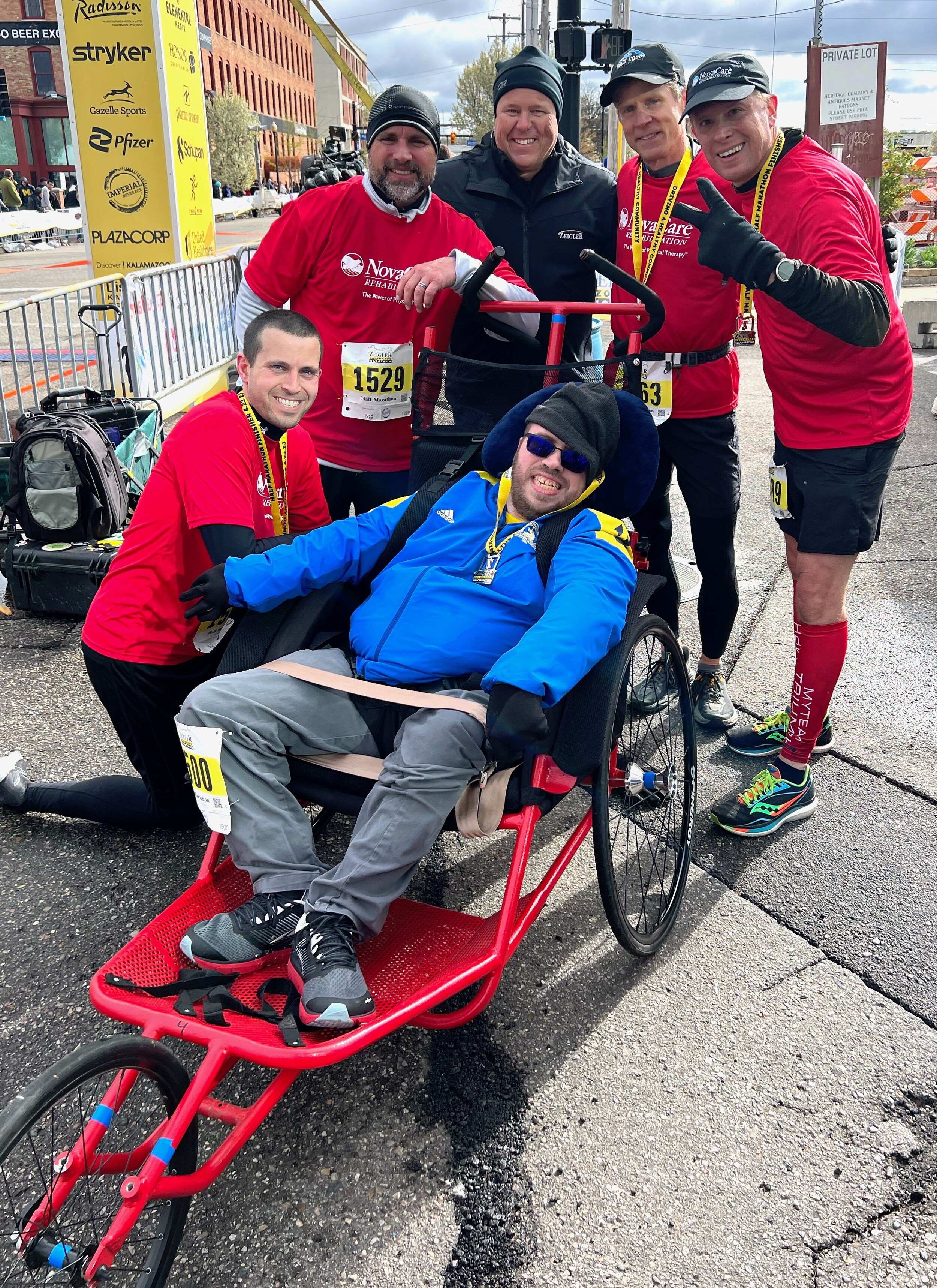 (Aaron Zeigler with myTeamTriumph)

In conjunction with the Spring Outdoor Fest, the weekend also included the Parade of Companies powered by Southwest Michigan First, a sensory-friendly space by Total Spectrum; and a special panel hosted by black, sober runner Tommie Runz on the main stage, broadcast by WOOD TV.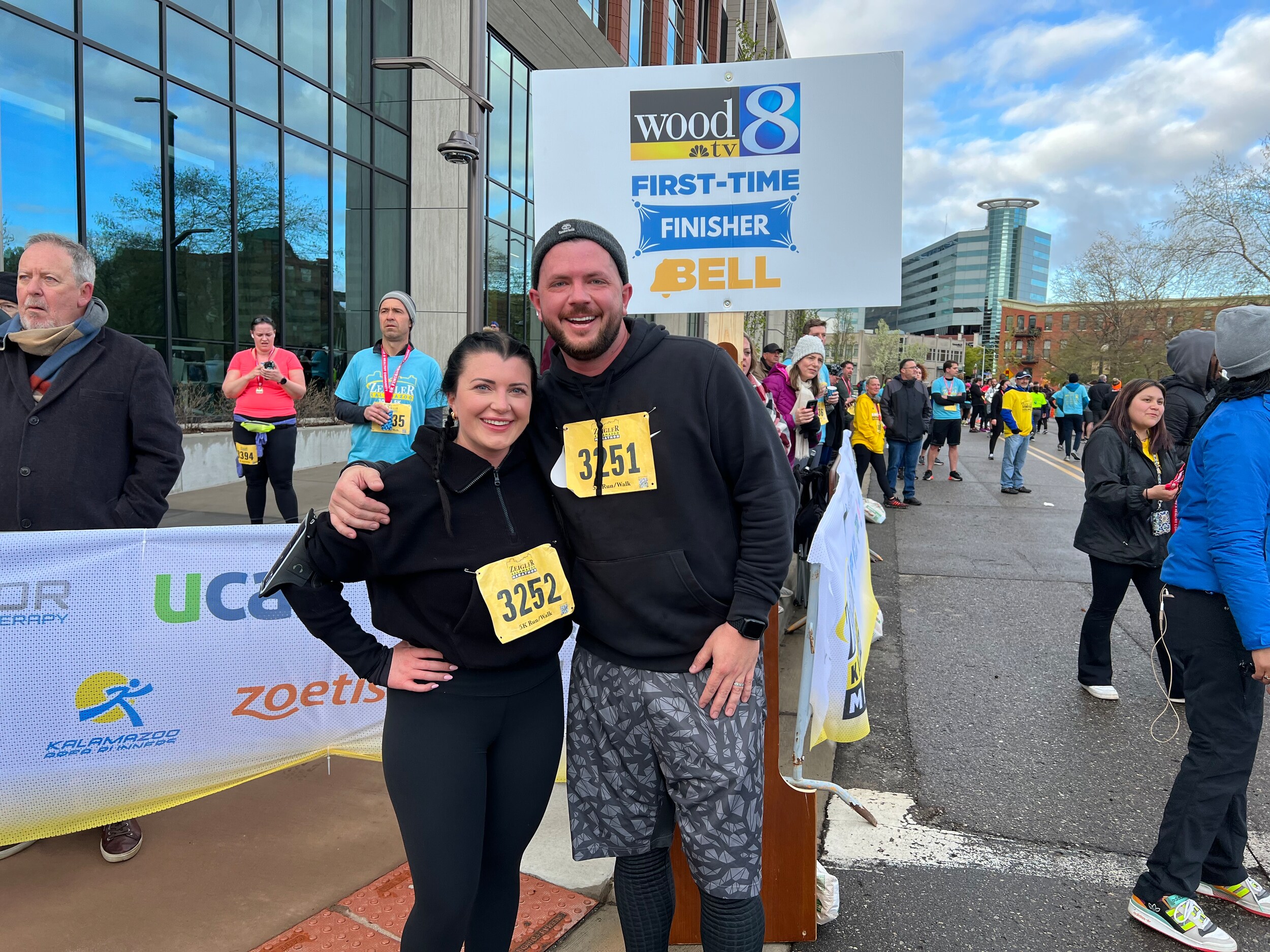 (Members of TEAMZEIGLER pose for pictures after the race)

Also by WOOD TV was first-time finisher recognition at the finish line with special gifts for the first 100 participants that completed their chosen distance for the first time. Zeigler's podcast: Driving Vision, hosted by COO Sam D'Arc, also live-streamed at the finish line.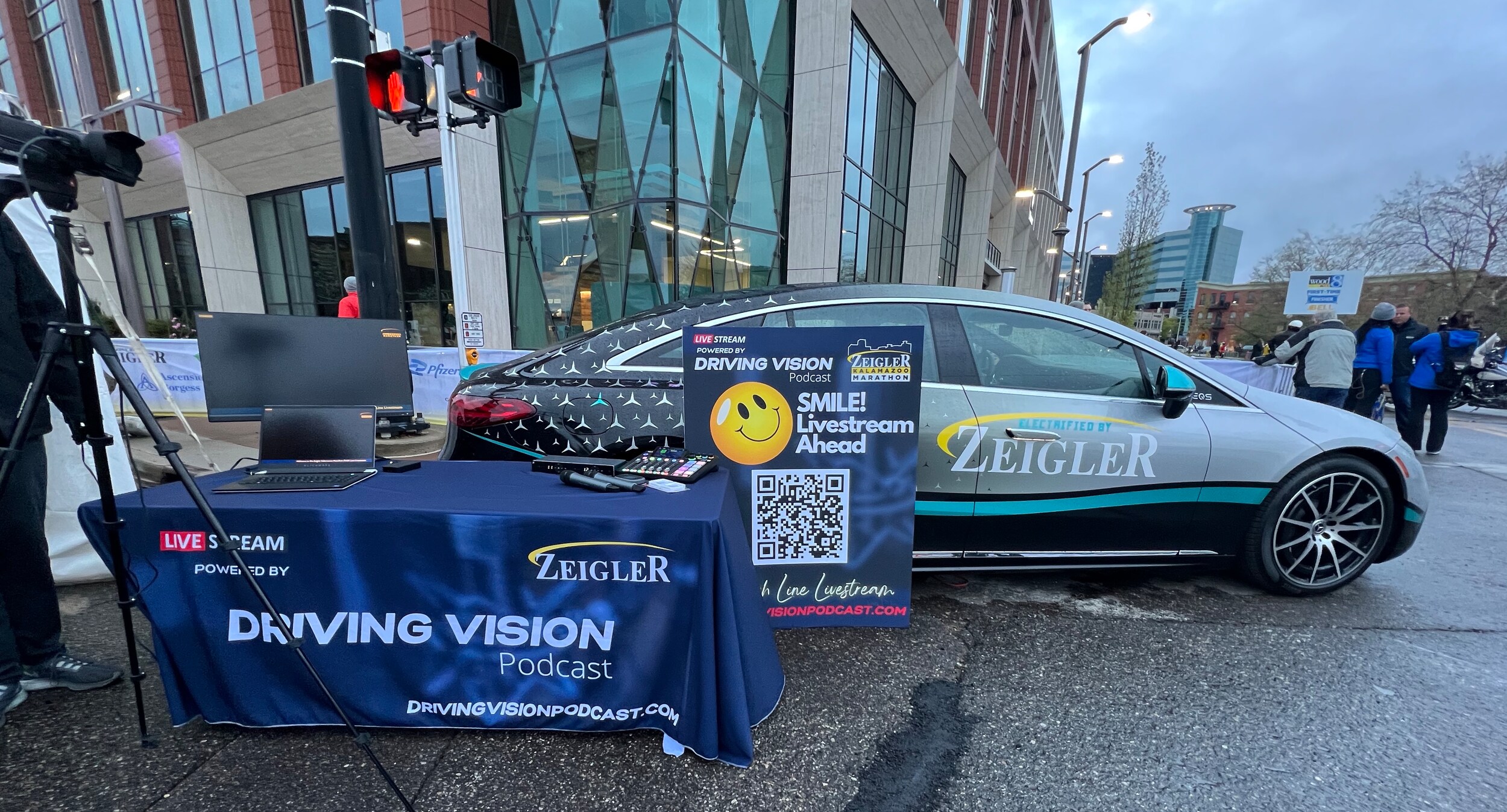 (The Driving Vision Podcast livestreamed all Zeigler Kalamazoo Marathon race events at the finish line on Sunday, April 22, 2023)
With over 2,300 participants across all races the competition was stiff, but these four runners rose to the occasion coming in first place for their respective events.
Marathon: Jonathan Coleman, 26, of Chicago, Illinois
Half Marathon: Ryan Budnik, 25, of Grand Rapids, Michigan
10K: Dexter Fossit, 38, of Paw Paw, Michigan
5K: Alex Harrel, 24, of Kalamazoo, Michigan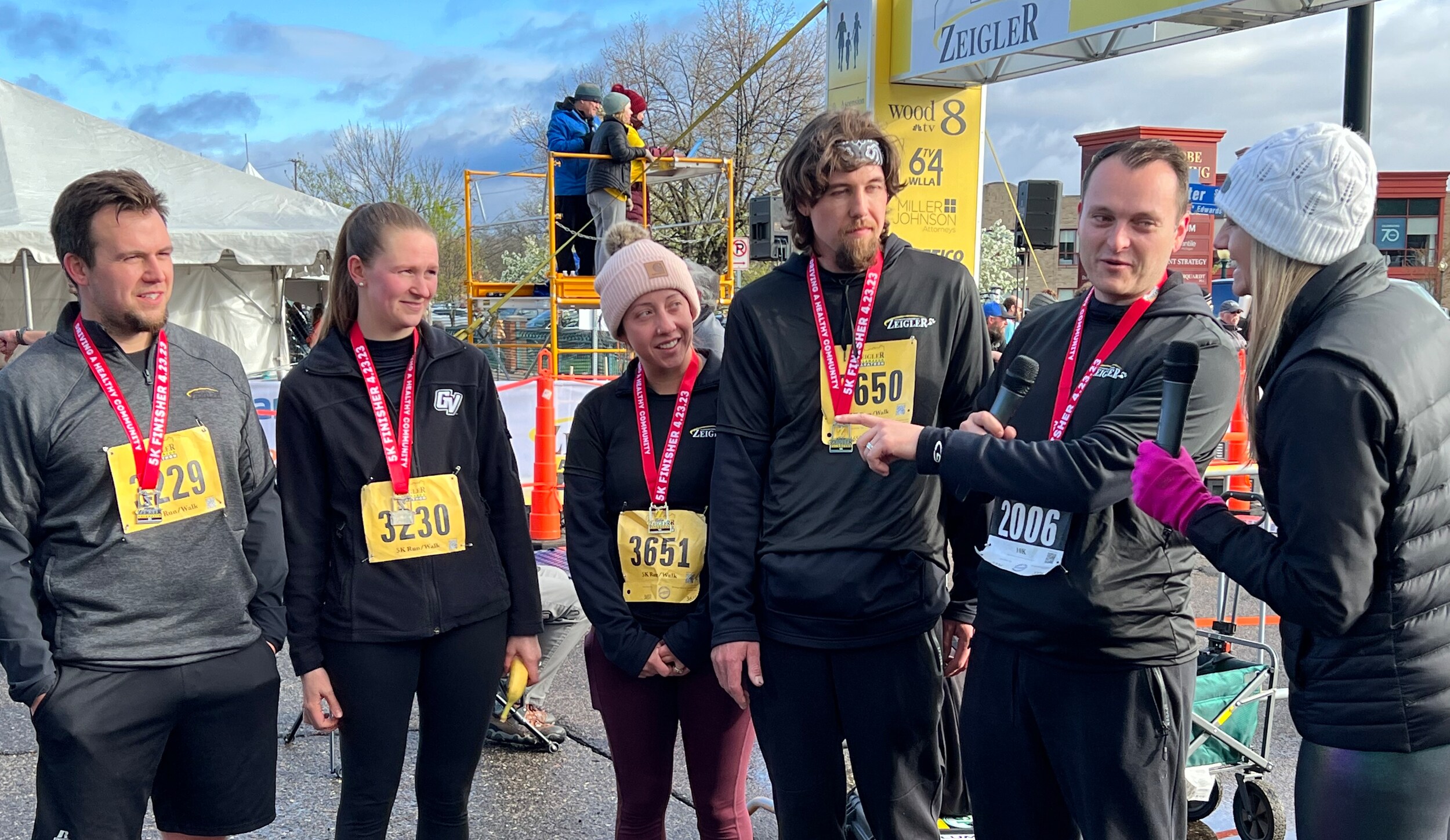 (Ariah Daniels interviews members of TEAMZEIGLER for Zeigler's Driving Vision Podcast)
ABOUT THE ZEIGLER KALAMAZOO MARATHON
The Zeigler Kalamazoo Marathon is a 501(c)(3) nonprofit that  attracts participants from all over the U.S. by "Driving a Healthy Community" in the Greater Kalamazoo area and beyond. The annual community event includes a Marathon, Half Marathon, 10K, 5K, 5K Walk, and 1K Kids Run; as well as a health expo. 
Formerly known as the Borgess Run for the Health of It!, the event was renamed the Zeigler Kalamazoo Marathon in 2022 after Zeigler Auto Group became its title sponsor. 2023 will mark the event's 42nd anniversary and the return of the full marathon, after its omission in 2022.
All races start and finish at the Arcadia Creek Festival Site and run through Downtown Kalamazoo, with the full marathon, half marathon and 10K passing through Western Michigan University's Waldo Stadium. The marathon course also includes the Portage Creek Bicentennial Trail, Stryker campus, Kalamazoo Air Zoo Aerospace & Science Museum, Milham Park, Milwood Neighborhood, Edison Neighborhood, and Upjohn Park.
Known for its highly-spirited excitement zones and water station, 5K participants enjoy Gummy Bear Forest; and Half Marathon and Marathon runners experience the infamous Bacon Station. All participants and spectators can enter the Stryker Experience in Downtown Kalamazoo. 
ABOUT ZEIGLER AUTO GROUP
Zeigler Automotive Group is one of the largest privately-owned dealer groups in the U.S. with 78 franchises across 35 locations in Wisconsin, Illinois, Indiana, and Michigan. Vehicle brands represented include all of the domestic and the majority of the imported manufacturers.
Besides its extensive automotive portfolio, the organization owns and operates Zeigler Motorsports, an 85,000-square-foot motorsports dealership and action park, offering 19 different powersports brands, plus its own onsite restaurant: Trak Houz Bar & Grill. Additionally, Zeigler Motorsports houses the Elevate Leadership & Team Building Academy, an executive training company.
The Kalamazoo-based dealer group also owns and operates Zeigler Pre-Owned of Chicago, three Byrider franchises, three finance companies, several insurance firms, and a leasing firm.
Founded in 1975, the organization employs over 2,300 people, ranking among the top 1% of automotive dealers in the nation with estimated annual sales of $2.2 billion for 2022. The family-owned and operated company is well known for its commitment to both customer service and employee satisfaction. Zeigler is regularly recognized as one of the Best and Brightest Companies to Work for in the Nation, also earning similar accolades in Wisconsin, Chicago, and Michigan. Besides these prestigious accolades, Zeigler is also one of Glassdoor's 100 Best Places to Work in the U.S. for 2023, and among Glassdoor's top 10 U.S. companies for work-life balance.