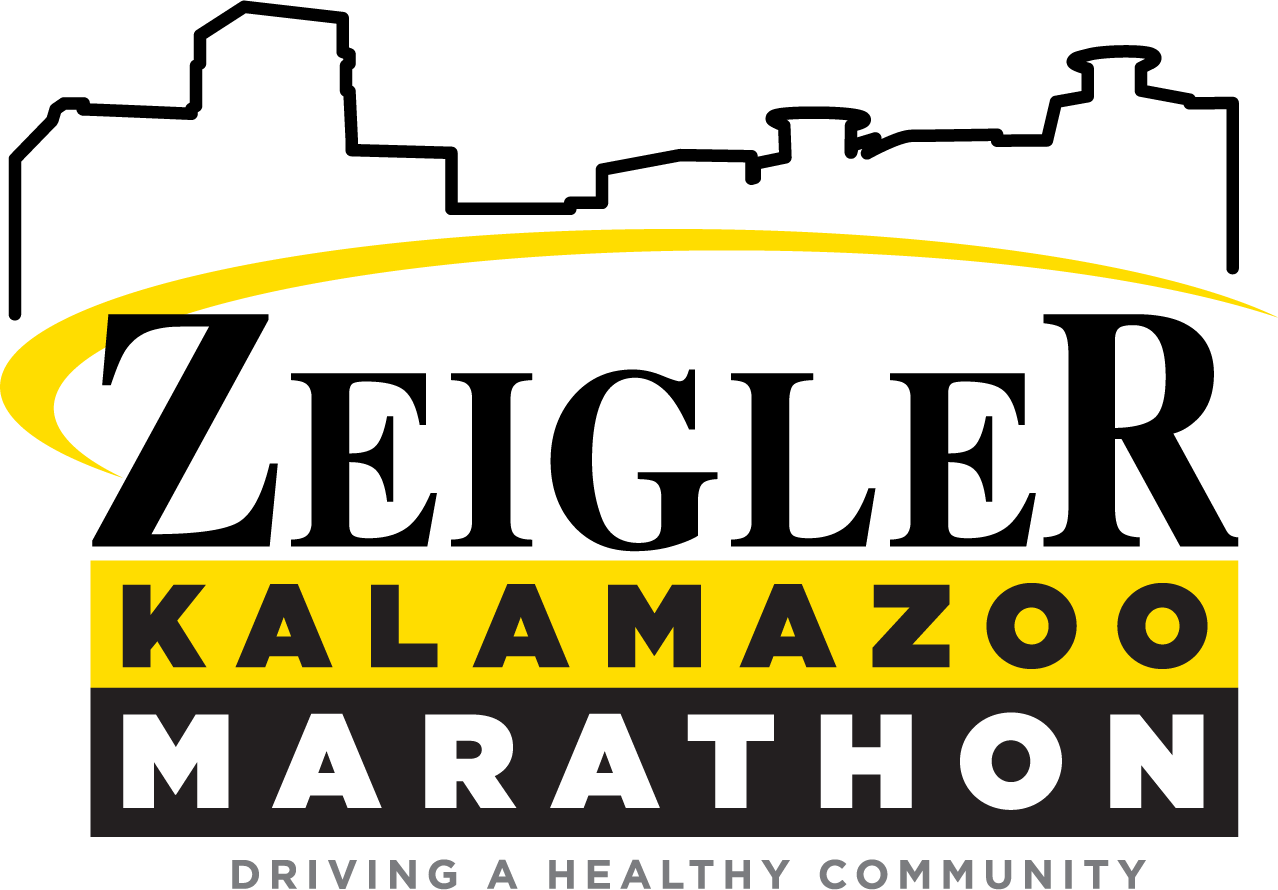 The Zeigler Kalamazoo Marathon Wins at Driving A Healthy Community
Team Zeigler Shares Its Celebration Experiences
The Zeigler Kalamazoo Marathon returned this past weekend as a huge success with nearly 2,000 registered runners, family-friendly activities; and crowd favorites that included the Bacon Station and the Gummy Bear Forest. The PNC Kids' 1K kicked off the event weekend Friday with nearly 600 kids participating. Saturday, Downtown Kalamazoo was host to the Kalamazoo Health Expo with tons of family-friendly activities, booths displaying event sponsors and charity partners; and a meet and greet with NASCAR driver Josh Bilicki. The main event races were held Sunday which included the half marathon,10K, 5K Run, and the Priority Health 5K Walk.
KALAMAZOO, MICH (APRIL 27, 2022) The 2022 Zeigler Kalamazoo Marathon was held this past weekend Friday, April 22 through Sunday, April 24, 2022, with a successful turnout and the registration of nearly 2,000 runners and walkers.
"We are deeply grateful to the city of Kalamazoo for hosting us this year and the community for its outpouring of support, smiles, and enthusiasm! An event like this takes a community.  To our volunteers who worked tirelessly to make this event happen and to our generous sponsors - thank you for supporting our vision for the Zeigler Kalamazoo Marathon and "Driving a Healthy Community" with us. We cannot thank you enough. We are excited to bring this event back, bigger and better next year with the addition of the full marathon in 2023!" said Carrie Drake, director of Zeigler Kalamazoo Marathon.
The Zeigler Kalamazoo Marathon weekend started on Friday with the PNC Kids' 1K held at the Mayors' Riverfront Park. At the event nearly 600 kids participated across four categories, all walking away with a great experience, a finishing medal, and t-shirt courtesy of event sponsor PNC.
Saturday saw a flurry of activity in Downtown Kalamazoo as the Zeigler Kalamazoo Marathon held its Kalamazoo Health Expo with tons of interactive activities for the entire family. A crowd favorite was NASCAR Josh Bilicki's meet and greet, with fans taking photos with him in hopes of winning passes to a NASCAR race at the Michigan International Speedway. The NASCAR driver also set a reaction time using the FitLight system and a 20 yard sprint time. Guests were encouraged to stop by to see if they were faster than the NASCAR driver.
#TEAMZEIGLER Race Day before the main race events for 
the Zeigler Kalamazoo Marathon on Sunday, April 24, 2022
"It was promising for the future that the turnout for year 1 was so great. It was great to see all the different members
of team Zeigler coming together including Aaron Zeigler, Josh bilicki,  and team members of other stores"
Ryan Budnik, Sales, Zeigler Plainwell Chrysler, 2nd Place Half Marathon
"The best part about this entire event was seeing all of the Zeigler team members crossing the finish-line and celebrating
with each other. It was very rewarding for me as the liaison to the Zeigler team for all health and mental wellness activities
to see my teammates make the most of the Zeigler Kalamazoo Marathon weekend with all of its family-friendly activities."
Bryan Applin, Corporate Recruiter, Zeigler Auto Group
Dan Scheid, CFO, Zeigler Auto Group and his daughter Christina Scheid.
"The Zeigler Kalamazoo Marathon was a weekend full of excitement, enthusiasm and energy from the community and for
the city of Kalamazoo. It was a true joy being involved in each event and seeing the smiling faces from people all over the country,
who came to participate in the half marathon. My favorite time was celebrating with Team Zeigler employees, family and community as they
crossed the finish line! That is what Driving a Healthy Community is all about!" 
Matt Thomas, Chief of Staff, Zeigler Auto Group
"It was amazing seeing Team Zeigler volunteers, runners, walkers and friends and family come out to support this event.
We were proud to give back to the community in this way and are excited about expanding everything for next year!"  
Mike Van Ryn, Director of Talent Development, Zeigler Auto Group
"The 2022 Zeigler Kalamazoo Marathon is in the books! It was a gorgeous Sunday morning in downtown Kalamazoo and
the weather cooperated with us all to have a wonderful run and a memorable day! The Kalamazoo Marathon is a staple event in the Kalamazoo
community and it's one of the events where Sponsors, the community, volunteers, Family & Friends all come out to cheer on the runners for the 5k, 10k
and the Half Marathon and pitch in where ever they can to make the event a huge success.  Personally, I've been on the Advisory council board for the event
for many years as well as a participant in the 10k, Half Marathon and the Full Marathon, which will return for 2023! This is a perfect event for us here at
Zeigler Auto Group to be a presenting sponsor of, this event truly follows our Mission & Vision and exemplifies our Team P.R.I.D.E values. It was wonderful
to see how well the community embraces this event and look forward to continued growth for years to come!" 
Derrick Jones, GSM, Zeigler Grandville
"I actually ran the 10k with my wife and friends and had an awesome time. This is my first race so I don't have a lot to compare it to,
but the support from the community and feedback from other runners was nothing short of ELITE! Let me know if you need anything else from me."

Zach Terrell, Executive Development Associate - Kalamazoo
"This event was exactly what our community needed! Seeing so many people out connecting, competing, and making their health a priority
and supporting others was incredible. I'm so thankful to work for an organization that invests in making events like these possible. I got to run
the 5k alongside my husband, close friends, and co-workers who might as well be family! Can't wait for next year!" 
Ariah Daniels, Corporate Recruiter, Zeigler Auto Group
"The hardest step of the race was the first, and the first step came long before race day. It's deciding to put your name on a list for a challenge
you aren't sure you can complete. At Zeigler we talk a lot about our values, our PRIDE and all of our values are needed to complete a race.
It takes Passion for self-improvement. Showing up no matter how ready you feel plays into Reputation, with Integrity demanding you do your best for
any task you set forth to do. Drive keeps you going when it would be easier to quit, and nothing says Execution like hearing your name called at a finish line.
Many of us are intimidated by a challenge, but have a little PRIDE, you'll be surprised what you can do."

Candace Rabourn, Salesperson, Zeigler Grandville
"The Zeigler Kalamazoo Marathon is a great example of how our organization is dedicated to our local community. It was great to see
the participation from our team to positively represent our company for the first annual sponsorship of the event.
Giving back to our community is a complete representation of PRIDE."
Ted Rabourn, Sales Representative, Zeigler Grandville
#TEAMZEIGLER celebrating at the finish line
"The Zeigler Kalamazoo Half Marathon was amazing!  The town was full of spirit and support with local townspeople cheering you
on the entire race.  At the top of a killer hill, there were two men banging on drums encouraging runners to make it up the hill.  In front of every house,
the residents were out cheering you on, including several that set up tables on their driveway with orange slices and water cups for the runners. 
There were constant "high fives" along the way. On one quiet residential street the local children wrote with chalk words of encouragement down
the entire street. How a little thing like the words drawn in chalk "Keep Going" can actually keep You Going.  None of these people had to be out there
helping us get through a really hard race.  I'm sure they all had better things to do like sleep on a Sunday morning but they were out there showing their support. 
I ran with a broken toe and was not really trained up for the race, but the amazing people of Kalamazoo helped me get through it.  It is clear how much
the Zeigler group values, embraces, and supports the community."
Jon Kommel, Used Car Director, Wisconsin Stores
The main event races, held Sunday at the Arcadia Creek Festival Plaza, included the half marathon, 10K, 5K Run, and the Priority Health 5K Walk.
The national anthem was sung by Sarah Mead, then race director Carrie Drake and Zeigler CEO Aaron Zeigler shared a few words about the importance of the event in the community. The Michigan Chapter of myTeam® Triumph kicked off the races, with NASCAR driver Josh Bilicki pacing the half marathon in the Zeigler.com Chevy Camaro.
You can hear live reactions along with a full recap of the Zeigler Kalamazoo Marathon on the Driving Vision Podcast as well as some of Josh Bilicki's thoughts on the event this past weekend. Zeigler Auto Group Newsroom | Zeigler Automotive Group News
Click here for the full list of official race results online at ZeiglerKalamazooMarathon.com
Half Marathon - 7:30 a.m.
-Mauri Tejera, 32, Lansing - 1hr. 15 min. 02.37 sec.
-Charlotte Etienne, 23, Kalamazoo - 1 hr. 28 min. 31.93 sec.
10K Run - 7:45 a.m.
-Jack Markillie, 17, Richland - 43:34.0
-Rachel Gallap, 23, Kalamazoo  - 47:10.7
5K Run - 7:50 a.m.
-Jeff Nordquist, 32, Kalamazoo  - 19:13.3
-Danielle Krasinski, 35, Plainwell - 22:37.3
"We are so proud to be part of the legacy of the Zeigler Kalamazoo Marathon! Being able to bring this iconic race back to Kalamazoo is a huge blessing for us and it's only going to get bigger and better from here! To all the event organizers, volunteers, and sponsors - thank you so much for everything, this would not have been possible without you," said Aaron Zeigler, CEO and president of Zeigler Auto Group, the race's title sponsor.
#TEAMZEIGLER Race Day poses at the finish line at 
the Zeigler Kalamazoo Marathon on Sunday, April 24, 2022
As participants crossed the finish line they were enthusiastically cheered on by the community and awarded medals for their achievement.  
Both runners and supporters enjoyed the Zeigler Kalamazoo Marathon's Stryker Experience at Arcadia Creek Festival Place which featured food trucks, music by DJ Chuck, games, face painting, balloons, giveaways and more. Sponsor Imperial Beverage provided complimentary beer to adults 21 and over, with many participating in the Beer and Cheer station after the races.
Next year the Zeigler Kalamazoo Marathon weekend will bring back the marathon as the main event race. Plans are now underway for the 2023 Zeigler Kalamazoo Marathon, for more information, please contact Carrie Drake at director@zeiglerkalamazoomarathon.com.
ABOUT ZEIGLER AUTOMOTIVE GROUP
Zeigler Automotive Group is one of the largest privately-owned dealer groups in the U.S. with 78 franchises across 35 locations in Wisconsin, Illinois, Indiana, and Michigan. Vehicle brands represented include all of the domestic and the majority of the imported manufacturers.
Besides its extensive automotive portfolio, the organization owns and operates Zeigler Motorsports, an 85,000-square-foot motorsports dealership and action park, offering 19 different powersports brands, plus its own onsite restaurant: Trak Houz Bar & Grill. Additionally, Zeigler Motorsports houses the Elevate Leadership & Team Building Academy, an executive training company.
The Kalamazoo-based dealer group also owns and operates Zeigler Pre-Owned of Chicago, a Carquest Auto Parts store, three Byrider franchises, three finance companies, several insurance firms, and a leasing firm.
Founded in 1975, the organization employs over 2,300 people, ranking among the top 1% of automotive dealers in the nation with estimated annual sales of $2.2 billion for 2022. The family-owned and operated company is well known for its commitment to both customer service and employee satisfaction. Zeigler is regularly recognized as one of the Best and Brightest Companies to Work for in the Nation, also earning similar accolades in Chicago and Michigan.