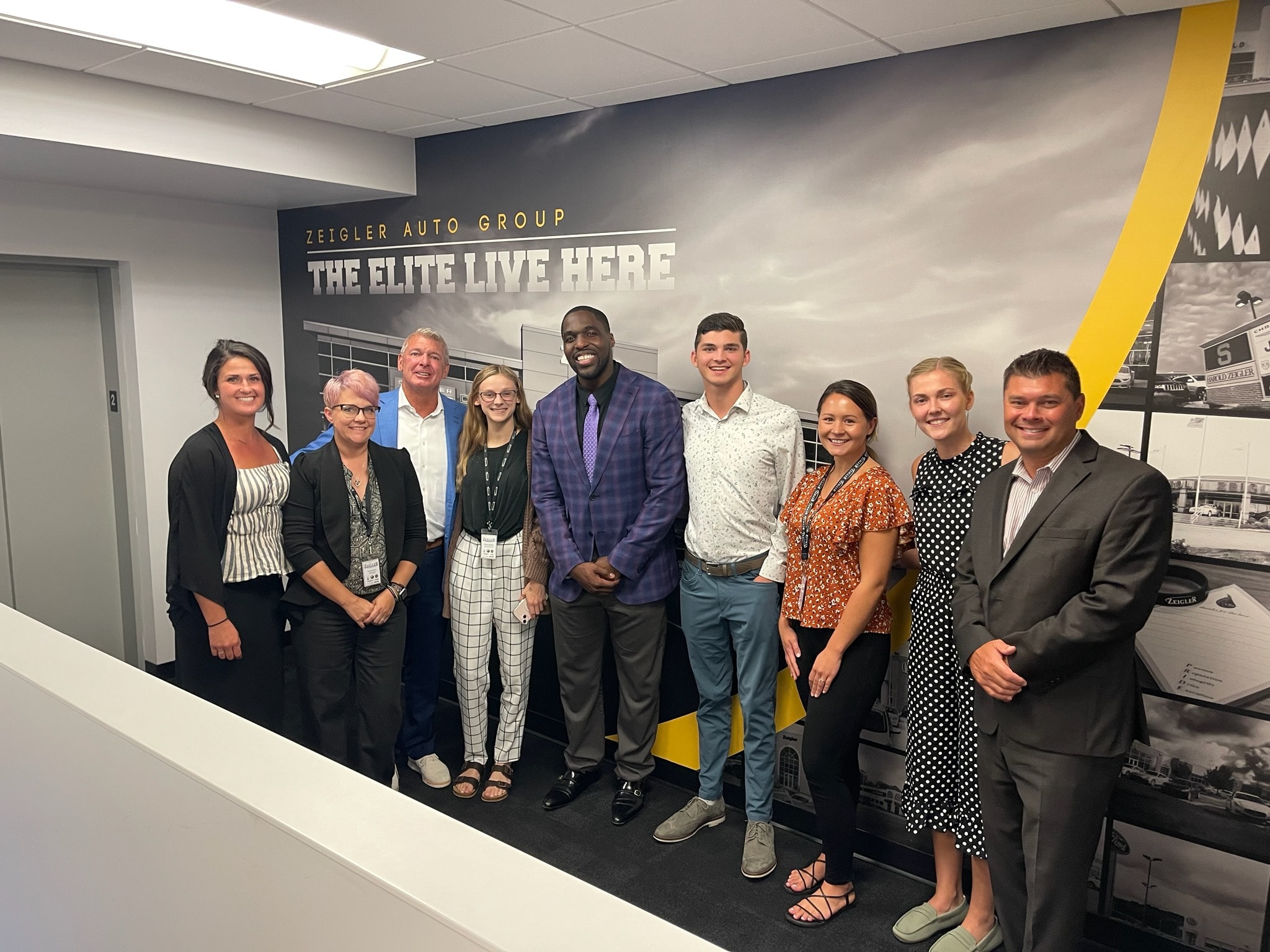 VP of NFL Players Association & ESPN Analyst Sam Acho Breaks Down

"What It Takes To Win" During Zeigler University Guest Speaker Session

This past Wednesday, August 10, 2022, 9-year NFL Veteran, ESPN Analyst and author Sam Acho joined the Zeigler University Guest Speaker Series with a presentation on What Winning Really Means.  The Zeigler University Guest Speaker Series invites entrepreneurs, athletes, innovators and leaders across different industries to share their stories and points of view with the Zeigler team. Acho's session discussed what really goes into winning and what love really looks like as well as how it can take you to the next level of "being you."
KALAMAZOO, MICH (August 15, 2022) - ESPN Analyst and 9-year NFL veteran Sam Acho joined Zeigler's highly successful Zeigler University Guest Speaker Series this past Wednesday, August 10, 2022. Acho, who is also the VP of the NFL Players Association, spoke about the importance of love when it comes to winning, and what it takes to really see yourself as a winner and perform like one.
Acho spoke about what love looks like when winning is the end goal. When people think of love, many times this can be seen as a lot of the effortless and easy things, however, the other side of love is also equally important. That side is more about sacrifice, serving, pain and authenticity.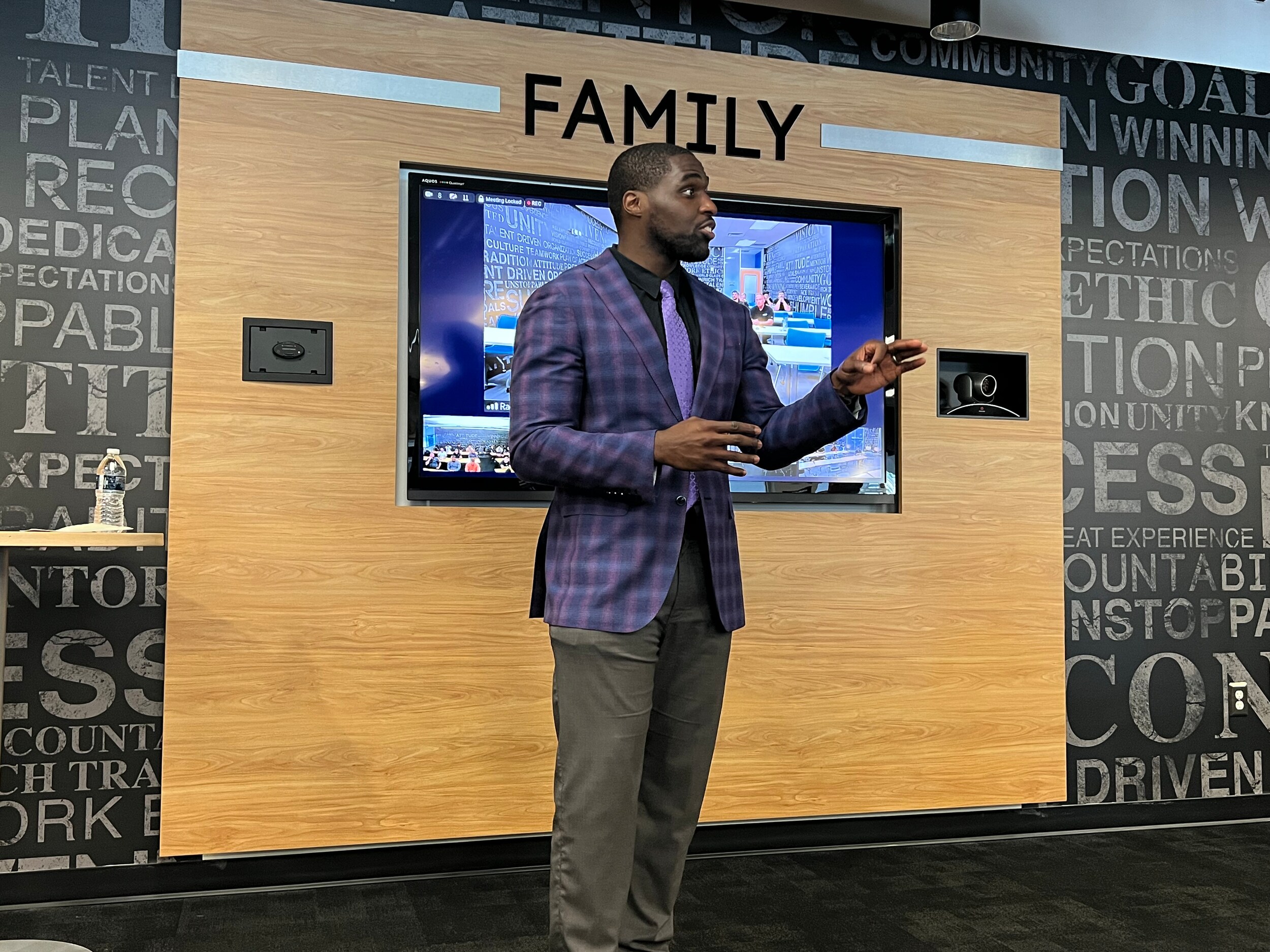 Being able to have team members and customers that count on you takes a level of sacrifice in one way or another. This is because many times when you are serving the interests of others, that may require you to put your ego aside and do what's best for the collective. Having this mentality will ultimately set you up for success and give you the tools you need to win. 
Through serving you may experience pain and sacrifice but doing what's best for the team means learning more about them and learning to work together. The other level of this is self-love and authenticity. Being true to yourself while learning to work as a team has its own rewards, and may lead you to learn even more about yourself as opposed to having the mindset of ego and being only out for yourself.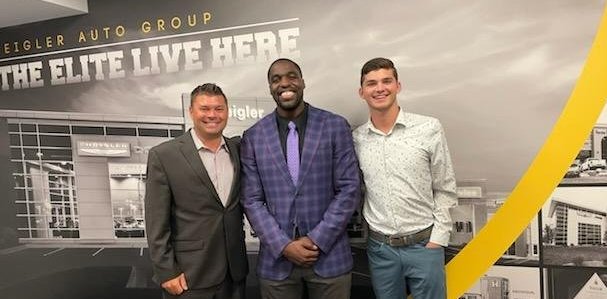 Acho emphasized throughout the presentation just how much love can take you to the next level because it really helps you learn more about "being you." Having that extra trust, empathy, and kindness towards whomever you consider to be part of your team, allows for you to work on how you handle the other side of the coin, which would be holding them accountable and allowing for forgiveness.
These emotions can be processed through therapy, writing, and speaking, although he says like everything else its an ongoing process and what may work for one person, doesn't work for all. For him, personally, being able to speak at leadership development presentations like this one has helped him. Besides being Vice President of the NFL Players Association and analyst for ESPN, Acho is author of "Let the World See You: How to Be Real in a World Full of Fakes!"
The 9-year NFL veteran has played for Arizona Cardinals, Chicago Bears, Buffalo Bills and Tampa Bay Bucs.  
ABOUT ZEIGLER AUTO GROUP
Zeigler Automotive Group is one of the largest privately-owned dealer groups in the U.S. with 78 franchises across 35 locations in Wisconsin, Illinois, Indiana, and Michigan. Vehicle brands represented include all of the domestic and the majority of the imported manufacturers.
Besides its extensive automotive portfolio, the organization owns and operates Zeigler Motorsports, an 85,000-square-foot motorsports dealership and action park, offering 19 different powersports brands, plus its own onsite restaurant: Trak Houz Bar & Grill. Additionally, Zeigler Motorsports houses the Elevate Leadership & Team Building Academy, an executive training company.
The Kalamazoo-based dealer group also owns and operates Zeigler Pre-Owned of Chicago, a Carquest Auto Parts store, three Byrider franchises, three finance companies, several insurance firms, and a leasing firm.
Additionally, the dealer group's new Driving Vision Podcast, hosted by COO Sam D'Arc and Director of Talent Development Mike Van Ryn, invites celebrities, business leaders, and athletes to share their unique perspective on what drives innovation in their careers.
Founded in 1975, the organization employs over 2,300 people, ranking among the top 1% of automotive dealers in the nation with estimated annual sales of $2.2 billion for 2022. The family-owned and operated company is well known for its commitment to both customer service and employee satisfaction. Zeigler is regularly recognized as one of the Best and Brightest Companies to Work for in the Nation, also earning similar accolades in Wisconsin, Chicago, and Michigan.