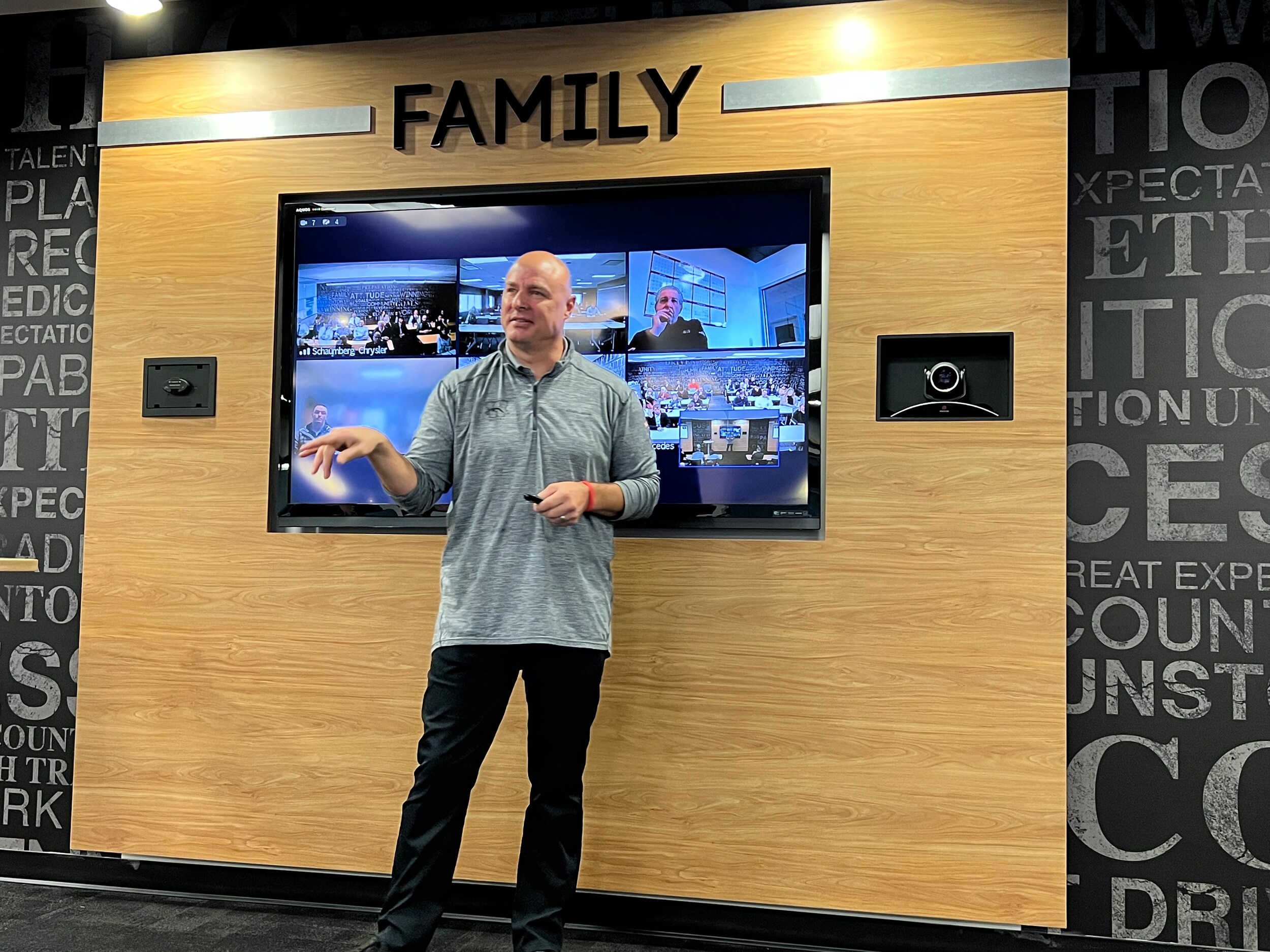 WMU Head Hockey Coach Pat Ferschweiler Joins the Zeigler University
Guest Speaker Series with Presentation on Winning with the Championship Standard
Patrick Ferschweiler, head hockey coach for the WMU Broncos, was the latest celebrity presenter to join the Zeigler University Guest Speaker Series on Monday, November 14, 2022. During his presentation Ferschweiler covered winning strategies for success. This included the importance of character, his coaching philosophy, and the idea that "Greatness is a daily choice."
Kalamazoo, Mich. (November 15, 2022) - Zeigler Auto Group welcomed Western Michigan University head hockey coach Pat Ferschweiler as its latest celebrity presenter for its Zeigler University Guest Speaker Series. The Broncos hockey coach spoke to Zeigler team members on Monday, November 14, 2022 on the importance of character, his coaching philosophy, and the idea that "Greatness is a daily choice." Zeigler's highly successful and long-running Zeigler University Guest Speaker Series invites entrepreneurs, athletes, innovators and leaders across different industries to share their stories and points of view with the Zeigler team.
One of his first anchor points that Ferschweiler presented was the idea that in order to reach your goals it's crucial to practice winning. He went on to explain that sometimes you must sacrifice parts of yourself that aren't working in order to win; or as he put it "winning has a price," just like "leadership has a price." In order to become the best you can be you must make not just a mental or physical investment in your goals, but also an emotional investment. When it came to coaching for him, he said it was also important to be demanding without being demeaning and that really comes down to having a full understanding of what you are asking people to do. 
Having this understanding of what you are asking people to do comes down fundamentally to what type of character you have. Character can always be built but it has many components that work together in order to achieve growth. Some of the components he mentioned are inner drive, which he thinks of as passion plus emotion. Along with this inner drive, having healthy competitiveness with yourself means wanting to be better than you were yesterday. This goes hand-in-hand with perseverance, because every day can be different but you need your competitive nature to be able to power through different situations and press forward through adversity. 
One thing you shouldn't do is complain about your circumstances because it can lead to a losing attitude. Instead ask yourself, "who can effect change?" to see how circumstances can be changed in a positive way, and then "how can I effect change?" in order to play your part and be better than you were yesterday.
Also asking yourself, "what is it that you do when no one is looking?" will give you some of the insight into how your character is built and what you need to work on.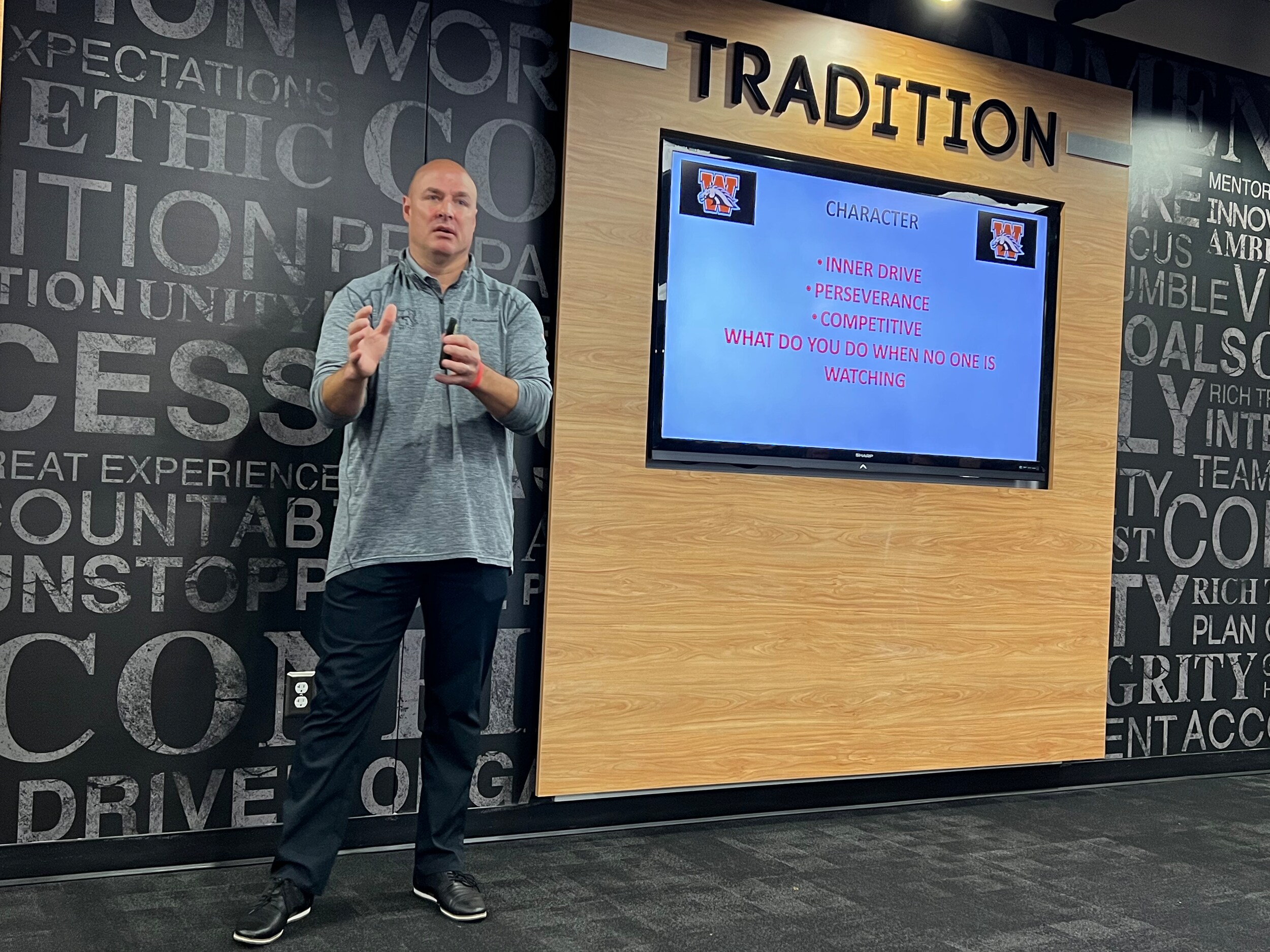 "Greatness is a daily choice."
Coach Ferschweiler
At the end of the day, in order to win we must eliminate nonsense, and learn what does and doesn't matter in the long run to winning or losing. Along with this, having your boundaries and guidelines in place creates an "invisible fence" around the actions you should take while balancing your mental and emotional wellbeing with your inner drive and competitiveness.
Ferschweiler went on to discuss his coaching philosophy that was rooted in the idea that players WANT to be great. Building on this he has learned to work on helping players reach their greatest potential and what he calls the "championship standard" by motivating players by keeping them accountable while giving them feedback on their performance. Coaches must always set the standards and pass this on to players.
Honesty goes hand-in-hand with accountability.  Being direct and honest is an important way to motivate a team and hold them accountable. This approach gives players a way to know where you stand in terms of performance without needing to attack them personally. 
The championship mindset is all based on building great habits. This can be done in a game scenario by being present every day and practicing to do it right every time. There are plenty of examples in the world where you see talented players, and people in general, not achieve the highest level of performance because talent can be overrated when compared to someone that is consistently working to make themselves better every day. Coach Ferschweiler summed up this idea by saying "Greatness is a daily choice." There are no bad days when you have this mindset, it's all about persevering and pushing through with what you have. You can choose to be great every day regardless of your talent level. 
Planning to succeed is another point he drove home during his presentation. Being prepared helps you spend or invest your time wisely over wasting your time and other people's time.4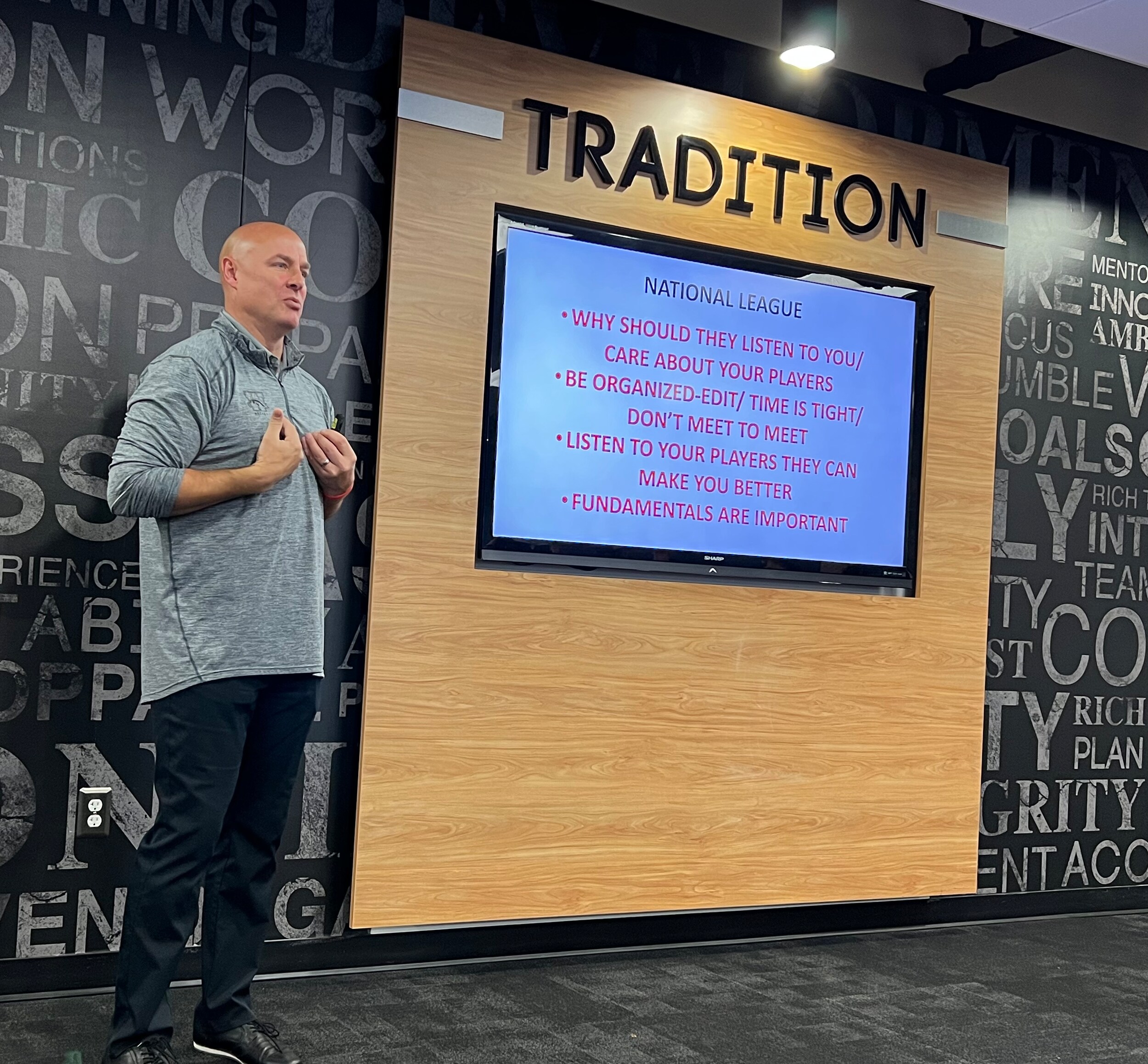 "A goal without a plan is just a wish." Herman Edwards
In order to achieve the level of success of the great listeners, learners and changers in life, one must be willing to do what others are not willing to do. That's what greatness is all about. In order to become better every day, you must continually evaluate yourself and raise your standards. However, learning to enjoy the process is part of the process and you must never stop trying to have fun and learning from your team mates.
About Zeigler University 
Zeigler University is an internal leadership and development program within the Zeigler Automotive Group organization dedicated to attracting, training, and retaining the best talent in the industry.
The program includes one-on-one mentoring, strategic recruiting; and programs such as the Zeigler University Speaker Series which focuses on bringing in entrepreneurs, athletes, innovators, and leaders across different industries, to share their stories and points of view with the Zeigler team. Past celebrity guest speaker appearances include Grant Cardone, Bill Rancic, PJ Fleck, and more.
About Zeigler Auto Group
Zeigler Automotive Group is one of the largest privately-owned dealer groups in the U.S. with 78 franchises across 35 locations in Wisconsin, Illinois, Indiana, and Michigan. Vehicle brands represented include all of the domestic and the majority of the imported manufacturers.
Besides its extensive automotive portfolio, the organization owns and operates Zeigler Motorsports, an 85,000-square-foot motorsports dealership and action park, offering 19 different powersports brands, plus its own onsite restaurant: Trak Houz Bar & Grill. Additionally, Zeigler Motorsports houses the Elevate Leadership & Team Building Academy, an executive training company.
The Kalamazoo-based dealer group also owns and operates Zeigler Pre-Owned of Chicago, a Carquest Auto Parts store, three Byrider franchises, three finance companies, several insurance firms, and a leasing firm.
Founded in 1975, the organization employs over 2,300 people, ranking among the top 1% of automotive dealers in the nation with estimated annual sales of $2.2 billion for 2022. The family-owned and operated company is well known for its commitment to both customer service and employee satisfaction. Zeigler is regularly recognized as one of the Best and Brightest Companies to Work for in the Nation, also earning similar accolades in Wisconsin, Chicago, and Michigan.
RETURN TO NEWSROOM