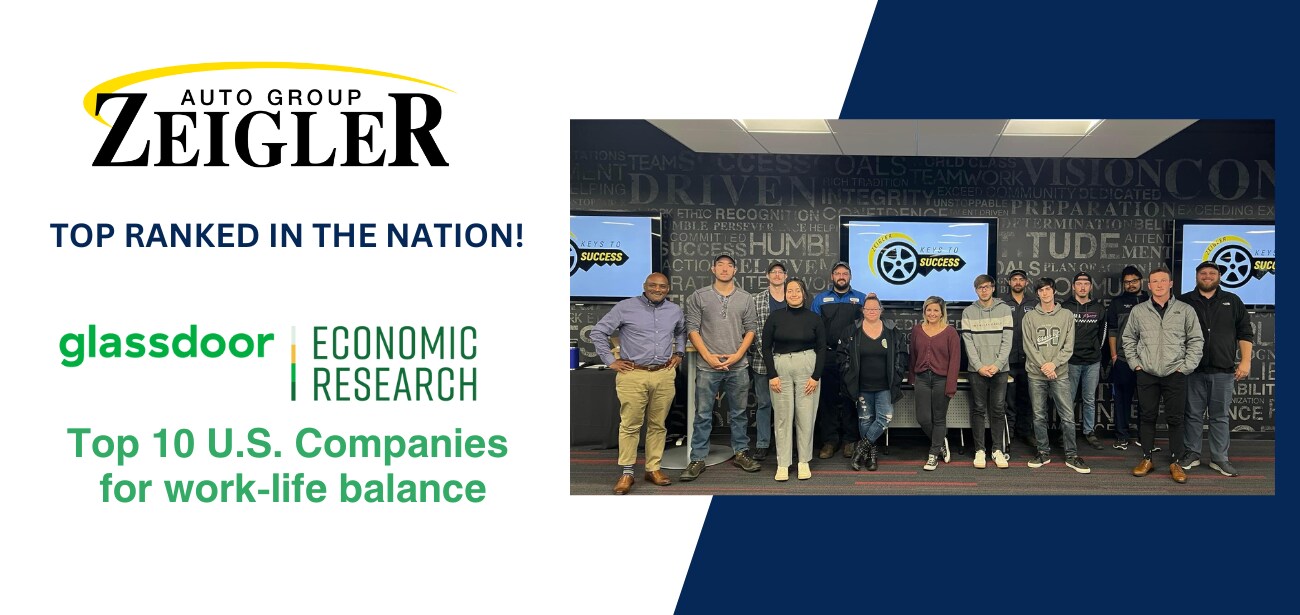 Zeigler Auto Group Among Glassdoor Economic Research's
Top 10 U.S. Companies for Work-Life Balance, Only Auto Company to Make List
A Glassdoor Economic Research study on Work-Life Balance in the U.S. for 2022 has named Zeigler Auto Group among its Top 10 U.S. companies for work-life balance. The study gathered Glassdoor.com reviews from January through September 2022 using companies with 1,000 or more employees. Zeigler ranked at number 6 overall with an impressive 4.77 average rating. The dealer group was also the only automotive company to make the list.
KALAMAZOO, MICH (November 1, 2022) - The Glassdoor Economic Research Center has ranked Zeigler Auto Group at number 6 among the Top 10 U.S. Companies for Work-Life Balance. The auto group currently has a 4.77 out of 5 rating; and a 96% Recommend to a Friend Rating, up by 5% from 2021.
"Being the only retail company, and only automotive company, among all of these tech companies on this list is a huge accomplishment," said Aaron Zeigler, president and owner of Zeigler Auto Group during the company's most recent episode of its Driving Vision Podcast.
"It's hard to describe in words: culture. But you can feel a culture; and that's what the foundation of the company is based on. We're more powerful than a team, we're a family and I think that's the most powerful thing you can be," said Zeigler who currently has an impressive 99% CEO rating on the review site.
The Top 10 US Companies for Work-Life Balance list was compiled from Work-Life Balance ratings on Glassdoor from US-based full and part-time employees between January 1, 2022 and September 28, 2022. The ranking includes companies with more than 1,000 employees and with a minimum of 50 Work-Life Balance ratings during the time period. The average Work-Life Balance rating extends beyond the hundredths place to determine this ranking.
According to a Glassdoor survey, nearly 3 in 4 (71%) of employees say work/life balance is an important workplace factor when it comes to searching for jobs and companies to work for. Glassdoor also says that the phrase 'mental health' in company reviews on Glassdoor.com jumped 91% from 2019 to 2022. Also up are 'Burnout' mentions, going up 42% from 2019 to 2022.
The Glassdoor Economic Research team calculated the percent change in mentions of keywords like "burnout," "overwork", "mental health" and other phrases in Glassdoor reviews between January 1, 2019 to September 28, 2022 from current and former US-based employees.
This is not the first time that Zeigler Auto Group has been recognized for its employee-first views on work-life balance. In 2021, Glassdoor's Economic Research also listed the dealer group among its Top 20 Highest-Rated Companies for Work-Life Balance During the COVID-19 Pandemic, coming in at number 14 nationwide. The study-which gathered Glassdoor.com reviews from current and former U.S.-based full-time employees between March 15, 2020, and September 28, 2021- also gave Zeigler Auto Group the top spot for new and used auto dealership groups.
Zeigler also launched its own podcast: The Driving Vision Podcast, hosted by COO Sam D'Arc, with innovation and vision as its central theme. The podcast regularly features various Zeigler programs that help enhance employees' work-life balance and personal development. 
"We teach our team members how to recognize their peers in impactful ways. We reinforce our values by sharing stories of what they have done for each other and our customers. We celebrate wins throughout the organization and give our team members fun things to look forward to in their career journey. This recognition on work-life balance is a tribute to all we do for each other at Team Zeigler," said Mike Van Ryn, director of talent development. 
Zeigler also is consistently recognized as one of the best places to work earning accolades from the Best and Brightest Companies to Work For program, bringing home four consecutive national awards from 2019 through 2022. Besides these prestigious national awards, the company has also consistently won awards under the same program from Chicago, 9 consecutive years; and Michigan 16 wins. 2022 also marked the first year it won a Milwaukee's Best and Brightest Companies to Work For award. 
Zeigler Auto Group is always looking for top talent at all 35 of their locations across the Midwest including Wisconsin, Illinois, Indiana, and Michigan. To join our award-winning work-life balance team, please visit zeigler.com/zeigler-automotive-careers.htm.
Built on the foundation of increasing workplace transparency, Glassdoor offers insights into the employee experience powered by millions of company ratings and reviews, CEO approval ratings, salary reports, interview reviews and questions, benefits reviews, office photos and more, combined with the latest jobs.
About Glassdoor Economic Research
Glassdoor Economic Research provides the latest insights and research on today's labor market. The company's economists and data scientists work to unearth important trends in hiring, pay and the broader economy- all based on Glassdoor's unique data on jobs, salaries, benefits, company reviews and more.
Zeigler Automotive Group is one of the largest privately-owned dealer groups in the U.S. with 78 franchises across 35 locations in Wisconsin, Illinois, Indiana, and Michigan. Vehicle brands represented include all of the domestic and the majority of the imported manufacturers.
Besides its extensive automotive portfolio, the organization owns and operates Zeigler Motorsports, an 85,000-square-foot motorsports dealership and action park, offering 19 different powersports brands, plus its own onsite restaurant: Trak Houz Bar & Grill. Additionally, Zeigler Motorsports houses the Elevate Leadership & Team Building Academy, an executive training company.
The Kalamazoo-based dealer group also owns and operates Zeigler Pre-Owned of Chicago, a Carquest Auto Parts store, three Byrider franchises, three finance companies, several insurance firms, and a leasing firm.
Founded in 1975, the organization employs over 2,300 people, ranking among the top 1% of automotive dealers in the nation with estimated annual sales of $2.2 billion for 2022. The family-owned and operated company is well known for its commitment to both customer service and employee satisfaction. Zeigler is regularly recognized as one of the Best and Brightest Companies to Work for in the Nation, also earning similar accolades in Wisconsin, Chicago, and Michigan.