Zeigler Auto Group Announces Tamara Guillen and Brandon Gebben as its 2023 Rising Tech Award Winners
Zeigler Automotive Group today announced Tamara Guillen of Mercedes-Bernz of Hoffman Estates and Brandon Gebben of Zeigler CDJR Grandville as its 2023 Rising Tech Award winners. The award is part of an initiative established in 2019 to recognize rising service talent within the dealership group.
KALAMAZOO, MICH. (February 22, 2023) Zeigler Auto Group today announced two new honorees for its 2023 Rising Tech Award: Brandon Gebben of Zeigler CDJR Grandville and Tamara Guillen of Mercedes-Benz of Hoffman Estates. The Zeigler Rising Tech award is given yearly based on previous year performance. In order to qualify, service technicians must be nominated by their managers and be new to the industry with at least nine months, but no more than two years of non-lube experience. Besides this, managers look at work ethic, skill set, potential, attendance, attitude, desire to go above and beyond; as well as other intangibles.
Both of this year's winners have the additional honor of keeping their respective trophies at their home stores, with Gebben being recognized as the domestic winner, and Guillen being recognized as this year's import winner.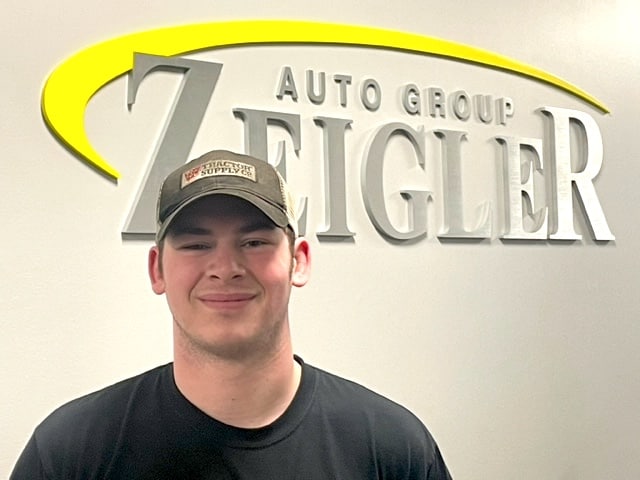 (Brandon Gebben, Zeigler CDJR Grandville - 2023 Zeigler Rising Tech Award Winner - Domestic)
"I feel honored to be chosen for the Rising Tech Award for domestic brands. I enjoy working for a company that looks forward to giving new technicians opportunities to work and improve their skills when coming into a huge career field," said Gebben, who was hired into an entry-level position, as an Express Tech, in July 2021.
"Brandon was provided with an opportunity to become a Main Shop technician if he proved himself as an Express Technician. To say that Brandon has proved himself would be an understatement! He has earned his way the hard way," said Matt Snyder, Strategic Recruiter at Zeigler. 
But proving himself has never been an issue for Gebben, in fact, before being recruited by Snyder, Gebben worked his way up to assistant manager at Mr. Burger; after his plans of going to school for a career in automotive were derailed due to COVID. Today, the 2023 Rising Star (Domestic) Award Winner is well on his way to becoming a Master Tech. 
Keith Cox, Service Manager at Zeigler CDJR Grandville, who recommended Gebben for the award, mirrored Snyder's remarks on Gebben's professionalism and performance: "I'm very proud of Brandon for a number of reasons. Specifically, his work ethic and attention to detail is what I feel helped him in earning the Rising Tech Award. He adds a ton of value to our service team at Zeigler Chrysler of Grandville. Brandon has a great career ahead of him!"  
Guillen, this year's import winner also came with a glowing recommendation from her service director and manager. "We were very excited to recommend Tamara for the Zeigler Auto Group's Rising Tech Award, she is a tremendous asset to the organization in every way. Let's start by saying how uncommon it is to have an Asian female technician working in an automotive shop. Now, this is not any shop, it is the highest producing Mercedes-Benz service department in the entire Chicago market. Tamara is one of the best and brightest in a shop filled with Alpha Technicians where culture eats strategy for breakfast," said Bob Sullivan, Service Director of Mercedes-Benz/Sprinter of Hoffman Estates.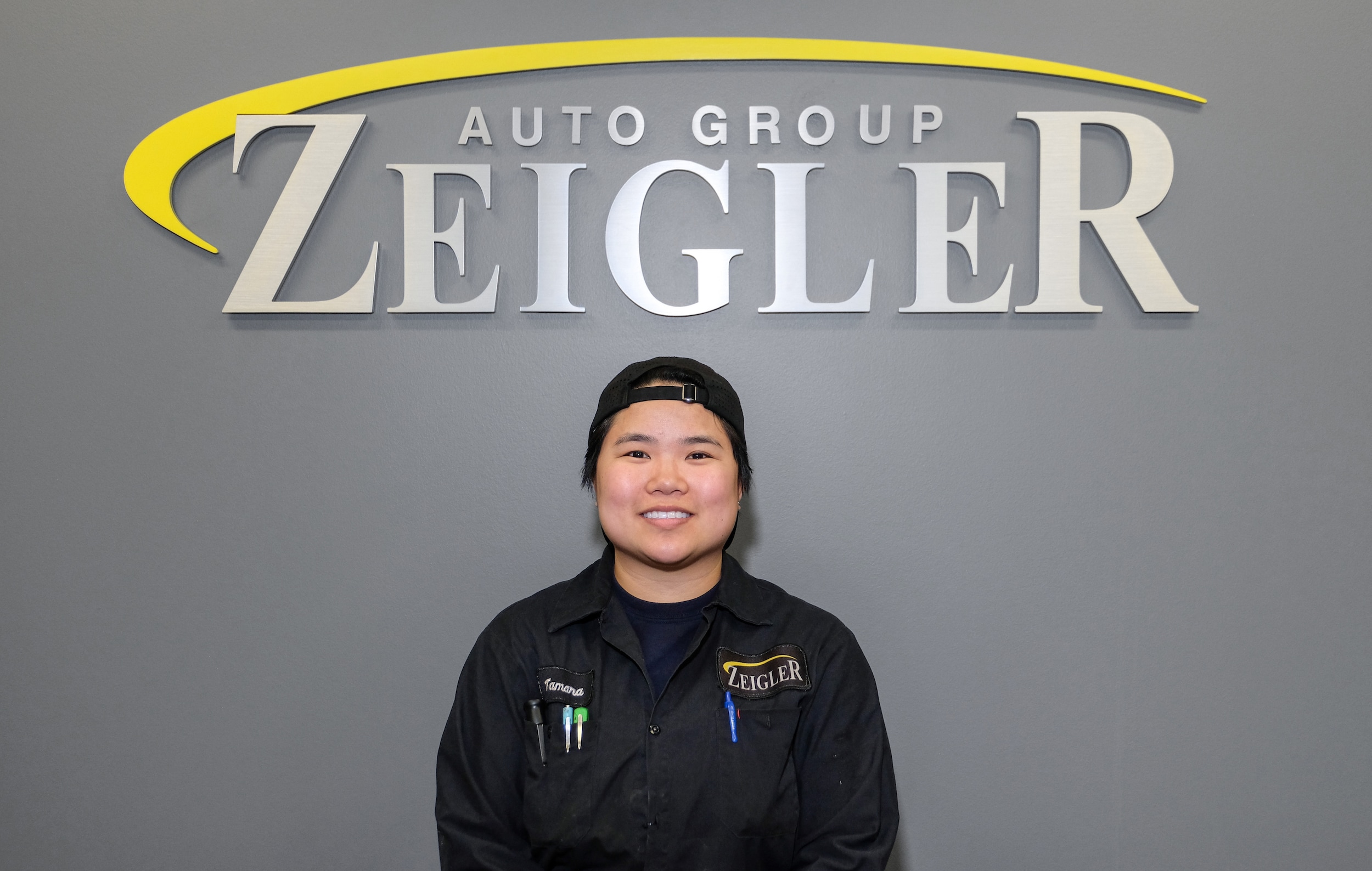 (Tamara Guillen, MB/Sprinter of Hoffman Estates - 2023 Zeigler Rising Tech Award Winner - Imports)
"Tamara is driven and rises above the challenge before her and she's committed to high-quality work and efficiency, the magic combination in any automotive shop. Tamara is remarkably self-sufficient and invites constructive criticism frequently in her trajectory to become the best of the best, she is also a consistent source of good humor and an example of work ethic. She has established a reputation by graduating at the top of her class at the Mercedes-Benz manufacturer technician school program and she builds on that reputation day by day. As Service Director at the Auto Campus, I have had the pleasure to work with the very best in the industry, the most highly trained and professional teams of technicians anywhere. Tamara Guillen has been an asset to the Mercedes-Benz Sprinter team from the day she started with us," he continued.
Abel Grijalva, Service Manager at Mercedes-Benz of Hoffman Estates and Sprinter of Hoffman Estates, had this to say about nominating Guillen after her two and a half year tenure at the shop, "Tamara has been an absolute rock star on the Sprinter team. Her personality is truly the rising tide that lifts all boats and I can't imagine a more worthy award winner.  The success of Mercedes-Benz of Hoffman Estates can be directly associated with its people and Tamara is one of its brightest."   
Before deciding on her career path as a technician, Guillen considered becoming an electrician so she could work for her family business, however, her goal was to become an architect. "Winning this award means a lot to me. One of my proudest achievements in life so far was graduating the Mercedes-Benz DRIVE program at the top of my class. Now, after winning this award, it just further solidifies my conviction that changing my career path from architecture to being an automotive technician was the right choice," said Guillen. 
"For a while I was really hesitant about the choice I had made. Finding the right career has been a long journey. But after I got hired to work here, my insecurities quickly dissipated. The work culture at Mercedes-Benz Hoffman Estates is nothing short of inspiring. Working next to coworkers that actually care about my well-being and support my ambitions is a rare thing to find, no matter what industry you're in. I got lucky that the first dealership to hire me as an apprentice, happens to have one of the greatest teams to work with. I appreciate all the guidance and knowledge given to me by my coworkers and mentors, and I hope to continue that cycle for future apprentices."

(2022 Presidents Club winners at the Autobahn Country Club)
The award program, which was established in 2019, recognizes rising service talent within the entire dealer group, with winners also invited to the 2023 Presidents Club, where the top 20 service technicians and top 10 service advisors celebrate together with Zeigler president Aaron Zeigler at the Autobahn Country Club in Joliet, Ill.  During the event, honorees will gather, race cars, and receive customized crystal trophies at a special luncheon recognizing this high achievement.  
About Zeigler Auto Group
Zeigler Automotive Group is one of the largest privately-owned dealer groups in the U.S. with 78 franchises across 35 locations in Wisconsin, Illinois, Indiana, and Michigan. Vehicle brands represented include all of the domestic and the majority of the imported manufacturers.
Besides its extensive automotive portfolio, the organization owns and operates Zeigler Motorsports, an 85,000-square-foot motorsports dealership and action park, offering 19 different powersports brands, plus its own onsite restaurant: Trak Houz Bar & Grill. Additionally, Zeigler Motorsports houses the Elevate Leadership & Team Building Academy, an executive training company.
The Kalamazoo-based dealer group also owns and operates Zeigler Pre-Owned of Chicago, three Byrider franchises, three finance companies, several insurance firms, and a leasing firm.
Founded in 1975, the organization employs over 2,300 people, ranking among the top 1% of automotive dealers in the nation with estimated annual sales of $2.2 billion for 2022. The family-owned and operated company is well known for its commitment to both customer service and employee satisfaction. Zeigler is regularly recognized as one of the Best and Brightest Companies to Work for in the Nation, also earning similar accolades in Wisconsin, Chicago, and Michigan.