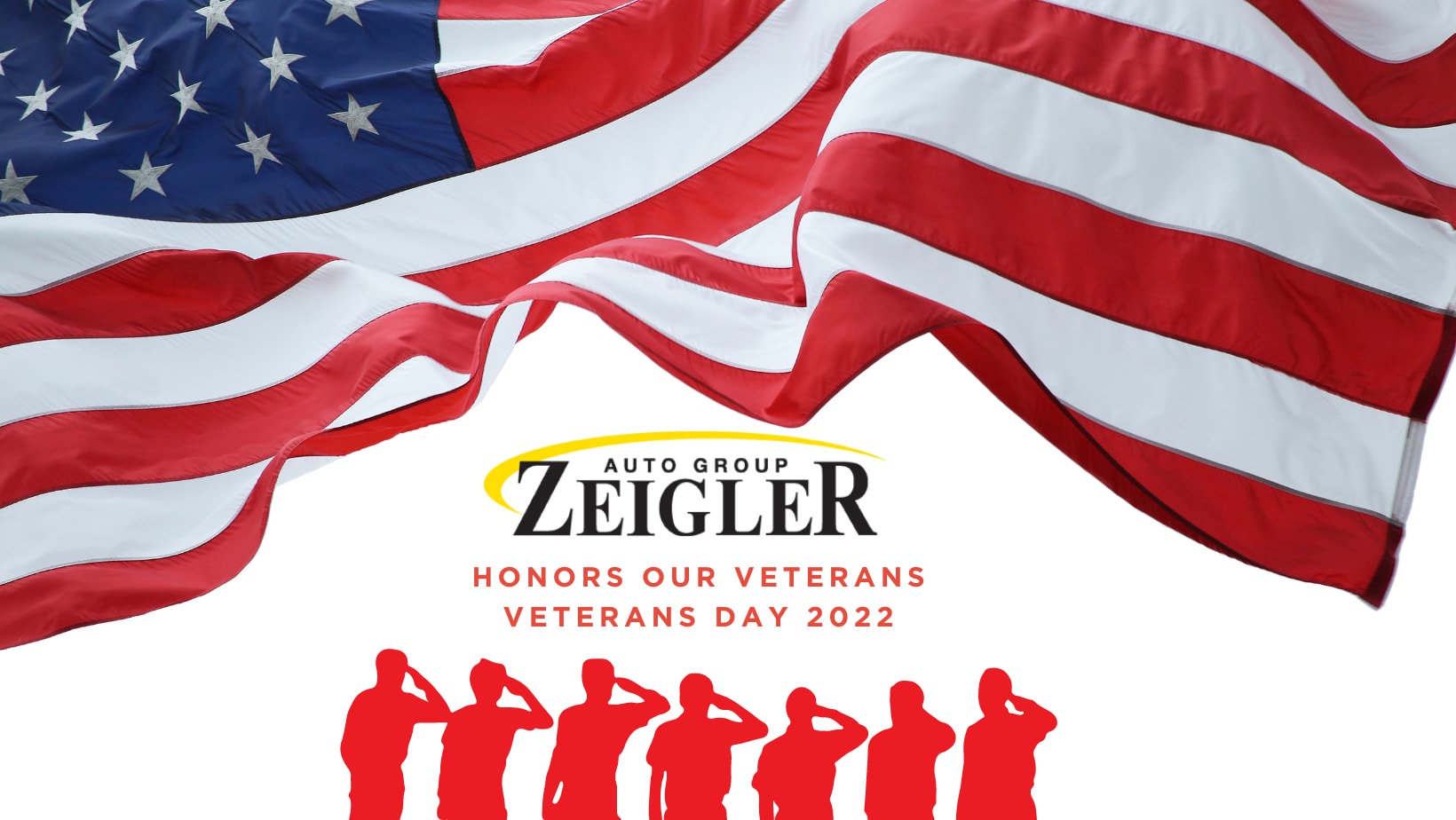 ZEIGLER HONORS OUR VETERANS 
VETERANS DAY 2022
Kalamazoo, Mich. (November 11, 2022) - Zeigler Auto Group is proud to honor all of our Veterans this Veterans Day, especially those who are part of our very own #TEAMZEIGLER family.  Veterans Day is celebrated every November as a way to honor all who have served in the U.S. military across different branches, representing the highest ideals of what our country stands for. Recognized as a federal holiday, Veterans Day is a time to reflect and recognize the valor, courage, and sacrifice of these incredible patriots.
"This day is an important reminder of all of the sacrifices our best and bravest have overcome in the name of freedom. Please join me in thanking our veterans by expressing your appreciation for them today, and every day," said Aaron J. Zeigler, president and CEO of Zeigler Auto Group.
Although there is no possible way to fully thank these brave men and women who put their lives on the line in the name of freedom, we would like to honor our Veterans by showing our appreciation by highlighting them on this special day. Please join us in celebrating our Zeigler Veterans by learning more about them and hearing their thoughts on what Veterans Day means to them. 





















"I have a deep appreciation for our Veteran's and am fortunate to work alongside many who have served or 
have family members serving at Team Zeigler.  We thank them for their service to our great country!"
Mike Van Ryn, Director of Talent Development
---
We also had the pleasure of hearing from some of our most popular and distinguished Zeigler University Guest Speaker Series presenters. Our Zeigler University Guest Speaker Series is a highly successful, long running internal development program that invites entrepreneurs, athletes, innovators and leaders across different industries to share their stories and points of view with the Zeigler team. Among these extraordinary invitees are some of our favorite top ranking retired personnel turned motivational speakers including Captain Mike Abrashoff, Captain Dave Carey, and Captain Tom Chaby, among many others.




ABOUT ZEIGLER AUTOMOTIVE GROUP

Zeigler Automotive Group is one of the largest privately-owned dealer groups in the U.S. with 78 franchises across 35 locations in Wisconsin, Illinois, Indiana, and Michigan. Vehicle brands represented include all of the domestic and the majority of the imported manufacturers.
Besides its extensive automotive portfolio, the organization owns and operates Zeigler Motorsports, an 85,000-square-foot motorsports dealership and action park, offering 19 different powersports brands, plus its own onsite restaurant: Trak Houz Bar & Grill. Additionally, Zeigler Motorsports houses the Elevate Leadership & Team Building Academy, an executive training company.
The Kalamazoo-based dealer group also owns and operates Zeigler Pre-Owned of Chicago, a Carquest Auto Parts store, three Byrider franchises, three finance companies, several insurance firms, and a leasing firm.
Founded in 1975, the organization employs over 2,300 people, ranking among the top 1% of automotive dealers in the nation with estimated annual sales of $2.2 billion for 2022. The family-owned and operated company is well known for its commitment to both customer service and employee satisfaction. Zeigler is regularly recognized as one of the Best and Brightest Companies to Work for in the Nation, also earning similar accolades in Wisconsin, Chicago, and Michigan.