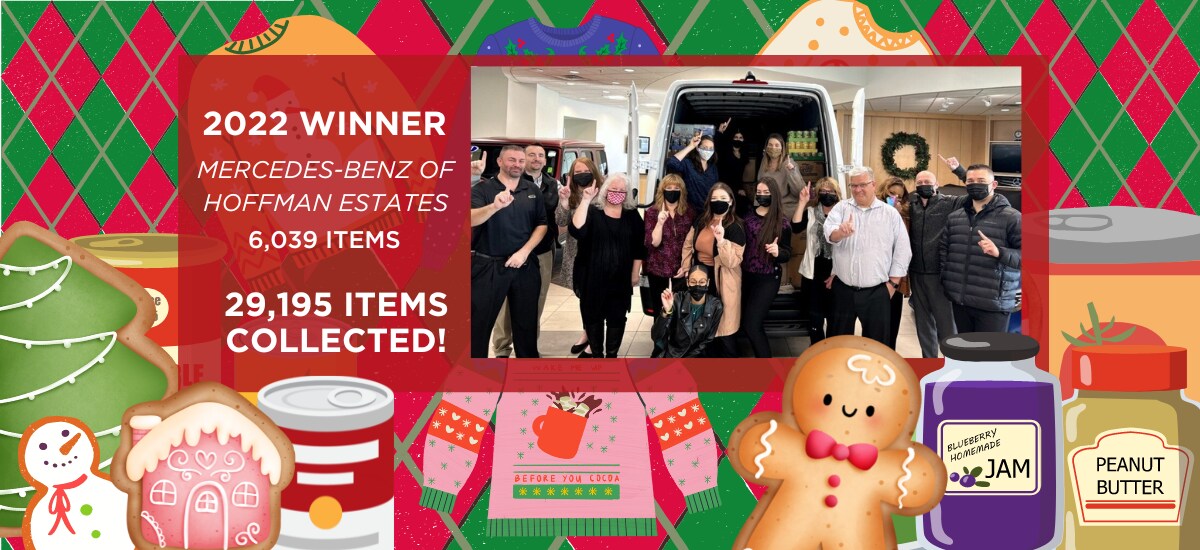 Zeigler Auto Group's 4th Annual Ugly Sweater Food Drive Brings in 29,195 Items 
for local food banks with support from NASCAR driver Josh Bilicki & Live Fast Motorsports
Zeigler Auto Group Announces Mercedes-Benz of Hoffman Estates as its 4th Annual Ugly Sweater Holiday Canned Food Drive Competition Winner. This is the third year in a row that the luxury dealership has claimed the title with 6,039 items donated, bringing the overall group-wide total to 29,195 items. This year Zeigler.com-sponsored driver Josh Bilicki also participated in the competition along with Live Fast Motorsports, Bilciki's new racing home where he will be behind the wheel of No. 78.
Kalamazoo, Michigan (December 26, 2022) - Zeigler's fourth annual Ugly Sweater Canned Food Drive brought in 29,195  items from November 28 through December 21, 2022, with a large percentage of all donations coming from this year's winner: Mercedes-Benz of Hoffman Estates. This is the third year that the luxury dealership gets to claim bragging rights in the competition in benefit of local charities and organizations. New this year was special participation from NASCAR driver Josh Bilicki and Live Fast Motorsports, Bilicki's new home for 2023 where he will be driving the Zeigler.com-sponsored 78 Camaro.
During the competition, each dealership determines where donations go, generally choosing a local food bank in the area. The winning dealership, which in this case is Mercedes-Benz of Hoffman Estates will be donating its 6,039 items to the Schaumburg Township Food Pantry and celebrating it's big win by showing off by wearing an ugly sweater during a victory party.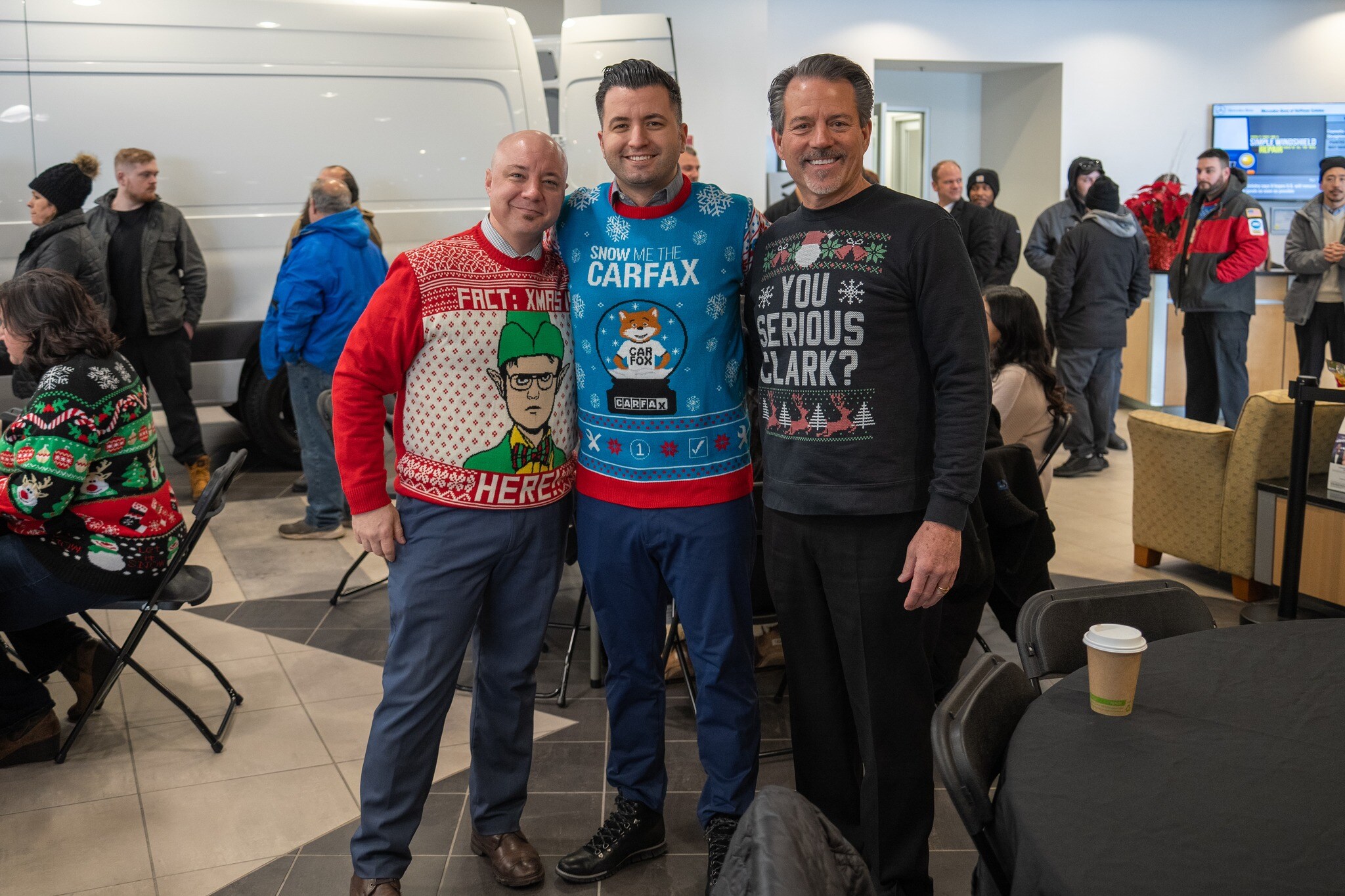 (Holiday Ugly Sweater brunch at Mercedes-Benz Hoffman Estates, INFINTI Hoffman Estates, and Jaguar Land Rover Schaumburg)
The big winner reveal was live-streamed by Zeigler's Driving Vision podcast hosted by Sam D'Arc. The December 22nd live-stream included special guest Josh Bilicki who also participated by doing his own shopping for the food drive in benefit of the group's overall total.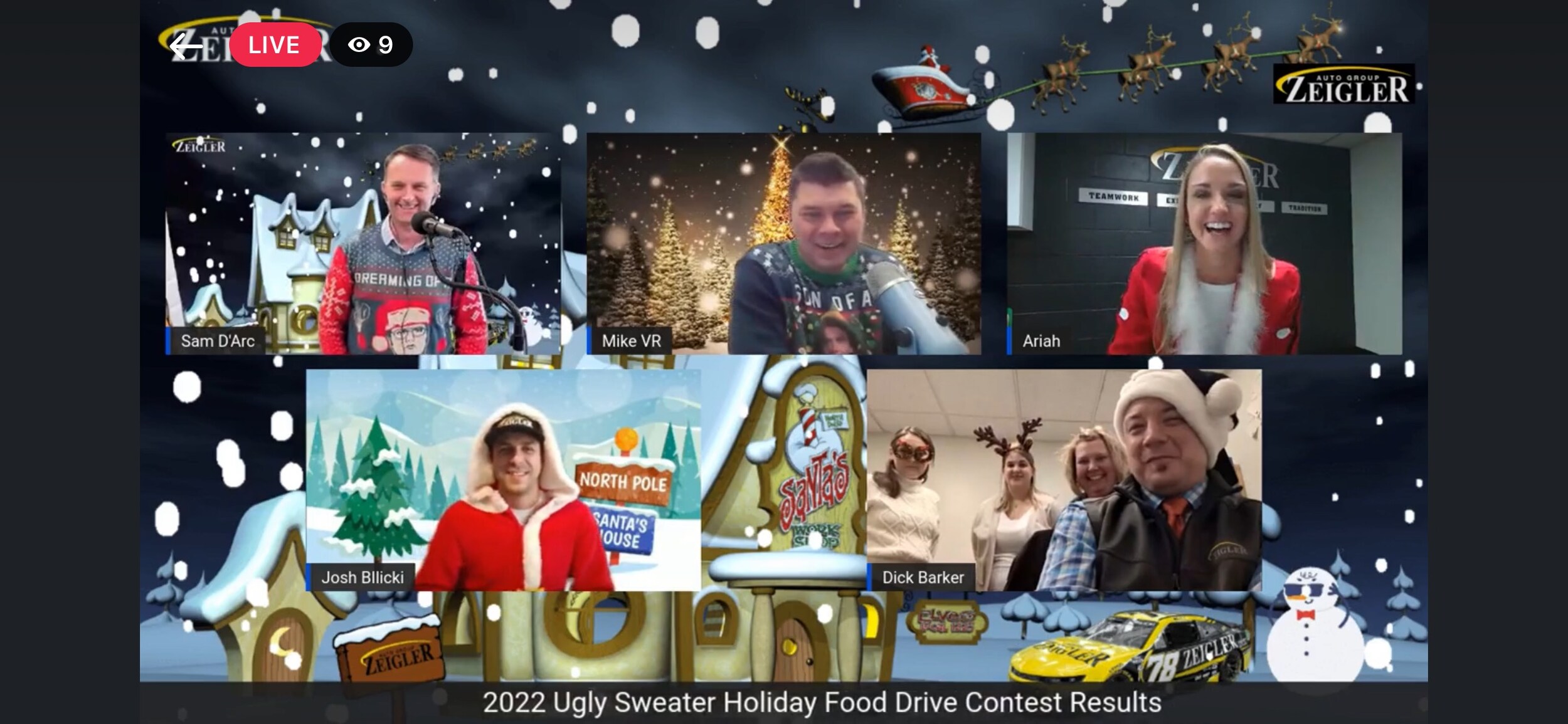 (Zeigler's Driving Vision Live-stream announcing Mercedes-Benz of Hoffman Estates as the 2022 Ugly Sweater Food Drive winner)
Honda of Racine also came in second place once again, bringing in a total of 5056 items, up 3056 items from last year's impressive second place win. Honda of Racine's benefiting charity will be the Racine Food Bank.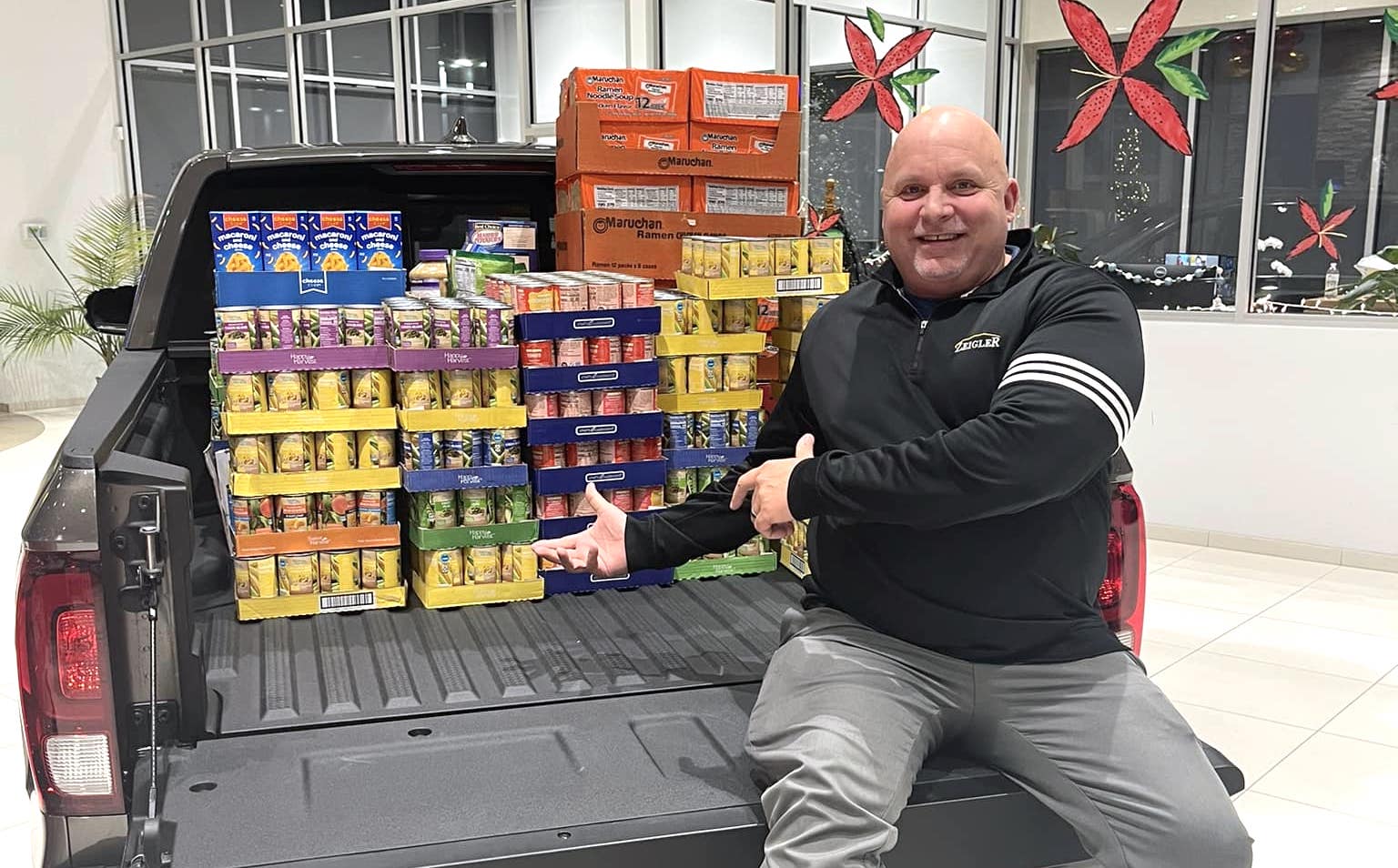 (Zeigler Honda of Racine comes in second place for a second year in a row! )
In third place was INFINITI of Hoffman Estates,  bringing in 5,001 items for the Schaumburg Township Food Pantry.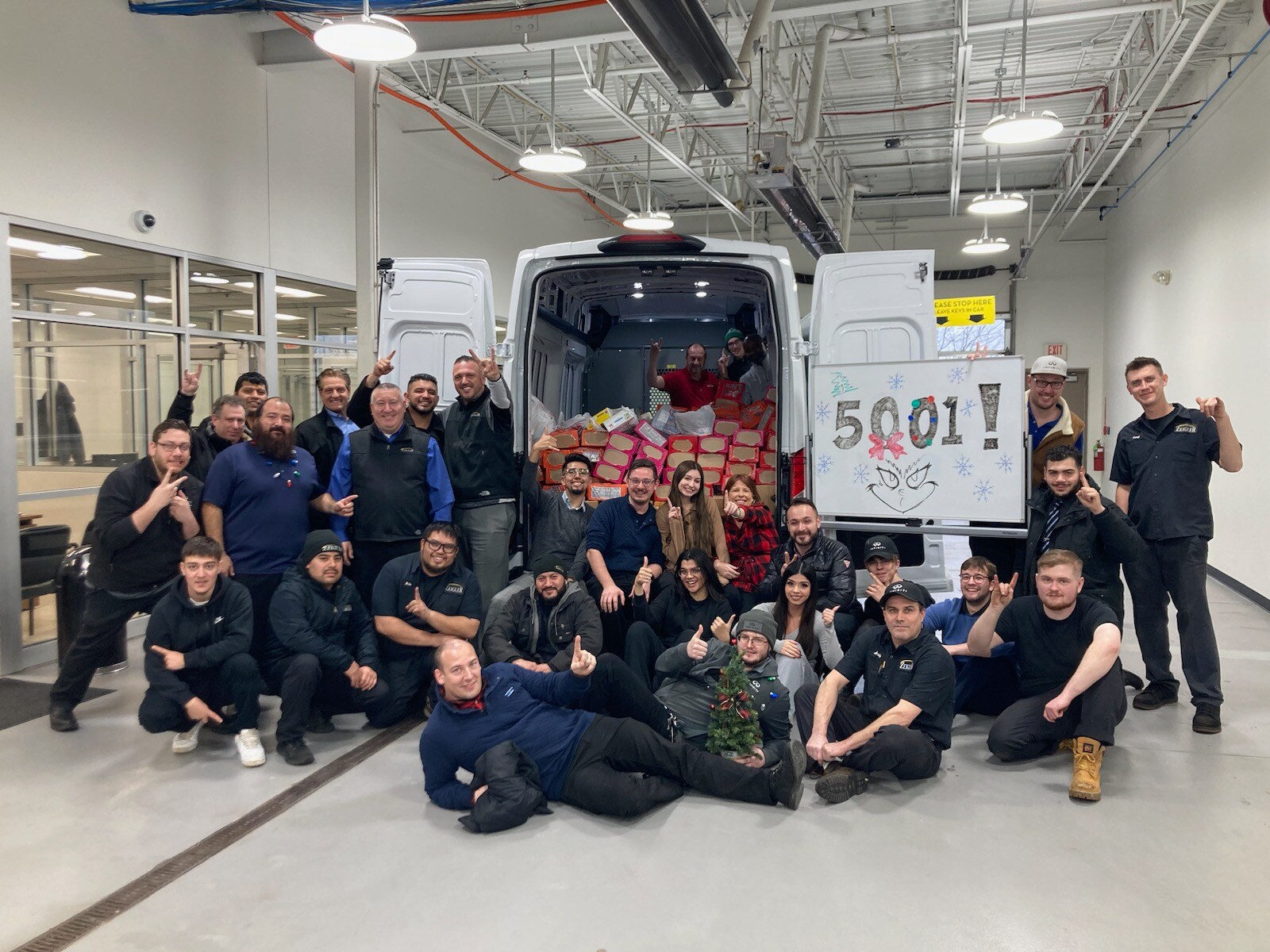 (INFINITI of Hoffman Estates comes in third place during the 4th Annual Zeigler Ugly Christmas Sweater Canned Food Drive)
Subaru of Kenosha came in fourth place in benefit of Shalom Center Kenosha with 3,542 items going to the local charity.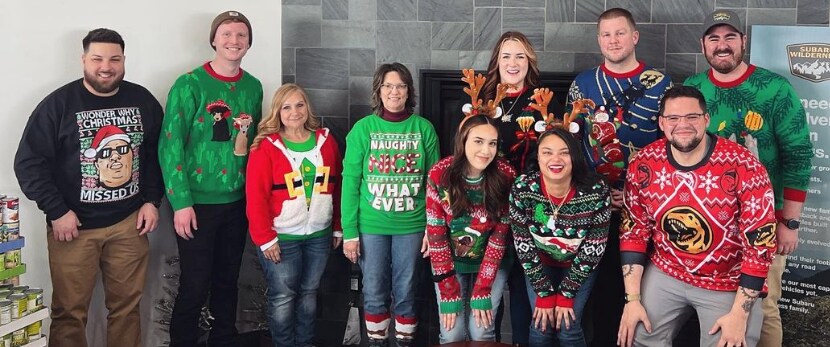 (Zeigler Subaru of Kenosha earned this year's fourth place with 3,542 items for charity)
Zeigler Maserati Alfa Romeo of Grandville was this year's fifth place winner with 2480 items in benefit the West Michigan Veteran's Assistance Program which serves Kent, Ottawa, Barry, Allegan and Muskegon counties.  Veterans can come in once a week and get three days of food for their family at no cost to them.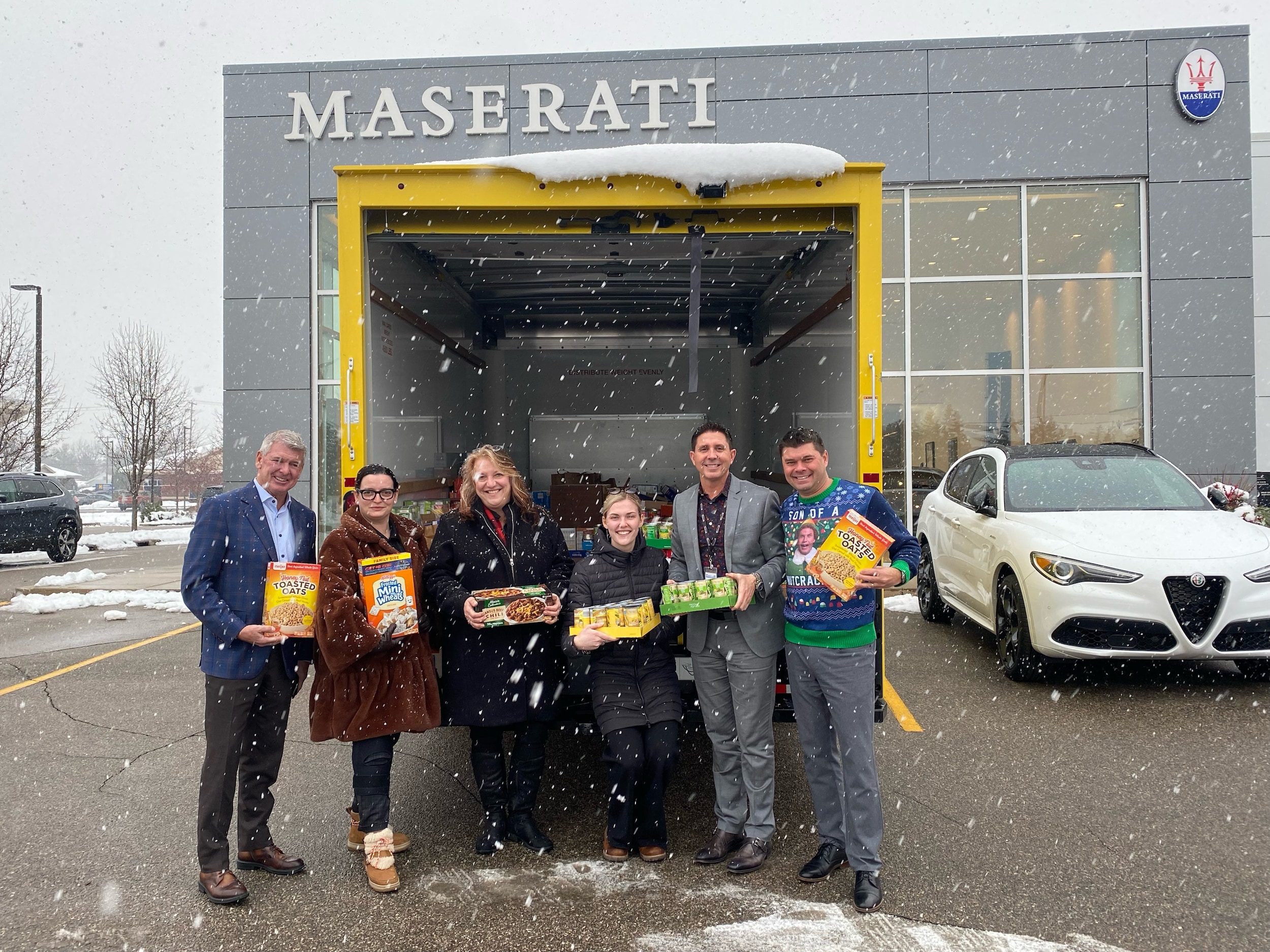 (The team at Zeigler Maserati Alfa Romeo came in fifth place for the 2022 Zeigler Ugly Sweater Holiday Food Drive)
Racine Hyundai and Racine Toyota will both benefit the Racine Food Bank coming in sixth and seventh place with 1,461 items and 1,190 items respectively.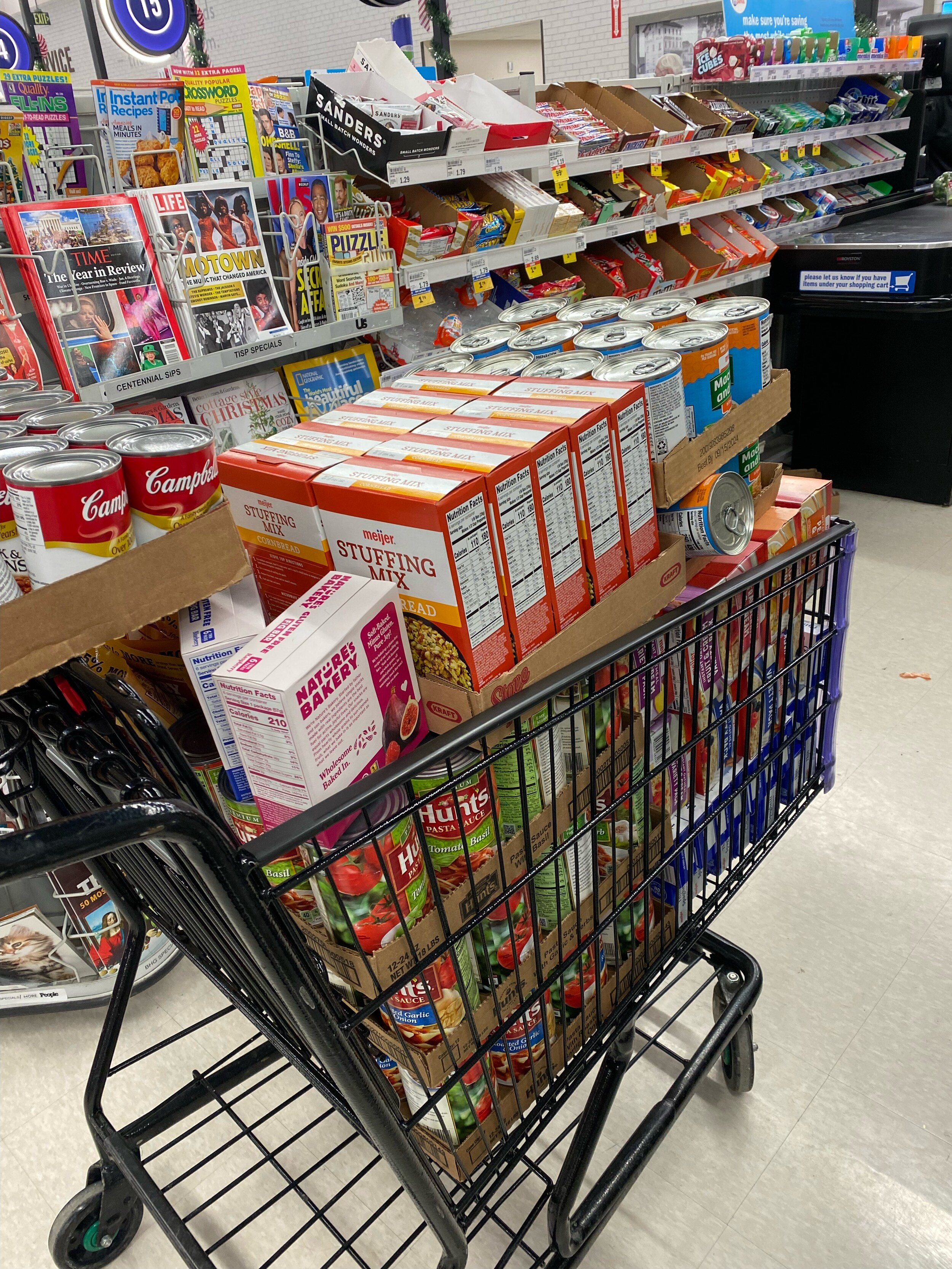 Special thanks to all of our participants this year which also included Orland Park INFINITI with 1043 items, Jaguar Land Rover Schaumburg with 843 items for the Schaumburg Township Food Pantry; Orland Park BMW with 589 items; Orland Park Nissan with 365 items, and Zeigler Plainwell Ford with 309 items. We also had donations from Zeigler North Riverside with 240 items, Lincolnwood and Plainwell CDJR both donating 201 items each; Schaumburg CDJR with 120, Schaumburg Chevy with 67; and Gurnee with 60 items!
Additional benefiting charities that have been announced include Flat River Outreach Ministries Lowell with 478 items donated by Zeigler Lowell, and the Salvation Army sponsored by Zeigler Ford Elkhart with 150 items for charity.
Your efforts will go a long way in helping those who need it most this 2022 Holiday Season!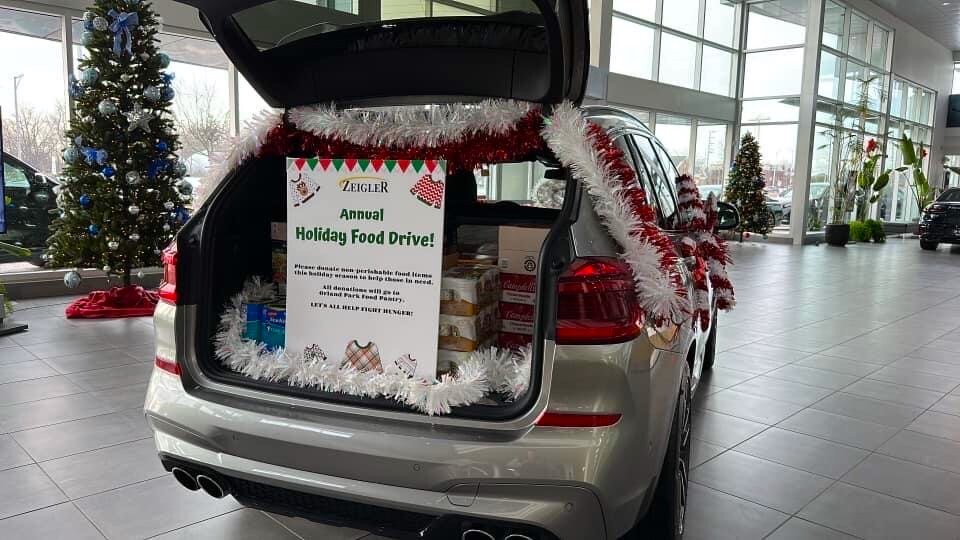 (Zeigler BMW of Orland Park came in 10th place with 589 items during the 4th Annual Ugly Sweater Holiday Food Drive)
Check back soon for additional details on all of our participating dealerships, their beneficiaries and more pictures! 
The competition has become a favorite among Zeigler dealerships growing at a fast pace over the last four years. The first year it was held in 2019, the group donated a total of 5,000 cans to local food shelters in Michigan, Indiana and Illinois with Zeigler Ford of Elkhart earning the top spot by bringing in a total of 737 cans. Last year, Mercedes-Benz of Hoffman Estates took home the big win with an impressive 7,000 items collected, with the entire dealer group collecting a grand total of 15,465 items overall.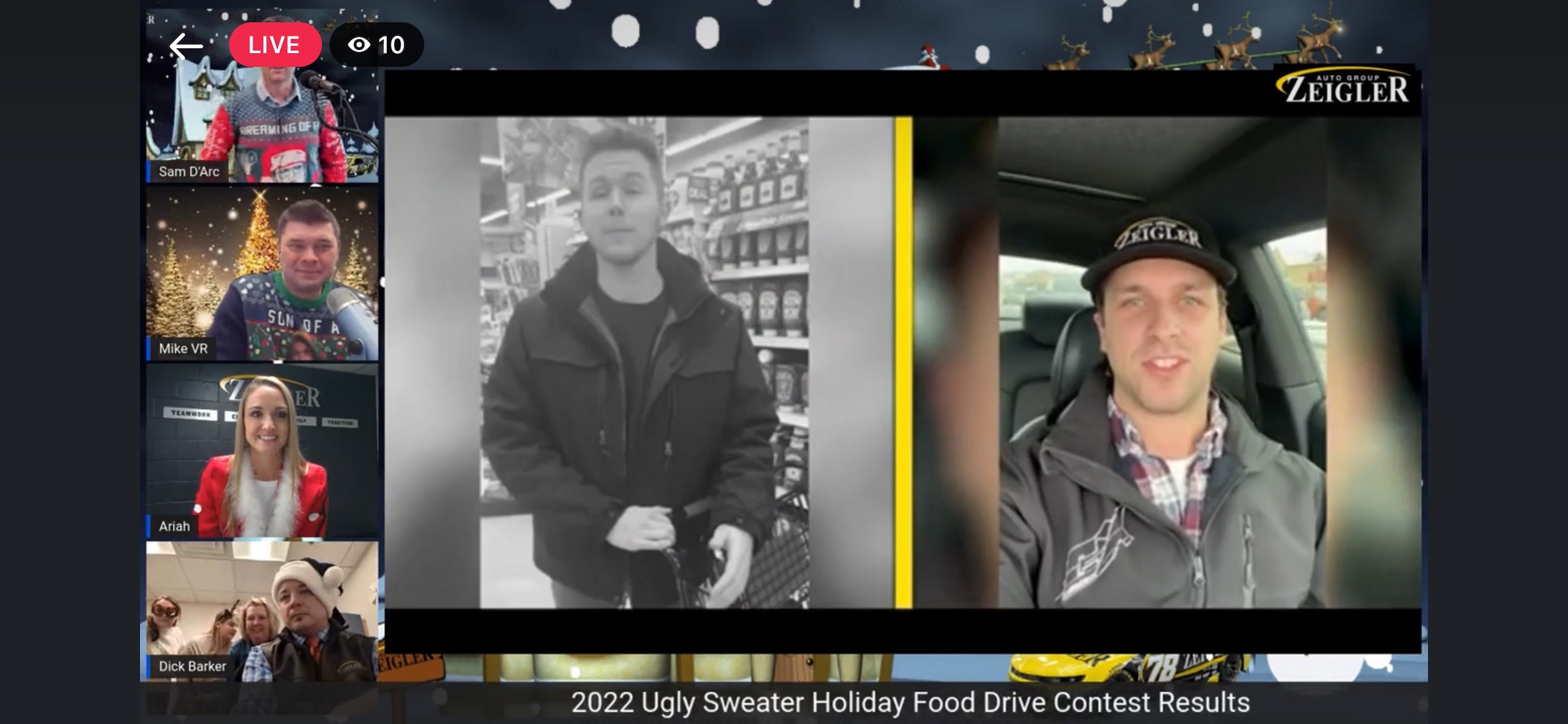 ABOUT ZEIGLER AUTOMOTIVE GROUP
Zeigler Automotive Group is one of the largest privately-owned dealer groups in the U.S. with 78 franchises across 35 locations in Wisconsin, Illinois, Indiana, and Michigan. Vehicle brands represented include all of the domestic and the majority of the imported manufacturers.
Besides its extensive automotive portfolio, the organization owns and operates Zeigler Motorsports, an 85,000-square-foot motorsports dealership and action park, offering 19 different powersports brands, plus its own onsite restaurant: Trak Houz Bar & Grill. Additionally, Zeigler Motorsports houses the Elevate Leadership & Team Building Academy, an executive training company.
The Kalamazoo-based dealer group also owns and operates Zeigler Pre-Owned of Chicago, three Byrider franchises, three finance companies, several insurance firms, and a leasing firm.
Founded in 1975, the organization employs over 2,300 people, ranking among the top 1% of automotive dealers in the nation with estimated annual sales of $2.2 billion for 2022. The family-owned and operated company is well known for its commitment to both customer service and employee satisfaction. Zeigler is regularly recognized as one of the Best and Brightest Companies to Work for in the Nation, also earning similar accolades in Chicago and Michigan.