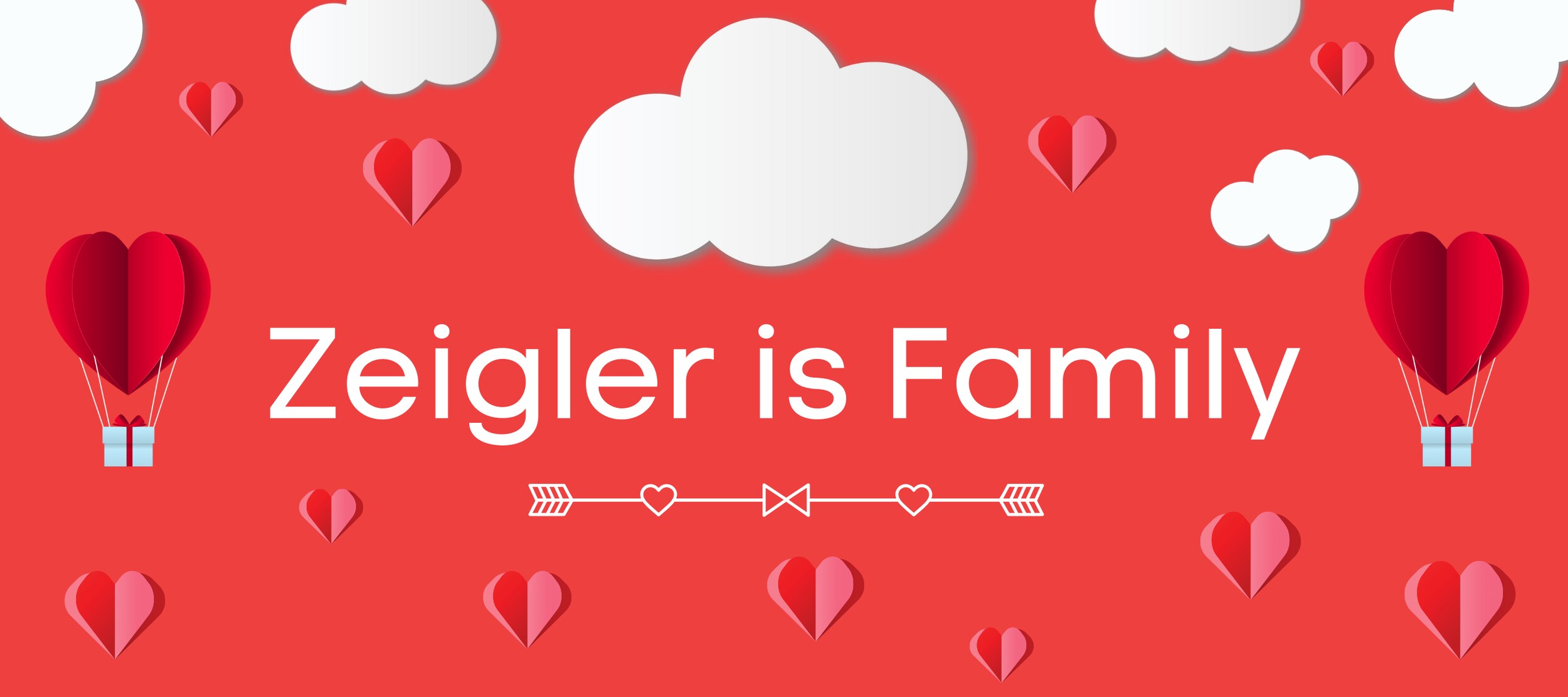 Zeigler is Family - Valentine's Day Feature - Part 2
Our special Valentine's Day feature: Zeigler is Family continues today with Part 2! At Zeigler, working with family is a unique and exciting experience for many of our team members. Keep reading now to hear about these experiences and what sets Zeigler apart in this regard. Also be sure to check out our final edition of this 3-part series debuting on Friday, February 18, 2022!
Kalamazoo, Michigan (February 16, 2022) - Zeigler Auto Group is proud to present Part 2 of our Valentine's Day feature: Zeigler is family. Our first part of the series, which debuted on Monday, February 14, 2022, can be read by clicking here.
Our organization has long prided itself on ensuring the very best service possible at all of our locations. The secret? "Our family providing your family with the ultimate automotive experience." But this isn't just a slogan or catchy phrase, this idea has been built into the organization since the beginning starting with the very first location purchased by Harold Zeigler in Lowell, Michigan. As the organization grew, so did the involvement of his family, especially that of Harold's son, Aaron Zeigler who at just 16 years old started working within the organization part-time eventually working his way up to his current position of CEO and president. Today Zeigler is one of the largest dealer groups in the country, ranking in the top 1%, employing 2,300 people with an estimated annual sales of $2.2 billion for 2022.
As a family owned and operated dealer group, Zeigler has been recognized locally, regionally and nationally as a great place to work having earned the title of one of the Best and Brightest Companies to Work for in the Nation for three consecutive years, also taking home similar accolades in Chicago and Michigan. An innovative company, always ready to serve its employees just as much as its customers, Zeigler was also awarded a top spot in Glassdoor Economic Research Work-Life Balance Study, by putting company culture and family first.
---
FATHER & SON - RICH AND JUSTIN SNAY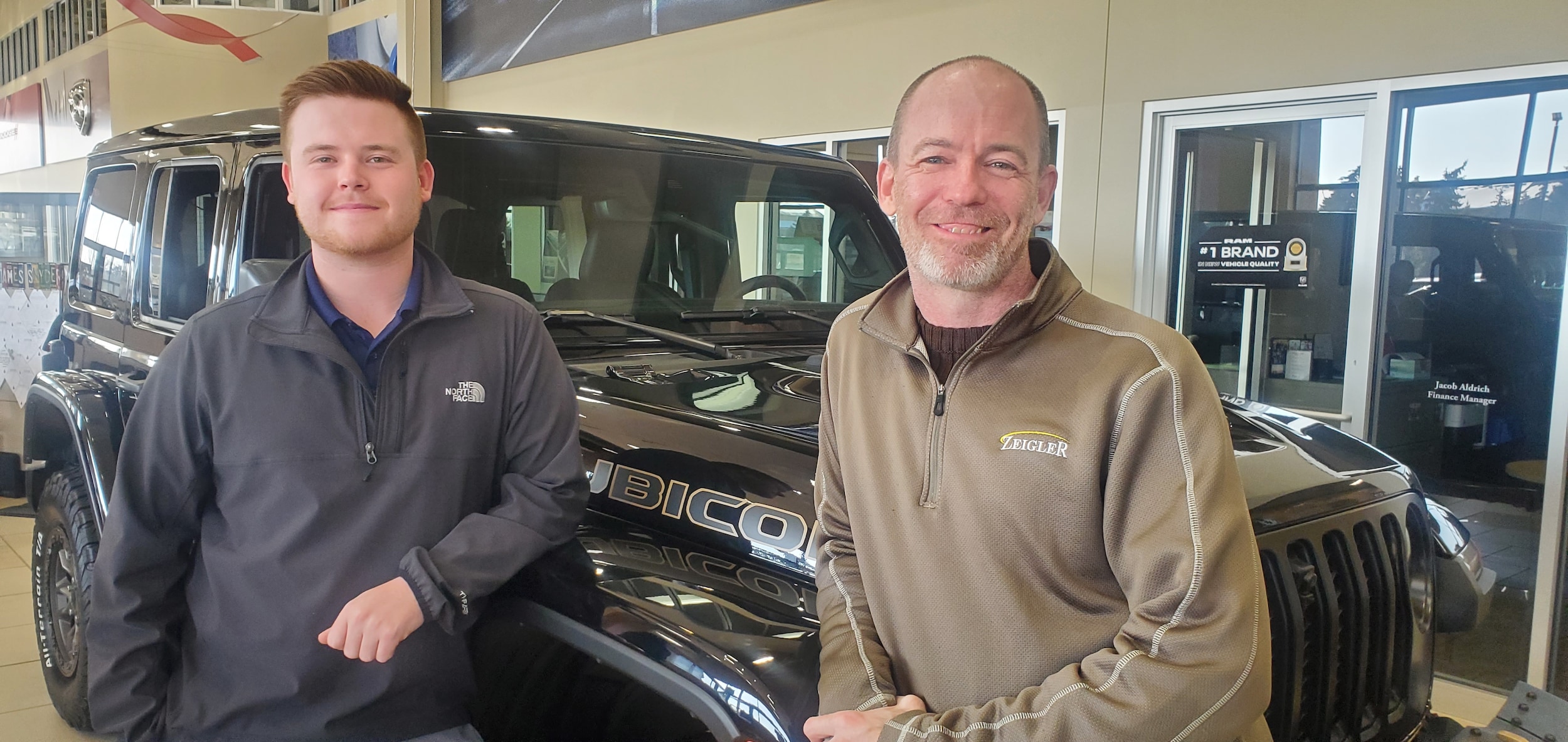 "It has been absolutely awesome! Being able to help him grow his career is something I never thought I would be able to do. 
He has turned into a professional in front of my eyes, it's a great thing to see and makes me very proud!" 
Rich Snay, Finance Manager Zeigler CDJR Fiat Maserati Alfa Romeo
---
GRANDFATHER & GRANDDAUGHTER - TOM KELLOGG AND MIA HAUSCHILD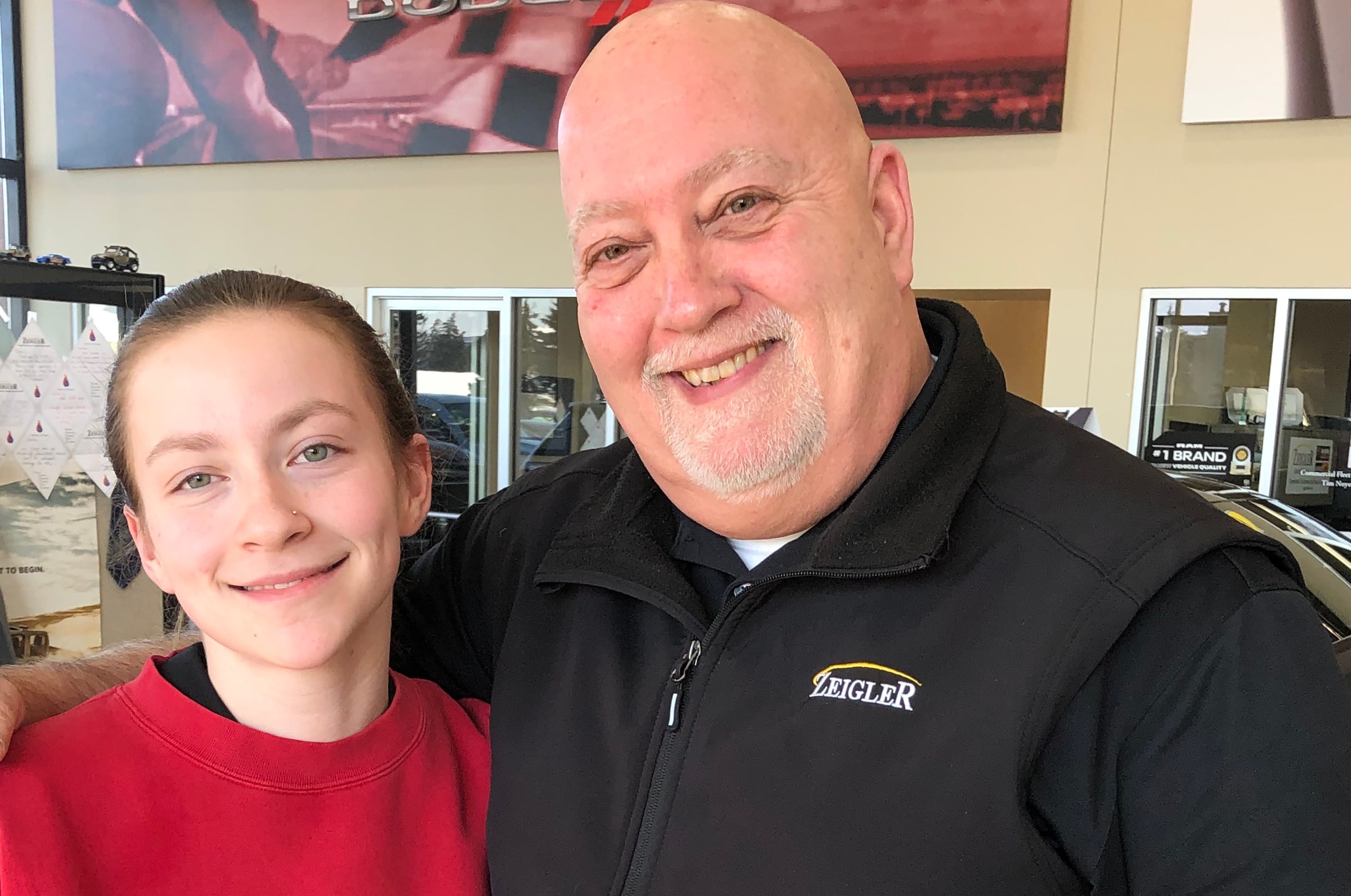 "Teaching the next generation just can't be beat. Mia is doing a wonderful job working the counter.
It is so rewarding to be able to teach my granddaughter about our business and see her progress each and every day."
Tom Kellogg, Wholesale Parts Director/Parts Manager Zeigler Auto Group
BROTHERS - WILL & JON WALTON AND MITCH & CHANDLER MILLER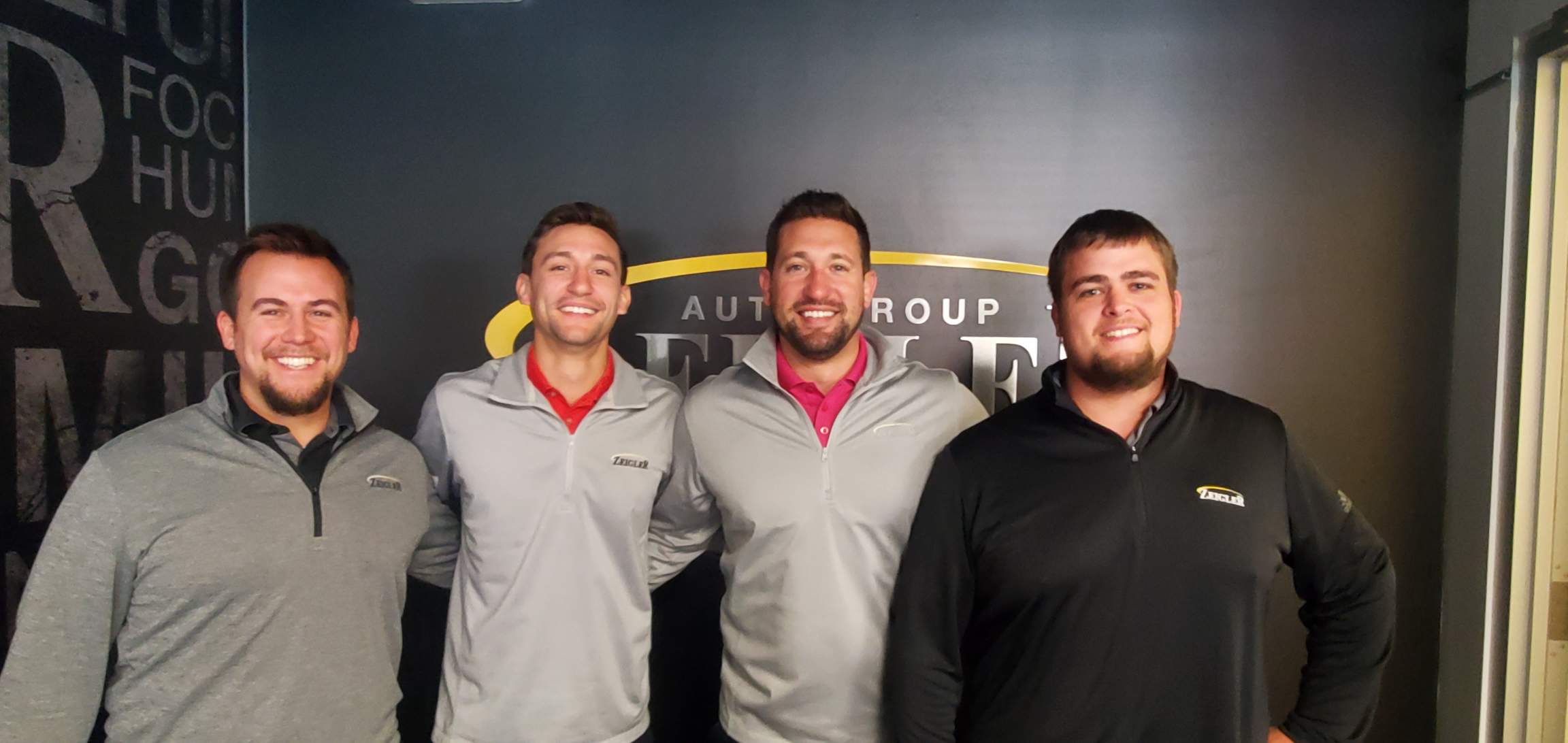 (Will Walton, Mitch Miller, Chad Miller, John Walton)
"People may think that it can be challenging to work with a family member, but for me it's been a very rewarding experience. I've enjoyed guiding my brother, Chandler and watching him grow and develop his skills in a sales role. He's grown in ways personally and professionally through the resources Zeigler Auto Group provides. I'm excited to see what the future holds for him and his family as he progresses on in his career with us."
Mitch Miller, 
GSM, Zeigler Ford Lincoln 
of Elkhart
"When my older brother asked me if I wanted to join Team Zeigler, I was hesitant at first because I had very little insight in sales and I'm not the most social person. Now almost 2 years in, I have overcome obstacles I did not think were possible both personally and professionally. Having a close family member guide and support me along the way has truly been a blessing and I am so thankful for the endless opportunities Zeigler Auto Group has to offer." 
Chandler Miller, Sales Professional, Zeigler Ford Lincoln of Elkhart
---
CLICK BELOW TO LISTEN TO OUR PODCAST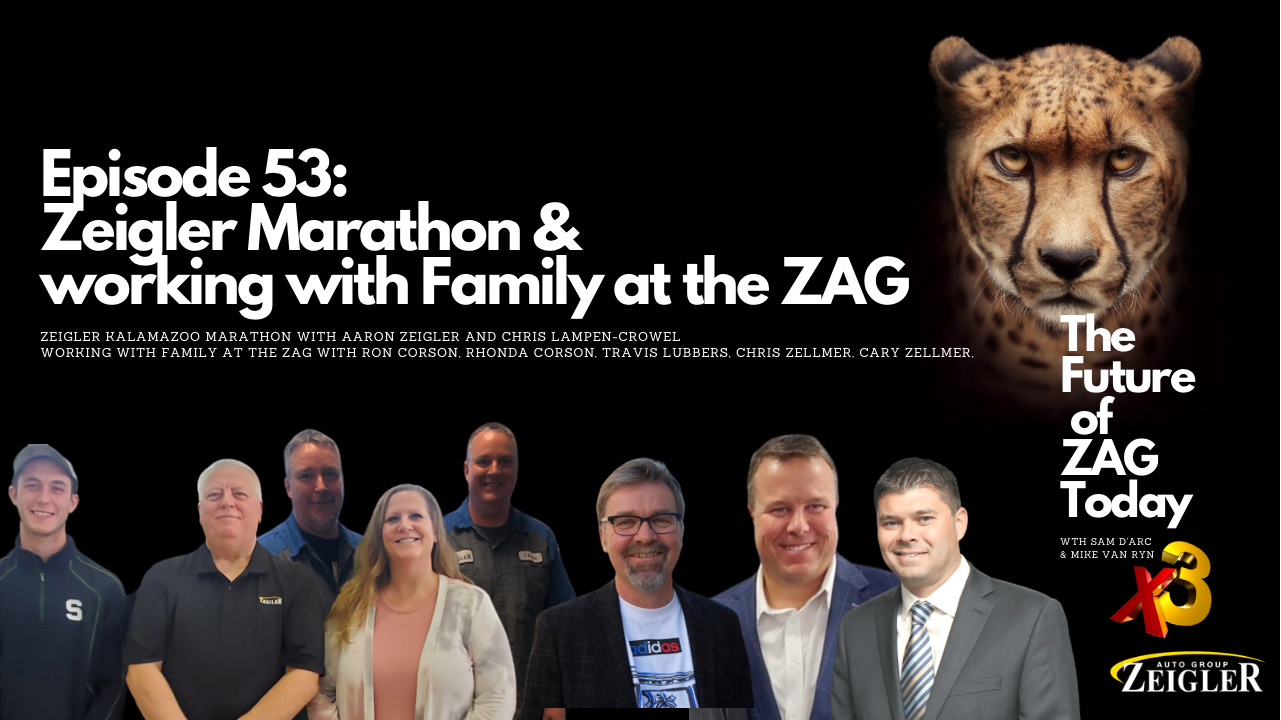 Zeigler Automotive Group is one of the largest privately-owned dealer groups in the U.S. with 78 franchises across 35 locations in Wisconsin, Illinois, Indiana, and Michigan. Vehicle brands represented include all of the domestic and the majority of the imported manufacturers.
Besides its extensive automotive portfolio, the organization owns and operates Zeigler Motorsports, an 85,000-square-foot motorsports dealership and action park, offering 19 different powersports brands, plus its own onsite restaurant: Trak Houz Bar & Grill. Additionally, Zeigler Motorsports houses the Elevate Leadership & Team Building Academy, an executive training company.
The Kalamazoo-based dealer group also owns and operates Zeigler Pre-Owned of Chicago, a Carquest Auto Parts store, three Byrider franchises, three finance companies, several insurance firms, and a leasing firm.
Founded in 1975, the organization employs over 2,300 people, ranking among the top 1% of automotive dealers in the nation with estimated annual sales of $2.2 billion for 2022. The family-owned and operated company is well known for its commitment to both customer service and employee satisfaction. Zeigler is regularly recognized as one of the Best and Brightest Companies to Work for in the Nation, also earning similar accolades in Chicago and Michigan.