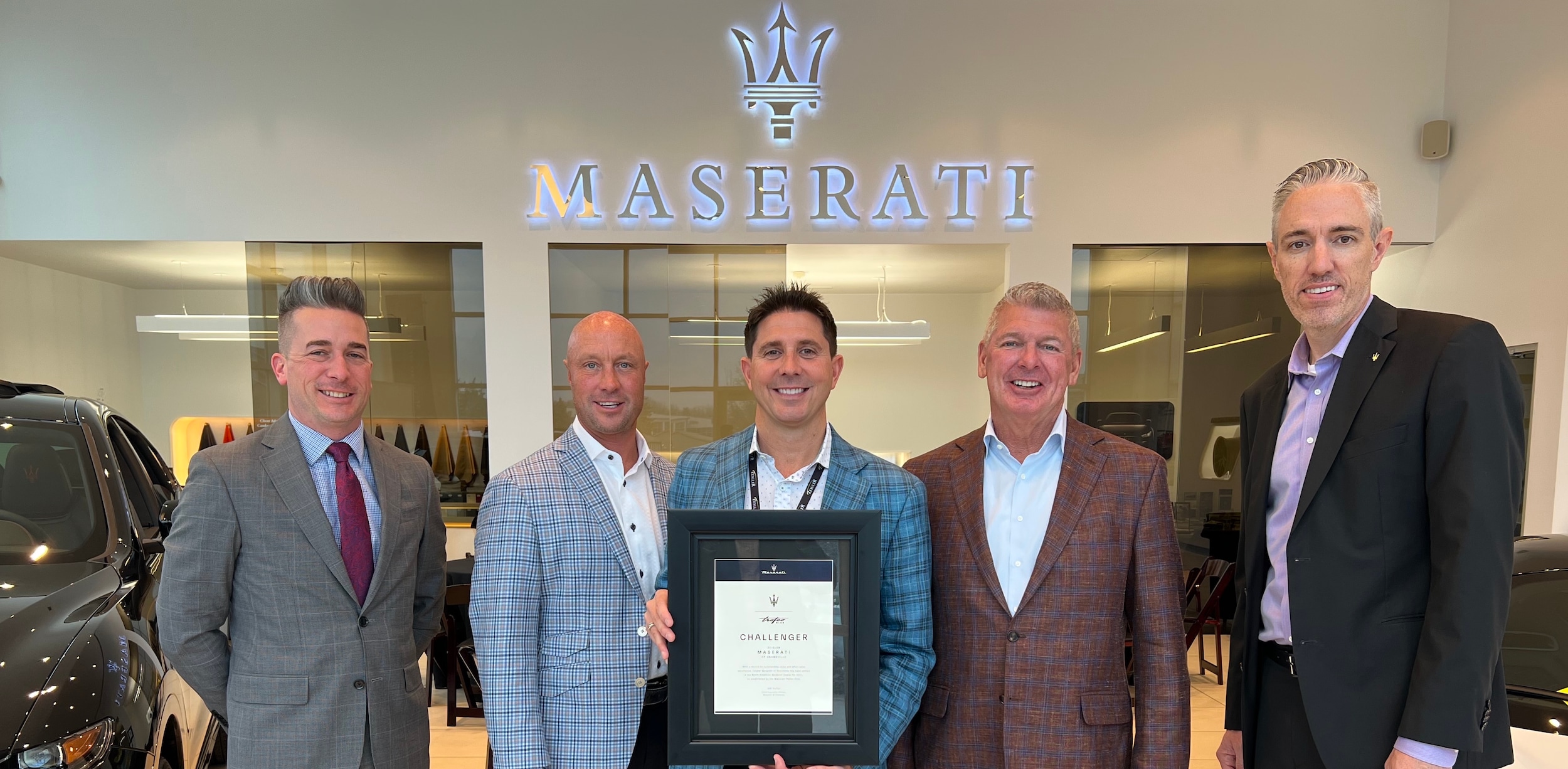 Zeigler Maserati of Grandville Honored with Prestigious Maserati North America Trofeo Club Award
Zeigler Auto Group is proud to announce that its Zeigler Maserati of Grandville location has been honored with the prestigious Trofeo Club Award from Maserati North America. The coveted award was given to the top 15 Maserati dealers out of 129 dealerships throughout the country.
KALAMAZOO, MICH. (April 18, 2022)
- Zeigler Maserati of Grandville has earned a highly coveted spot among Maserati's top performing dealerships with the prestigious Maserati North America Trofeo Club Award. 
The dealership earned the coveted recognition after meeting rigorous sales, service, and parts standards for the luxury manufacturer.
"This is a team award and one that only comes with understanding and meeting clear objectives but what makes this award so unique is that ultimately our customers are the ones that give us this award. There were monthly and quarterly standards that we could not miss, but also it was crucial to have basically zero customer complaints and that comes with doing what we always do, which is delivering an exceptional experience for each and every single person that comes through our door," said Derrick Jones, GSM at Zeigler Maserati of Grandville.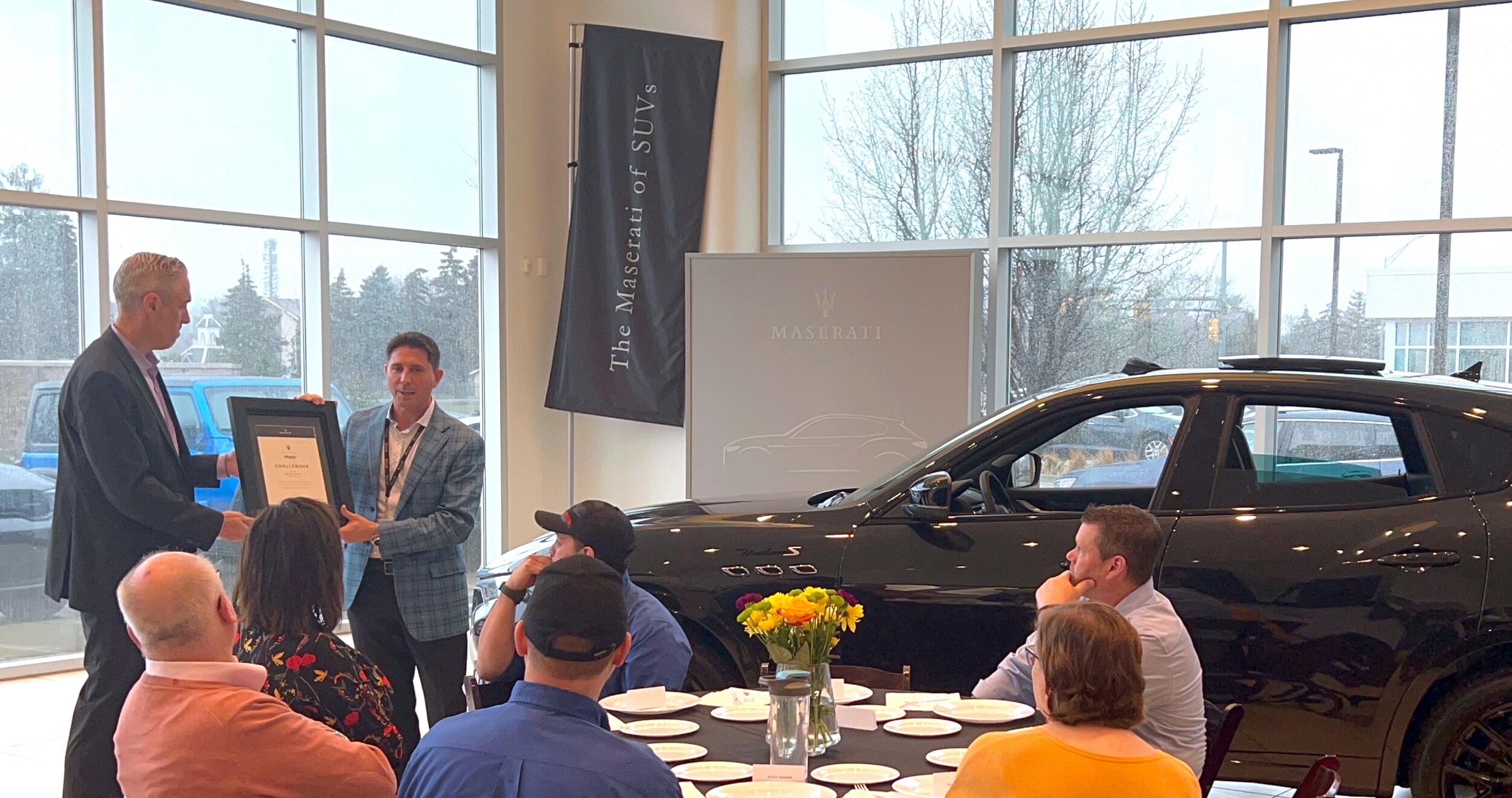 "I am very proud of the Zeigler Grandville Maserati team for winning the Trofeo Club Award. Finishing 12th 
out of 129 Maserati dealerships nationwide is a great honor and is only achieved through a team focused on the same goal."
 Chris Zeppenfeld, GM of Zeigler Maserati of Grandville
Zeigler Maserati of Grandville landed at number 12 among the top 15 performing dealers. In order to qualify for the award, dealers were evaluated from January through December 2021 on new vehicle sales versus a set objective; and sales and service with a set benchmark set from the previous year -with both categories receiving a specific point value that had to be maintained on a monthly and quarterly basis in order to qualify. 

"On behalf of Maserati Americas we want to congratulate the entire team from Maserati at Zeigler Grandville, for winning the Trofeo Club Award, 
 which recognizes outstanding performance across North America in both sales and service. We appreciate your hard work and dedication to 
ensure great customer service. Congratulations on winning this prestigious award!"
Andy Love, Head of Brand and Sales, Maserati Americas
Another key metric for both categories was the dealer's NPS score or Net Promoter Score which comes from client feedback. This means that in order for Zeigler Maserati of Grandville to have ranked that high among 129 Maserati dealers in the US, the team had to have "zero" client complaints while participating in Maserati NA programs and continually exceeding benchmarks set by the luxury manufacturer.  
"Maserati North America is pleased to recognize Zeigler Maserati of Grandville and its staff for their incredible efforts in Sales, Aftersales 
and Customer Experience in 2021, ultimately achieving recognition as a Trofeo Club Challenger dealership. 
We are grateful for the partnership we have with Zeigler Maserati of Grandville
and look forward to our mutual, continued success in 2022!"
- Patrick J. "PJ" Stich, Regional Sales Manager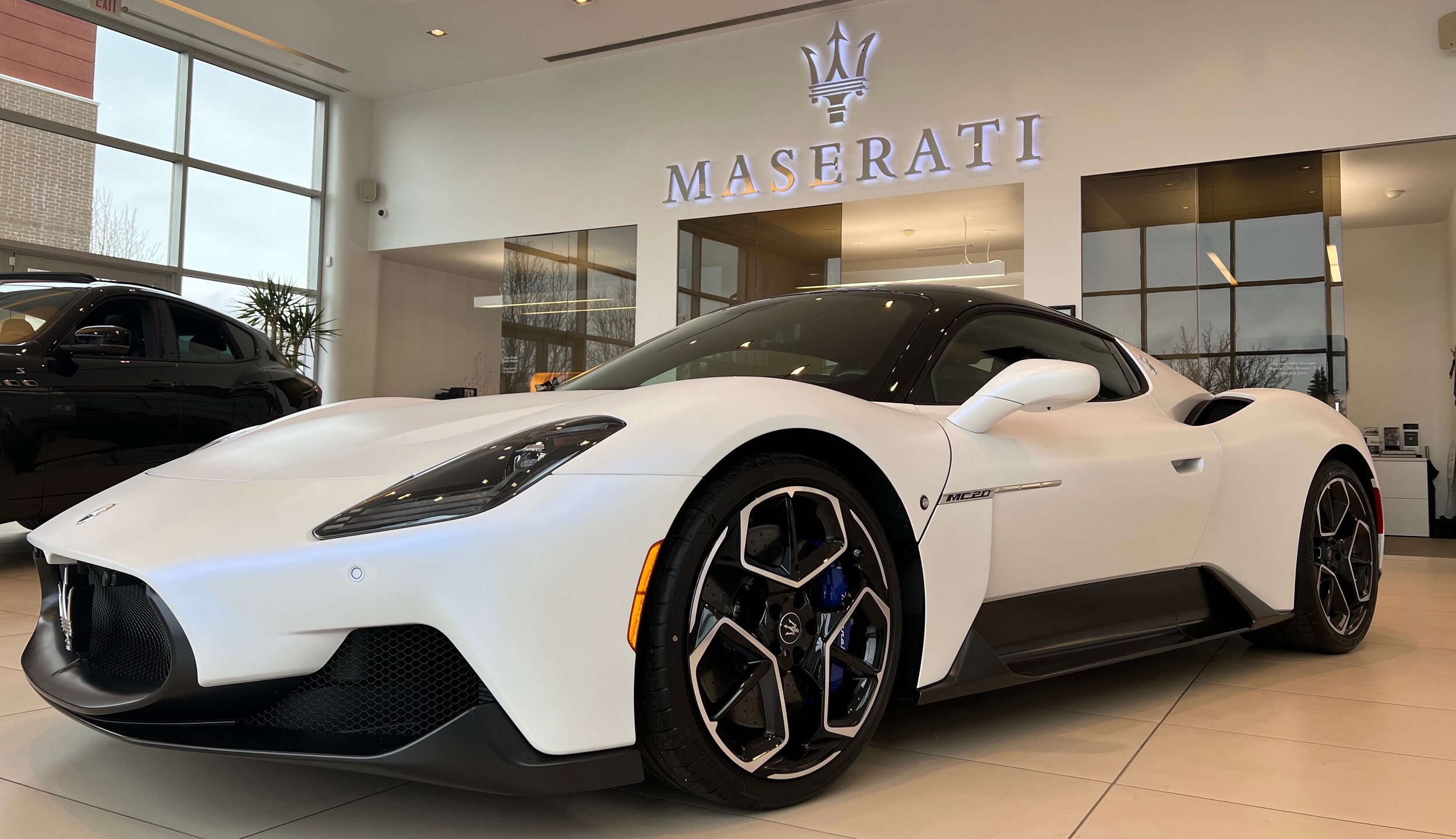 "Derrick and Chris, on behalf of the Zeigler Auto Group, I want to thank you and your team at Zeigler Maserati of Grandville for 
your great performance in 2021 and for becoming a member of the Maserati Trofeo Club. Congratulations, and thank you for all that you 
do for Zeigler in such an exceptional way," 
Dan Scheid, CFO of Zeigler Auto Group 
Receiving an award like this was a challenge in and of itself but to also receive it during a chip and parts shortage, the team had to work together even more closely than before. Derrick says a lot of it has to do with how he and Chris work together and have the same mindset. "We are here more than we are at home, and when you're here so much you want to be able to work with the best. I have pretty high expectations of myself and I pass that on to my work family, and one thing that we always do is we treat every client the same," said Derrick Jones. 
However this drive for Derrick to be the best didn't start with his automotive career. He is also a world renowned hot air balloon pilot who has been flying since he was 16. Derrick currently pilots Zeigler's very own hot air balloon-a project he spearheaded a couple of years ago. 
Chris Zeppenfield says a lot of the success also has to do with how Zeigler promotes from within and continues to empower team members to provide the best experience. "
We've had very good luck in terms of promoting from within and Derrick has had no turnover here. This is very important because when our employees are happy they can perform better, and being able to provide the ultimate automotive experience and live up to a brand like Maserati, is what we strive for every day."
As for next year's Maserati North America Trofeo Club Award, Derrick says the team at Zeigler Maserati of Grandville is already working hard and his goal is to make it into the top 10.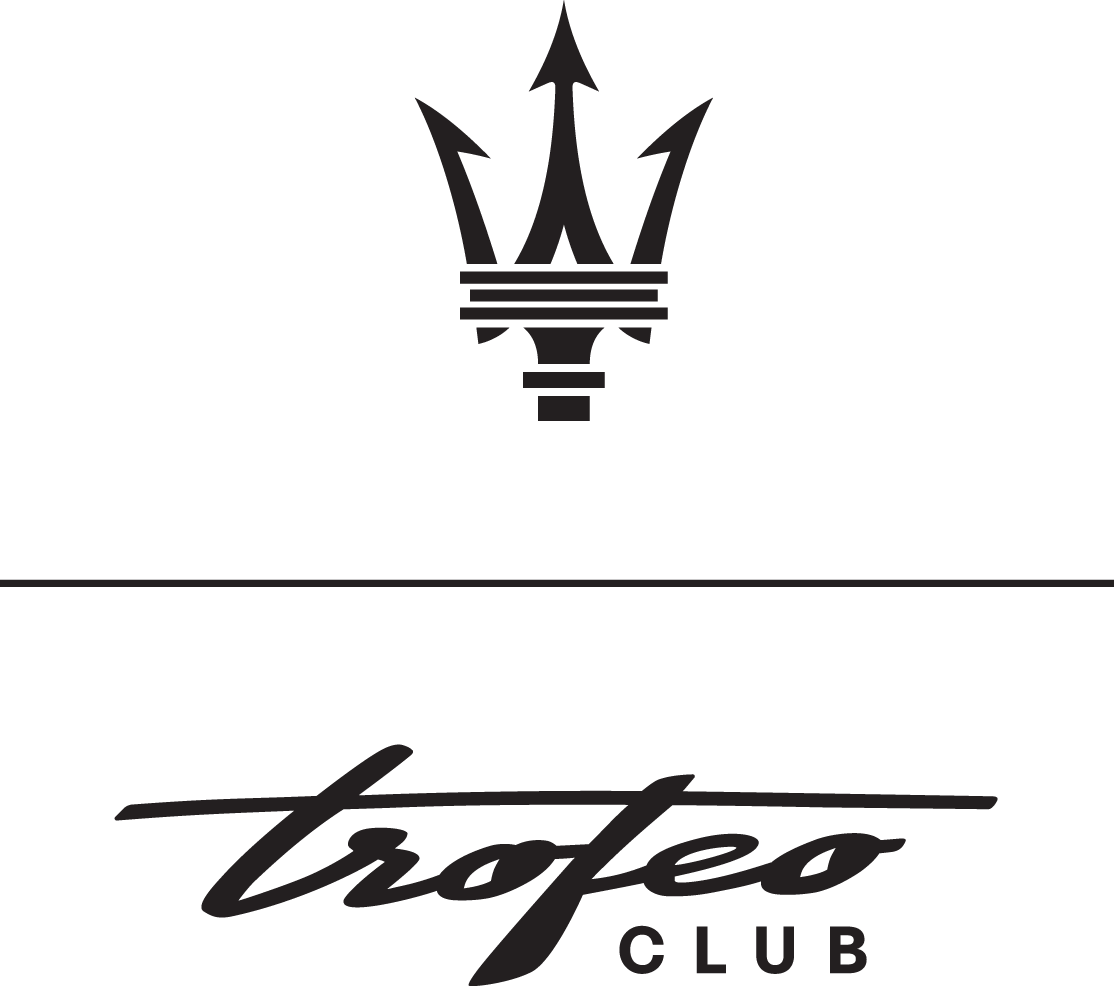 About Zeigler Auto Group
Zeigler Automotive Group is one of the largest privately-owned dealer groups in the U.S. with 78 franchises across 35 locations in Wisconsin, Illinois, Indiana, and Michigan. Vehicle brands represented include all of the domestic and the majority of the imported manufacturers.
Besides its extensive automotive portfolio, the organization owns and operates Zeigler Motorsports, an 85,000-square-foot motorsports dealership and action park, offering 19 different powersports brands, plus its own onsite restaurant: Trak Houz Bar & Grill. Additionally, Zeigler Motorsports houses the Elevate Leadership & Team Building Academy, an executive training company.
The Kalamazoo-based dealer group also owns and operates Zeigler Pre-Owned of Chicago, a Carquest Auto Parts store, three Byrider franchises, three finance companies, several insurance firms, and a leasing firm.
Founded in 1975, the organization employs over 2,300 people, ranking among the top 1% of automotive dealers in the nation with estimated annual sales of $2.2 billion for 2022. The family-owned and operated company is well known for its commitment to both customer service and employee satisfaction. Zeigler is regularly recognized as one of the Best and Brightest Companies to Work for in the Nation, also earning similar accolades in Chicago and Michigan.