Zeigler Motorsports today announced that it will be hosting a week-long grand opening event for its recently renamed, in-house restaurant -- Trak-HouzBar & Grill -- starting Monday, November 18, 2019 at 5003 Circle Park Drive. The dealer also plans to hold an official ribbon cutting and private soft opening the Friday prior (November 15 at 5:00 p.m.), with the group's president and owner, Aaron Zeigler in attendance. Formerly known as Sprinkle Road Tap House, the 4,500 square-foot Zeigler-owned venue will celebrate its switch to in-house management by debuting a new motorsports-themed menu and hosting several local breweries during its week-long event.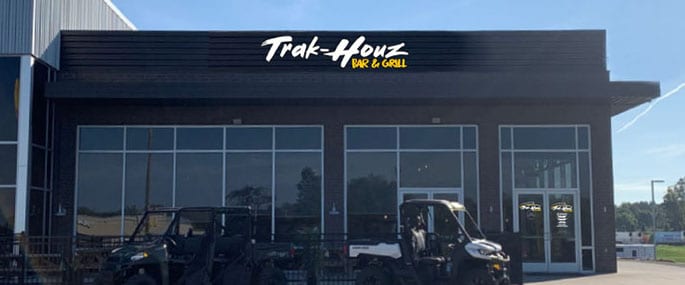 Trak-Houz Bar & Grill Exterior
KALAMAZOO, Mich.
(November 12, 2019)
Zeigler Motorsports today announced that it will be celebrating the renaming of its in-house restaurant, Trak-Houz Bar & Grill, with a week-long grand opening event scheduled to start on Monday, November 18, 2019. During this time, the restaurant will host various local breweries -- including Tapistry, Founders, and Saugatuck Brewing -- and will offer guests specials on its new motorsports-themed menu.
The dealership will also hold an official ribbon cutting and private soft opening on Friday, November 15, 2019 at 5:00 p.m., featuring Aaron Zeigler, president and owner of Zeigler Automotive Group. Media is encouraged to RSVP.
The newly christened venue, now under Zeigler management, will replace Zeigler's Sprinkle Road Tap House, previously managed by Millennium Restaurant Group.
"This is an exciting time for us," said Zeigler. "This new restaurant will allow us to better serve our guests who visit us from all around the world -- and come back time and time again -- for the one-of-a-kind experience that only Zeigler Motorsports can offer," he continued.
With Michigan being one of the leading states for breweries, distilleries, and top-ranked wineries, Trak-Houz will provide patrons with options that may not be readily available elsewhere -- adding to the dealer's overall unique experience.
"This is an incredible opportunity to be able to revamp a menu more geared towards guest's requests as well as some fun and new eye-catching items," said Jessica Pierson, general manager of Trak-Houz Bar & Grill.
Julius Jackson, the restaurant's kitchen manager, further confirmed the restaurant's new vision: "Our kitchen is excited to be able to start running different and fresh daily features as well as more frequent menu changes."
Trak-Houz will be open for lunch and dinner, Monday through Thursday, from 11:00 a.m. to 10:00 p.m., as well as Friday and Saturday from 11:00 a.m. to 11:00 p.m. -- with pick-up and delivery options coming soon to TrakHouz.com.
Guests will also be able to enjoy ample seating for 130 people across two different areas accented by nearly a dozen 45 to 70-inch flatscreen with additional availability for special events such as birthdays, business luncheons, team outings, and rehearsal dinners.
Zeigler Motorsports
Zeigler Motorsports in Kalamazoo, Michigan is part of the Zeigler Automotive Group, one of the largest automotive dealer groups in the country.
The multi-line dealer carries a large volume of Polaris, Indian, Honda, Kawasaki, Suzuki, SkiDoo, SeaDoo, Can Am, Arctic Cat, KTM, E-Z-Go, Bad Boy Off Road, and Yamaha powersport products and specializes in the complete line of Honda Power Equipment and Yamaha Power Equipment. Its main focus is providing A Great Experience with the largest selection in Michigan and a knowledgeable staff always available at its 50-acre facility.
Zeigler Automotive Group
Zeigler Automotive Group is one of the largest privately owned dealer groups in the nation with 71 franchises and 23 locations in Illinois, Indiana, Michigan and New York. Vehicle brands represented include the majority of domestic and imported manufacturers.
Founded in 1975, the company ranks among the top 1% of automotive dealers in the U.S., and has earned recognition for its commitment to both customer service and employee satisfaction. Recently, Zeigler Automotive Group was named one of the 101 Best and Brightest Companies to Work For in Illinois and Michigan.
Press Contact:
Francis Mariela, Francis Mariela Communications
407.278.0621 | 239.273.6976 |
letswork@francismariela.com
Dealer Contact:

Jessica Pierson, Trak-Houz GM | 269.755.1190