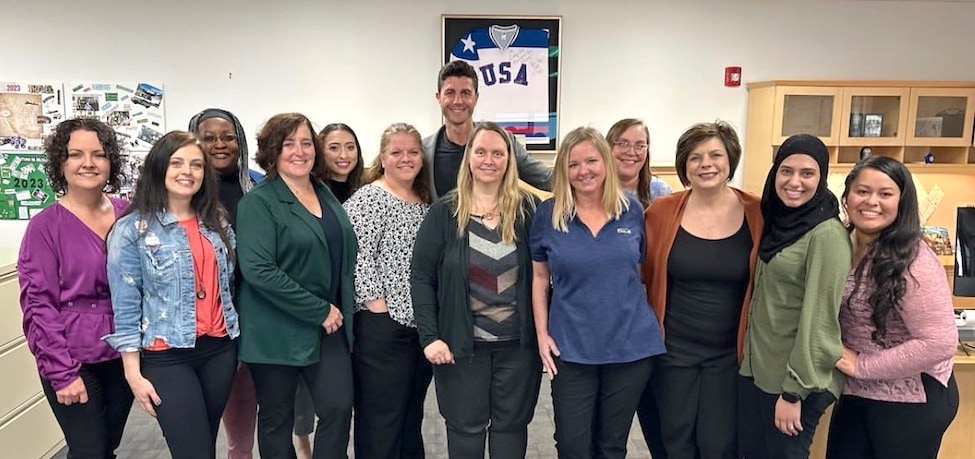 (BMW of Orland Park office team)
Zeigler University Guest Speaker Series Welcomes Ben Nemtin Live from BMW of Orland Park in Chicago
New York Best Selling author and philanthropist Ben Nemtin headlined Zeigler University Guest Speaker Series yesterday live from BMW of Orland Park in Chicago delivering a presentation on how to "Make the Impossible, Possible." Known for his project: the Buried Life, the world-renowned speaker shared some of the top things he has accomplished on his bucket list which included shooting basketball with President Obama, having a beer with Prince Harry, raising money for a teen's bionic arm, writing a New York Time's Best Seller, starring in a MTV reality show, and much more.
(KALAMAZOO, MICH) April 21, 2023 - Zeigler's highly successful Zeigler University Guest Speaker Series welcomed New York Best Selling author, filmmaker, and philanthropist Ben Nemtin live from its BMW of Orland Park store in Chicago. During his presentation: "Make the Impossible, Possible," Nemtin shared his story about how his seemingly simple bucket list, at the time, changed his life forever.
Growing up playing rugby in Victoria, British Columbia Nemtin's biggest dream was to go to the World Cup in Paris, France, a dream that finally seemed within reach when he made the under 19 National Rugby team. However, after missing a kick that could have won his high school team the championship, he started to experience anxiety and depression-something completely new to him at that point. Even after getting into college on a full rugby scholarship, he ends up dropping out and starts isolating himself, moving back in with his parents. 
After taking a job, he starts to slowly recover by sharing his story, finding that he wasn't alone and that others around him had similar experiences. This sparks an idea to surround himself with only people that inspire him and he starts to evaluate what's important to him. In doing this exercise he realizes there are many things he's always wanted to do, one of them being making a movie. He starts getting closer to Johnny, a kid, at that point whom he had only known as being someone who took his sister to the prom, and decides to work towards that goal. His inspiration during this time was a poem he read that was over 175 years old by Matthew Arnold titled "The Buried Life."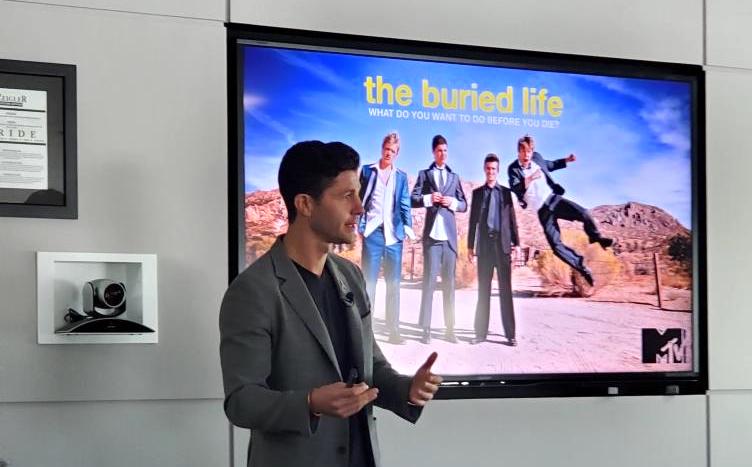 (Ben Nemtin delivers Zeigler University Guest Speaker Series keynote on April 20, 2023 in Chicago)
Although faced with roadblocks along the way, Newmtin and Arnold start a roadtrip with the purpose of accomplishing as many of the 100 goals they had set for themselves. To this day, 96 of these goals have been achieved with goals like going to space and making a movie just around the corner.
Among some of those goals was giving terminally ill kids a fun shopping spree day, helping a homeless man start his landscaping business, riding a bull, singing the national anthem, having a bear with Prince Harry, playing basketball with President Obama, and starring in a successful TV show.
He talked about the importance of being relentless when going after your goals, his example for this was his big goal of playing basketball which he described as the most difficult to achieve so far. After being turned down with hundreds of nos in search of his one yes, he finally found himself on the Presidential court playing a game with the former President. 
By the same token, it's important to set those goals and care for yourself the same way. Finding ways to nurture your dreams creates a ripple effect not just on your life but every life that accomplished goal touches. He gave the example of someone coming in and purchasing a car at Zeigler and how driving this car can change someone's mood and by effect change the mood of everyone around that person; and it all starts with the TEAM ZEIGLER. 
Although there will always be challenges, the way you navigate these challenges and nurture yourself is what counts. Building your mental health toolkit is a great way to help you navigate challenging times. Caring for yourself first allows you to give the best of yourself to those around you so that the ripple effect can continue and give hope to those who need it most. Another important aspect of this is to be more open about one's ups and downs to help break the stigma around mental health.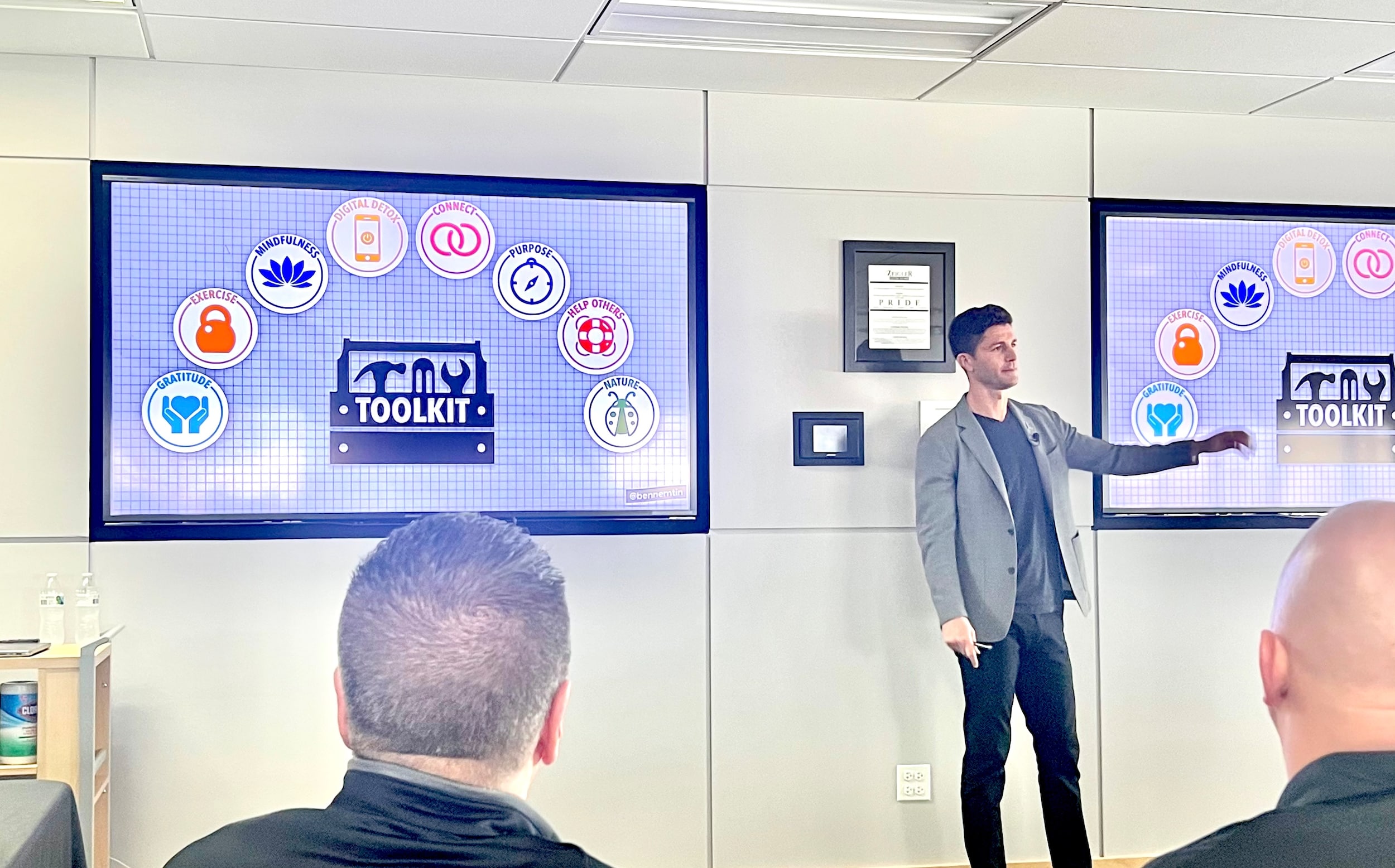 (Ben Newtim shares his "mental health toolkit" idea with TEAM ZEIGLER)
Although at face value it may feel selfish to want to care for yourself or even have a bucket list of your own, it's the opposite. Making yourself a priority can help with work-life harmony, each borrowing positive energy from one another while taking care of responsibilities as well as the dreams that have been essentially "buried" for a while. Having these dreams written out and having an accountability partner or partners helps because it makes things more real than thought alone.
After explaining this, Newtim went on to mention a note he received from an air steward who was passing along a message from someone at the back of the plane who let him know that he had watched The Buried Life and it had helped him greatly during his time of depression.
Today, Newtim is close to accomplishing his 100 goals, 17 years in the making with one of them being a new movie coming out Fall of 2024, and another going into space.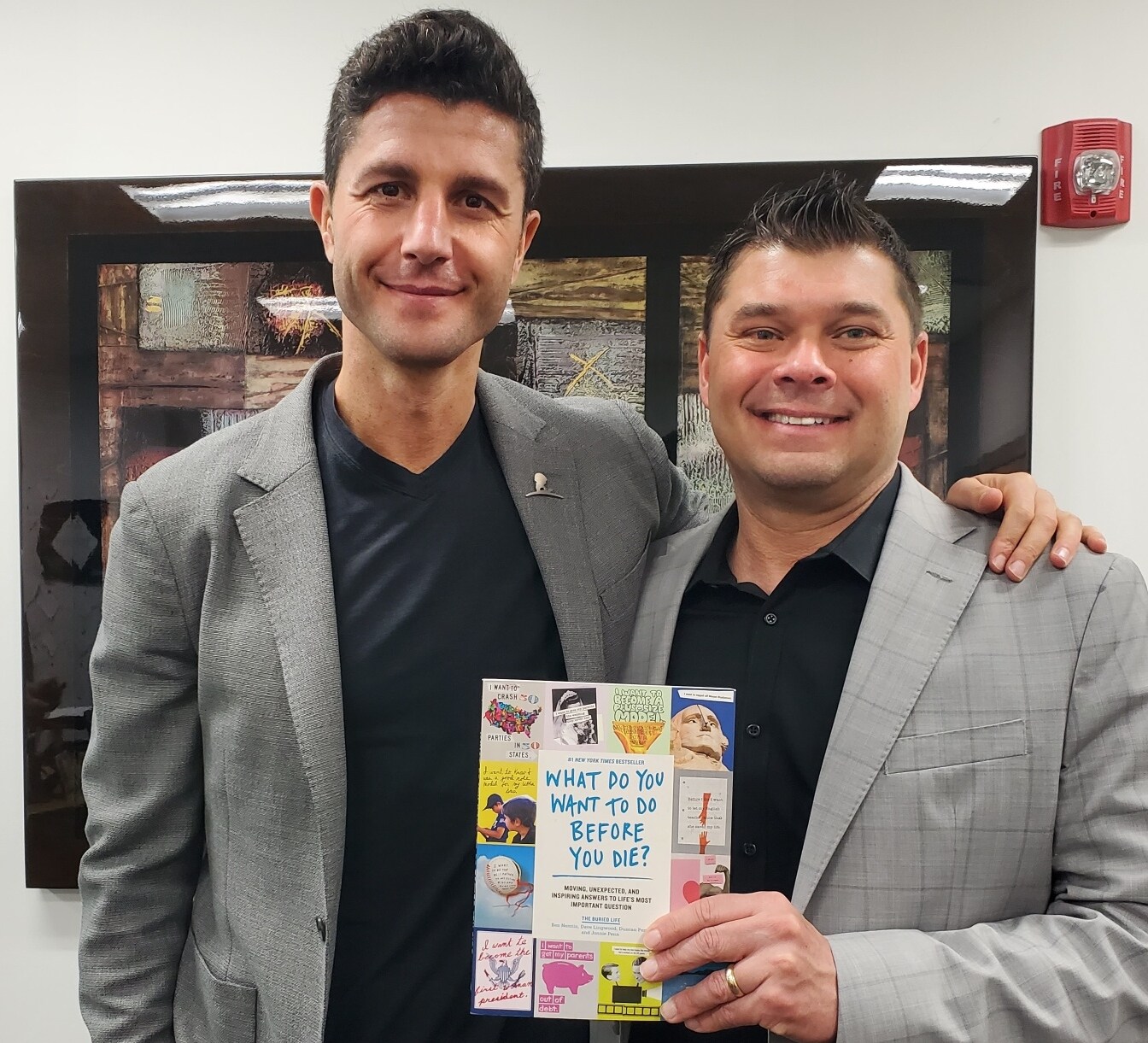 (Ben Nemtin with Dir. of Talent Development, Mike Van Ryn)
"Ben Nemtin's visit to Team Zeigler was very impactful and inspiring! 
I was blown away by his story and how he tailored his message to our company!
He challenged us to make the impossible possible and give back to others along the way!"
Mike Van Ryn, Director of Talent Development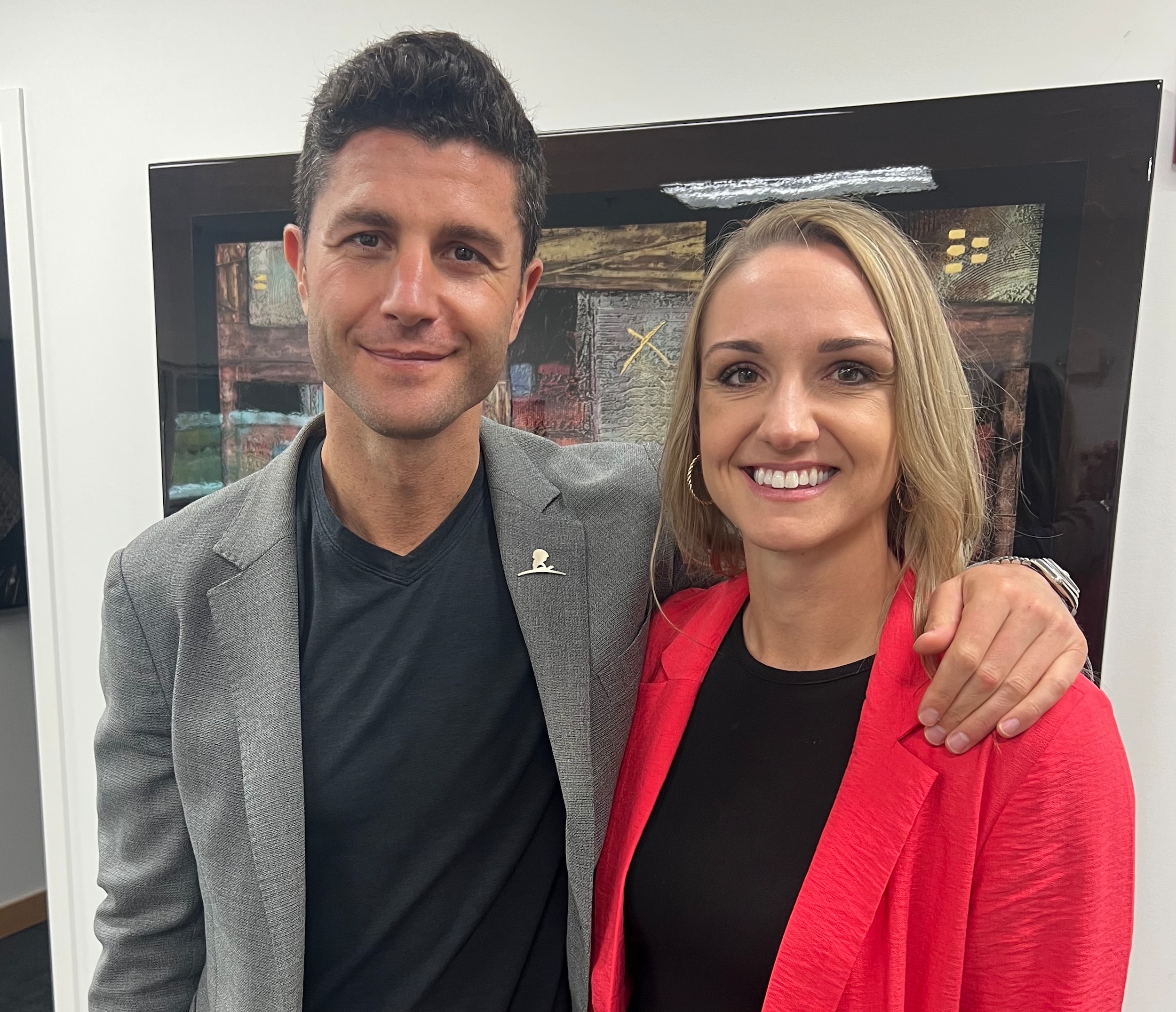 (Ben Nemtin with Ariah Daniels)
"Ben's incredible zest for life and serving others is contagious. I left feeling inspired to dream big! He reminded us all how important it is to first put on your own oxygen mask so that you can then better help others and that by doing the things you love, you create a ripple effect to inspire others to do the same. I'm already working on my own list of "100 things to do before you die"
Ariah Daniels, Training & Development
"At Zeigler we are honored to have some of the best keynote speakers for our Zeigler University and Ben Nemtin has definitely continued this tradition. His message was proof that it just takes a small kind gesture to change someone's life and change yours along the way.  Ben's words inspired me to think differently internally and how to approach my day."
Chryl Procarione, Corporate Controller
"The Buried Life, What an incredible inspiring story! Ben, is a great speaker and his message will have a lasting impact. What do you want to do with the rest of your life? This story is proof to follow your dreams and you can accomplish anything. When you have a dream just do it! Never give up! My favorite quote: 'Today is the youngest you will ever be!'"
Bill O'Hara, VP/GM Jaguar Land Rover Schaumburg / Mercedes-Benz Hoffman Estates / INFINITI Hoffman Estates

"WOW, what an experience it was hearing Ben and The Buried Lifes' story. When Ben said "You can get 1 No, 2 No's, 5 No's or even 20 No's -- but all you really need is 1 YES" was very inspirational and not only important in chasing your dreams but also important to apply in the business we live in every day!"
Kyle Faiman, GM of Zeigler Subaru of Merrillville
About Zeigler University 
Zeigler University is an internal leadership and development program within the Zeigler Automotive Group organization dedicated to attracting, training, and retaining the best talent in the industry.
The program includes one-on-one mentoring, strategic recruiting; and programs such as the Zeigler University Speaker Series which focuses on bringing in entrepreneurs, athletes, innovators, and leaders across different industries, to share their stories and points of view with the Zeigler team. Past celebrity guest speaker appearances include Grant Cardone, Bill Rancic, PJ Fleck, and more.
About Zeigler Auto Group
Zeigler Automotive Group is one of the largest privately-owned dealer groups in the U.S. with 78 franchises across 35 locations in Wisconsin, Illinois, Indiana, and Michigan. Vehicle brands represented include all of the domestic and the majority of the imported manufacturers.
Besides its extensive automotive portfolio, the organization owns and operates Zeigler Motorsports, an 85,000-square-foot motorsports dealership and action park, offering 19 different powersports brands, plus its own onsite restaurant: Trak Houz Bar & Grill. Additionally, Zeigler Motorsports houses the Elevate Leadership & Team Building Academy, an executive training company.
The Kalamazoo-based dealer group also owns and operates Zeigler Pre-Owned of Chicago, three Byrider franchises, three finance companies, several insurance firms, and a leasing firm.
Founded in 1975, the organization employs over 2,300 people, ranking among the top 1% of automotive dealers in the nation with estimated annual sales of $2.2 billion for 2022. The family-owned and operated company is well known for its commitment to both customer service and employee satisfaction. Zeigler is regularly recognized as one of the Best and Brightest Companies to Work for in the Nation, also earning similar accolades in Wisconsin, Chicago, and Michigan. Besides these prestigious accolades, Zeigler is also one of Glassdoor's 100 Best Places to Work in the U.S. for 2023, and among Glassdoor's top 10 U.S. companies for work-life balance.